Daisy Ridley Roundup: September 18, 2015
Daisy Ridley Roundup is a regular column where we share spotting of The Force Awakens star and share the ways her character Rey is already inspiring fans. There has been a lot of excitement since the Force Friday edition.
Spreading her wings from Instagram, Daisy Ridley now has an official Facebook page. We also spotted Daisy Ridley Style on Tumblr. It's not an official account, but it appears the actress could become a trendsetter.
Stamps, Books, and Loot
Fictional characters rarely get stamps, but considering the economic boost coming from the Star Wars films, it is fitting to have the new and old characters appear in the mail daily. Actress Daisy Ridley declared "THIS IS SO COOL!!!"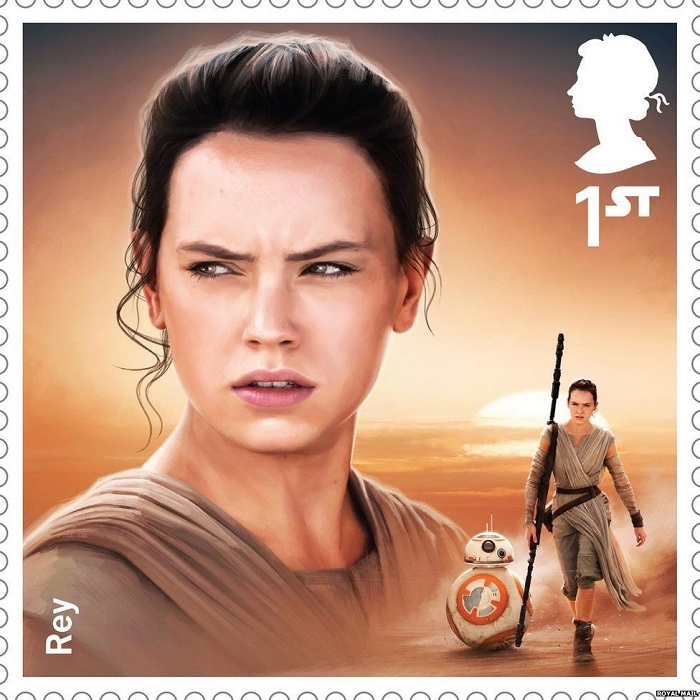 If you're a Disney pin trader, there is a Rey pin out now. Friend of RebelForce Radio Paul Bateman shared these awesome Fathead wall appliques.
Topps trading card junkies like my Fangirls Going Rogue co-host Teresa Delgado should check out Steve Anderson's stunning Rey artwork.
My other Fangirls Going Rogue co-host found this awesome image of Rey and BB-8 from Star Wars: Absolutely Everything You Need To Know, out now. It makes me wonder how long this droid will belong to Poe Dameron. Perhaps he has been holding onto the astromech for a friend?
For the cosplayers looking for reference material, Daisy Ridley News found a full body promotional image.
Like to make your own geek chic apparel? New Star Wars fabric hit the stores on Force Friday. Here's one of my favorites found at Beverly's. It also comes in red and blue alternatives.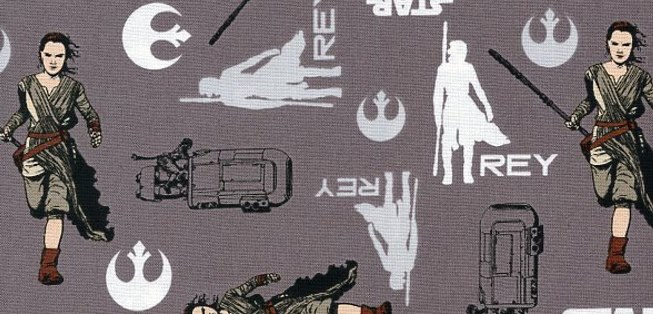 Force Friday merchandise and the Journey to The Force Awakens publishing release didn't reveal much more on Daisy Ridley's character, but some of the information from card backs popped up on the StarWars.com Databank. Here's Rey and Rey's speeder.
Presented without comment
Cosplayers
First, let's start with the kids. Ridley is excited to see the little ones dressed as Rey. On Facebook she introduces this image with, "Look at these gorgeous young ones dressed as mini Reys!!! The force is strong with all of you."
Heck, we're all excited at FANgirl to see little girls having an aspirational character that piques their imagination.
FANgirl contributor Kay modeled her Rey cosplay for the Dragon Con The Force Awakens costuming panel and spent a fair amount of time trying to find her Finn counterpart who had been spied on the con floor.
Meanwhile on the west coast, Lisa Curtis Saunders rocked Long Beach Comic Con.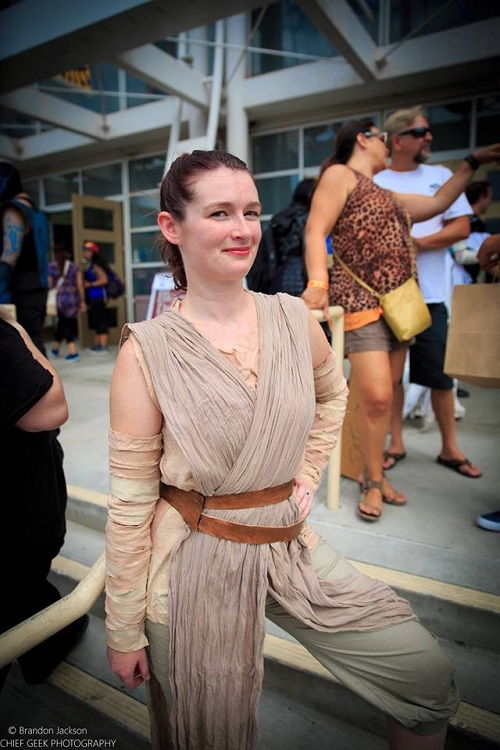 Here's a nice set of reference images from promotional poses for anyone working on their own costume.
Want to become Rey for Halloween or the next convention, but don't have time or the skills to make your own? Disney Store has a nice kid's version. Kudos too for Disney Store's initiative this year to take gender out of Halloween costumes. (h/t The Mary Sue)
Options also are available at Costume Express and Official Star Wars Costumes. Don't forget to accessorize with goggles and boots. We will have more tips on those in the coming weeks, but we suggest prioritizing the staff acquisition. Based on the promotional art, it appears where Rey goes the staff must follow. Costume Express's staff is a digitally printed replica, although my understanding is that it's two feet shorter than the film version.
Fanart
Kay and I trade fanart. Here's some she shared with me.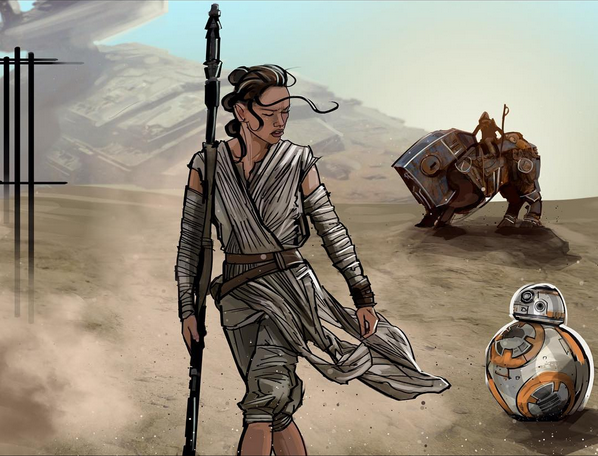 by Venamis on Instagram
Spoilers Beware!
Filming for Episode VIII took place this week on Skellig Michael. The Kerry's Eye says Daisy Ridley was "spotted descending from the passenger helicopter at Con O'Shea's on Valentia Island on Tuesday evening." The Irish Examiner reported Mark Hamill, who filmed with Ridley at the UNESCO World Heritage site last year, partied with the locals. Ridley had been quiet this week on Instagram until after shooting reportedly wrapped, sharing a shot of her co-star Lupita Nyong'o on the cover of Vogue.
For previous Daisy Ridley Roundups check here.
---
Tricia Barr took her understanding of brand management and marketing, mixed it with a love of genre storytelling, and added a dash of social media flare to create FANgirl Blog, where she discusses Star Wars, fandom, and strong female characters. She is one of four authors of Ultimate Star Wars from DK Publishing, has written several feature articles for Star Wars Insider magazine and is a contributor for Her Universe's Year of the Fangirl. Her FANgirl opinions can be heard on the podcasts Hyperspace Theories and RebelForce Radio Presents Fangirls Going Rogue.
Tricia Barr's novel, Wynde, won the 2014 Independent Publisher Book Award Gold Medal for Best Science Fiction/Fantasy/Horror Ebook. She was also part of Silence in the Library's successful all-female creator science fiction and fantasy anthology Athena's Daughters, which is available now. For excerpts and tales of her adventures in creating a fictional universe, hop over to TriciaBarr.com.
For updates on all things FANgirl follow @FANgirlcantina on Twitter or like FANgirl Zone on Facebook. At times she tries the Tumblr.