The Clone Wars Returns in 2019!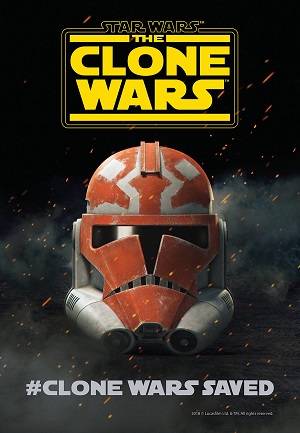 Exciting news from today's panel at San Diego Comic-Con! Star Wars: The Clone Wars will be returning in 2019 with twelve new episodes, which will run on Disney's upcoming direct-to-consumer streaming service.
The SDCC panel, "Celebrate the 10-Year Anniversary of Star Wars: The Clone Wars," was hosted by Amy Ratcliffe and featured supervising director Dave Filoni, producer Athena Portillo, voice actors Ashley Eckstein and Matt Lanter, and composer Kevin Kiner, each of whom worked on the entire original span of the animated series. Their discussion ranged from the initial creation of the series to its five broadcast seasons, bonus episodes, and unproduced story arcs. (We'll update this post with links to panel recaps as they're published.) As the panel drew to a close, Filoni thanked the fans for their longtime and ongoing support for The Clone Wars, including #SaveTheCloneWars on social media. Filoni then announced the big news, with the new hashtag #CloneWarsSaved to celebrate the occasion. StarWars.com also has a brief interview with Filoni.
Social media reports from the panel indicate that the new episodes, at least in part, will tell the story of the Siege of Mandalore. That storyline, which was briefly discussed at the "Ahsoka's Untold Tales" panel at Celebration London in 2016, originally was conceived as the final four-episode arc of the series, taking place contemporaneous with the events of Revenge of the Sith, including the Battle of Coruscant and Order 66. Fans will have to wait and see how these new episodes – especially if the story's allotted time has increased in length – end up telling the tale on the screen for everyone to enjoy.
Related Links

B.J. Priester has been a Star Wars fan since he played with the original Kenner action figures as a young boy. His fandom passion returned after watching Attack of the Clones in 2002 and reading the entire New Jedi Order series in 2003. He voraciously caught up on the novels and comics in the Expanded Universe in addition to writing fanfiction, frequently co-authoring with Tricia.

B.J. has served as editor of FANgirl Blog from its inception, as well as contributing reviews and posts on a range of topics. He edited Tricia's novel Wynde, and is collaborating with her on several future projects set in that original universe.

Currently a tenured law professor in Florida, B.J. has been a practicing lawyer in Washington, D.C., a law clerk to a federal appeals court judge, and a law journal editor-in-chief. He is also a proud geek dad whose son who is a big fan of Star Wars and The Clone Wars.