Looking Forward to the New Year – 2012 Preview Fangirl-style
Last week I looked back at the top ten moments of 2011 for the blog and for me as a fan. This week, I thought I'd kick off the year with a list of the top ten events I'm most anticipating for 2012. If 2011 is any indication, though, I think it's a safe bet that my year-end list twelve months from now won't just be a repeat of this one.
George Lucas choreographed some of my favorite movie dogfight sequences. Now he actually gets to directly portray the World War II combat that inspired the style of the Star Wars space battles, instead of just making homage – along with a sincerely felt tribute to the real-life heroes who made up the Tuskegee Airmen. Add to that the fact that this movie has been years in the making – until Lucas was confident he could do right by the story, characters, and visuals – and I can't wait to see what he has in store for us.
9. Star Wars: Fate of the Jedi: Apocalypse (March 13)
This may be the entry on my list that has the most trepidation as well as anticipation, but I'm optimistic that Troy Denning dug deep and swung for the fences. If the final book in the series is a home run ball, I'll be one happy fan.
8. Star Wars: The Clone Wars (Fridays, resuming January 6)
The back half of Season Four brings us quite a thrilling set of tales: the conclusion of a slavery story testing Anakin Skywalker's emotional limits; a return to the incipient relationship between Ahsoka Tano and Lux Bonteri with a healthy dose of betrayal and meddling by the Death Watch faction of Mandalorians, and directed by Dave Filoni; a four-part undercover operation featuring Obi-Wan Kenobi inside a Republic prison, alongside notorious figures including Boba Fett, Cad Bane, and Bossk; and the finale arc with Asajj Ventress, Savage Opress, and much-discussed return of Darth Maul. And something else… Oh, that's right – the first half of Season Five will air in the fall. Wow!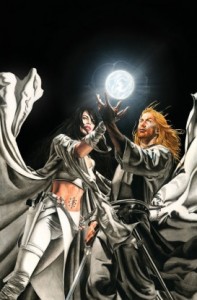 7. Star Wars: Dawn of the Jedi (monthly, beginning in February)
I was a huge fan of the work John Ostrander and Jan Duursema did with their fifty-six issues of Star Wars: Legacy. This year the dynamic duo returns with an all-new series set over thirty-six thousand years before the Star Wars movies, in the earliest days of civilization's understanding of the Force – before the Jedi Order as we know ever came to exist. What a premise, and what a team. I can't wait.
6. Star Wars: Episode I: The Phantom Menace 3D theatrical re-release (February 10)
Sure, the Blu-ray version of Episode I is fantastic – but it's been twelve years since I got to see it on the big screen. I still remember the shock and awe I felt when witnessing the blazing fast saber duel between Obi-Wan and Maul as Qui-Gon lay dying. And having ridden the revamped Star Tours attraction a couple dozen times, I'm confident the three-dimensional experience really will help fans see the movie in a whole new light.
5. The Hunger Games theatrical release (March 23)
On one level, this could prove to be a test of whether a heroine-driven story can break into the big time at the box office. I'd love nothing more than to see so many of those Hollywood types have to eat their words that a female lead won't sell tickets. On another level, I'm watching with great interest how Suzanne Collins, Scholastic, and Lionsgate are approaching the marketing, publicity, and fan interaction – and from what I see, they really seem to understand their target demographic. Most of all, though, I just can't wait to see Katniss, her allies and enemies, the Games and the Capitol, and all the rest on the big screen.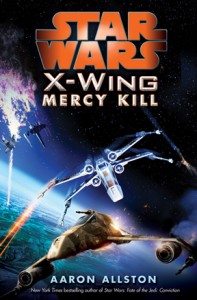 4. Star Wars: X-wing: Mercy Kill (August 7)
Aaron Allston. Wraith Squadron. First new X-wing series novel in twelve years. Do I need to say anything else?
3. Star Wars Celebration VI (August 23-26)
I don't think I have to say much here, either. As a Star Wars fan, there's nothing else like spending four days surrounded by so many like-minded devotees of the franchise we all love. Whether it's the cosplayers, the celebrities and VIPs, the Lucasfilm Archives and fan exhibits, the official merchandise and the vendor floor, or the panels, there's something for everyone. Hopefully the Expanded Universe panels will be able to give even more cause for optimism by the time we get to Orlando in August.
2. Wynde (Summer)
Okay, so maybe this entry on the list has a bit of trepidation too – but it's mostly excitement. After bleeding, sweating and banging my head on a few desks over this novel, I can't wait to share Vespa's story with everyone. Finally making the leap to published author has been a dream of mine for a long time now, and it's still a bit hard to believe that a dream come true is within reach.
1. The Unexpected (any time!)
And that's the beauty of the unknown, isn't it? We can't know what it's going to be. There were certainly some amazing unexpected moments for me in 2011. Whatever they turn out to be for 2012, I'm sure they'll be equally incredible.
What are you most looking forward to in 2012?