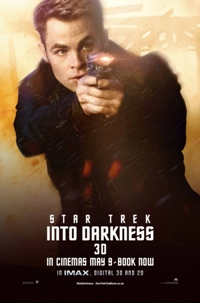 May is always a great month for Star Wars. This year, it also marks the premiere of the latest blockbuster in the Star Trek franchise, with Episode VII director J.J. Abrams at the helm.
---
Star Wars Weekends – Each of the last two summers, FANgirl Blog has featured reports from Disney's Hollywood Studios during Star Wars Weekends. This year will be no exception, and we'll have contributions from new participants, too.
---
Reviews and Interviews – Linda reviews Tim Lebbon's Dawn of the Jedi: Into the Void. She also had the opportunity to interview actor Joe Gatt, who provided the voice of Lord Scourge in Star Wars: The Old Republic and appears in this month's Star Trek Into Darkness.
---
Here are a few of the other things we're looking forward to in May:
New Star Wars Books
Dawn of the Jedi: Into the Void – May 7th
Star Wars Storyboards: The Prequels – May 14th
New Star Wars Comics
Star Wars #5 – May 8th
Darth Maul: Death Sentence – May 15th (TPB)
Legacy: Prisoner of the Floating World #3 – May 22nd
Dawn of the Jedi: Prisoner of Bogan #5 – May 22nd
New Movies
Iron Man 3 – May 1st
The Great Gatsby – May 10th
Star Trek Into Darkness – May 15th
Epic – May 24th
After Earth – May 31st
Television Series Premieres
LEGO Star Wars: The Yoda Chronicles – May 29th at 6:30 p.m. on Cartoon Network

Television Series Season Finales
Person of Interest – May 9th
Once Upon a Time – May 12th
Revenge – May 12th
Castle – May 13th
Arrow – May 15th
Supernatural – May 15th
The Big Bang Theory – May 16th
The Vampire Diaries – May 16th
Elementary – May 16th
Grimm – May 21st
Nashville – May 22nd
Revolution – June 3rd
New Releases on DVD
Fringe: The Complete Fifth Season – May 7th
Beautiful Creatures – May 21st
Covert Affairs: Season Three – May 28th
Suits: Season Two – May 28th
Latest posts by Administrator
(see all)