It's Not Just The Boys Running For the Roses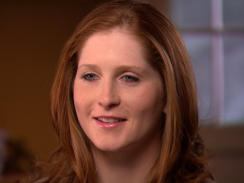 This past Sunday, 60 Minutes on CBS ran a great feature on jockey Rosie Napravnik, who will ride in this weekend's Kentucky Derby. (On the 60 Minutes website you can watch the video of the full report, as well as web exclusive content, or read the transcript of the broadcast.) She is the top jockey in the country in wins this year, finishing in the top three in almost sixty percent of her races. Rosie won last year's Kentucky Oaks, the race for fillies, as the only female jockey in the race – and beat 13:1 odds in doing so. Two years ago she finished ninth in the Derby, the highest a woman has ever placed. This year her top contending horse, trained by none other than reigning top-earner Todd Pletcher, had to withdraw from the Derby due to injury. Rosie will ride a longer-odds mount, Tom Amoss's Mylute, instead – but it would be a mistake to count her out.
Several parts of the report really resonated with me, and connected to themes I've discussed previously on the blog. In What Is Strong?, for example, I talked about the different ways that men and women often exhibit strength, whether physically or emotionally. My own horse, Ganner, weighs over 1500 pounds, and he's one of the largest horses in my classes. So I wasn't surprised to hear Rosie and her sister talk about the ways women ride with different skill sets than men:
Jazz Napravnik: There's a special something she has that gets those horses to put in a little extra effort. And she has a special connection that no one can really put words to.

Bob Simon: Do you think that a woman can have more finesse with a horse than a man can?

Jazz Napravnik: Absolutely. I think if strength is what men have to their advantage, I think women would have finesse.

Rosie Napravnik: Horses can feel your nerves, horses can feel excitement, they can feel you relax, which will help them relax.
In a theme that comes up not just in real life, but also fictional storytelling, women are sometimes thought to be lacking in the same degree of physical toughness and stamina as men. It's equally fallacious in fiction as reality: there's no reason female action heroines or superheroines can't hold their own in combat or endurance just as much as their male counterparts. I'll hold up the list of injuries Rosie has overcome against any male athlete's:
Rosie Napravnik: What happened was I fell off the horse and I rolled right in front of another horse who ended up breaking my leg. So I've tried to learn from my experiences.

[Bob Simon voiceover:] She's also broken her back, her collarbone, her left arm and she snapped her wrist in two. She has a metal rod in her leg and a plate in her arm.

Bob Simon: Did you ever think, "Well, maybe I should try something else?"

Rosie Napravnik: No. I've never thought that.

Bob Simon: You are insane. You do realize that?

Rosie Napravnik: Well, I'll tell you. Any athlete that has an injury, no matter what sport they're in, normally just wants to know when they can get back to doing their sport.
Just like Olympic equestrian competition, the report also notes that thoroughbred racing is one of the rare sports where men and women compete directly against each other. Unfortunately, horse racing still contains a good deal of deeply ingrained sexism among many of the trainers, owners, and male jockeys. Like other historically male-dominated enterprises – including, in some ways, geek culture and Star Wars fandom – change can be slow to come, and the backlash against change can be severe. Like Danica Patrick in NASCAR, hopefully Rosie can be a trailblazer for change in horse racing in the same way that change is underway in genre storytelling and fandom, inspiring young girls to believe any career or sport is open to them.
With change in the air, it's probably no coincidence that another jockey in the race, Kevin Krigger, is looking to make history at the Derby, too. Earlier this year he was the first black jockey ever to win the Santa Anita Derby. This Saturday he'll be the first black jockey to ride in the Kentucky Derby in over a decade, and if he wins he'll be the first to take the roses since 1902. It's worth noting that horse racing wasn't always that way:
In the first Derby, in 1875, 13 of the 15 riders were black, including the winning jockey, Oliver Lewis, aboard Aristides. … Black jockeys won 8 of the first 16 Derbys and 15 of the first 28. But with jockeys the recipients of increasing fame and fortune, and Jim Crow laws taking hold, black riders were forced from America's racetracks.
Krigger's horse, Goldencents, counts among his owners University of Louisville men's basketball coach Rick Pitino, whose team recently won the NCAA championship. I'm not sure I'd bet against him, either.