More Heroines Coming to Dark Horse
Already home to all things Buffy the Vampire Slayer, Dark Horse Comics will be featuring more heroines this year.
A hardcover Legend of Korra: The Art of the Animated Series will hit shelves in July. From MTV Geek:
This handsome hardcover contains hundreds of pieces of never-before-seen artwork created during the development of Season 1 of The Legend of Korra. With captions from Mike and Bryan throughout, this is an intimate look inside the creative process that brought the mystical world of bending and a new generation of heroes to life!
If you like Star Wars, the animated show delivers thematically with a female character in the lead. MTV Geek originally reported the DVD would be released in May, but that has since been retracted pending official confirmation from Nickelodeon. So far no air date has been announced for Season 2, either. Hopefully this is a good sign it's on the way. Korra is on our list for the Seeking Strong Female Heroines and Heroine's Journey series here at FANgirl, but we're saving that post for closer to the second season release.
On the Star Wars front, Newsarama shared concept art from Gabriel Hardman for the upcoming Star Wars Solo Legacy comic. Check out the original article for sketches of the Sith Apprentice and Yalta Val's shuttle.
Also at Geek of Oz, Corinna Bechko joins Hardman to discuss the series.
You're introducing us to Ania Solo, the great, great granddaughter of Han and Leia. To the best of my knowledge, the Solo/Organa bloodline ends with Jacen Solo and Tenel Ka Djo's daughter Allana while Jaina Solo was childless and Anakin Solo died when he was 17 years old. Where does Ania fit into all of this?

GH: Ania's lineage is a bit of mystery at the beginning of our story and it's not one we plan to solve immediately.

CSB: I'll just say that she's definitely got that Solo spark. To say more would give too much away.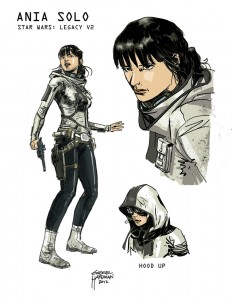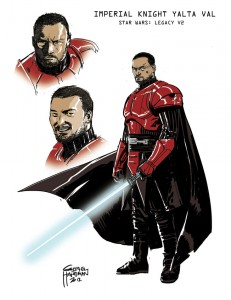 Tricia Barr took her understanding of brand management and marketing, mixed it with a love of genre storytelling, and added a dash of social media flare to create FANgirl Blog, where she discusses Star Wars, fandom, and the intersection of women within Star Wars fandom. She is co-author of Ultimate Star Wars and Star Wars Visual Encyclopedia from DK Publishing, a featured writer for Star Wars Insider magazine with numerous articles on the Hero's Journey. Her FANgirl opinions can be heard on the podcasts Hyperspace Theories and Fangirls Going Rogue.

Tricia Barr's novel, Wynde, won the 2014 Independent Publisher Book Award Gold Medal for Best Science Fiction/Fantasy/Horror Ebook. She was also part of Silence in the Library's successful all-female creator science fiction and fantasy anthology Athena's Daughters, which is available now. For excerpts and tales of her adventures in creating a fictional universe, hop over to TriciaBarr.com.