Flesh of White Kickstarter from Inverse Press
Kickstarters are a great way to support storytellers. When Erica Heflin passed her latest one along, I was intrigued, especially since last year I had the chance to visit the beautiful country of Tanzania.
---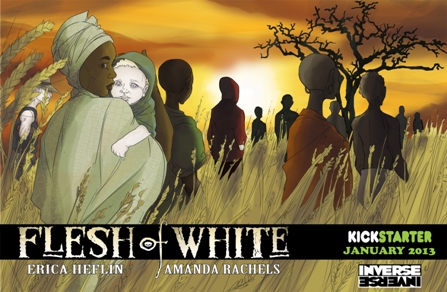 Tanzanians, Rehema and Idi, celebrate the birth of their new son, but must weigh their hopes against unanticipated fears.  Little Kwasi was born with albinism, and they live in a part of Tanzania where superstition and fear guide the hearts of men.  Those with albinism are not looked upon as people, but instead are viewed as "ghosts".  They are maimed, mutilated, and killed for their flesh and used as components in spells.  In the home of his parents, Kwasi is safe, but as a scheming Witch Doctor learns of his existence, Rehema and Idi must fight to protect him when the Doctor and his Harvester come for the little one's white flesh.
This is the story of Flesh of White, a 4-issue color comic series in production by writer Erica J. Heflin (Grayhaven Comics' The Gathering, Chronographer, Of Wolf & Woman, Mother & Son; Alterna Comics' The Black Hand) and artist Amanda Rachels (Arcana Studios' The Book; Inverse Press' Clown Town).  Flesh of White #1 debuts from independent publisher, Inverse Press, via crowdfunding mega-platform Kickstarter.com in the first week of January, 2013.
Kickstarter allows creators to take funding – AND the projects thus created – directly to the fans!  It's as simple as signing up, choosing the reward(s) most appealing to you, and setting up secure payment through Amazon.com (EASY – especially if you already have an Amazon account).
For the Flesh of White Kickstarter campaign, Erica and Amanda are pleased to offer a treasure trove of specialty items, unique editions of the book, and incredible opportunities, including:
Kickstarter-Exclusive Cover Editions of Flesh of White
Trading Cards featuring Key Characters
Production Bible featuring Line Art with Accompanying Script on Facing Pages
Oversized (10.375" x 14") "Treasury Editions" of Flesh of White
Blank, SKETCH Cover Edition of Flesh of White featuring an Original Sketch by Series Artist Amanda Rachels
11" x 17" Color Sketch Commissions by Amanda
Opportunity for Amanda to Draw YOUR 4-Page Story for Publication in GrayHaven Comics' The Gathering
Opportunity to have YOUR 22-page Script Reviewed by former Supergirl and Action Comics writer, Sterling Gates

Tricia Barr took her understanding of brand management and marketing, mixed it with a love of genre storytelling, and added a dash of social media flare to create FANgirl Blog, where she discusses Star Wars, fandom, and the intersection of women within Star Wars fandom. She is co-author of Ultimate Star Wars and Star Wars Visual Encyclopedia from DK Publishing, a featured writer for Star Wars Insider magazine with numerous articles on the Hero's Journey. Her FANgirl opinions can be heard on the podcasts Hyperspace Theories and Fangirls Going Rogue.

Tricia Barr's novel, Wynde, won the 2014 Independent Publisher Book Award Gold Medal for Best Science Fiction/Fantasy/Horror Ebook. She was also part of Silence in the Library's successful all-female creator science fiction and fantasy anthology Athena's Daughters, which is available now. For excerpts and tales of her adventures in creating a fictional universe, hop over to TriciaBarr.com.