Celebration VI: Del Rey Panels Recap
Celebration VI featured two panels to discuss upcoming Del Rey products in the Expanded Universe: Friday morning's panel on the novels and Sunday afternoon's panel on the Essential guidebooks. Although the number of new product reveals was small, especially with San Diego Comic-Con's announcements just a month before, fans did learn about a number of new initiatives to help increase the EU's visibility and availability.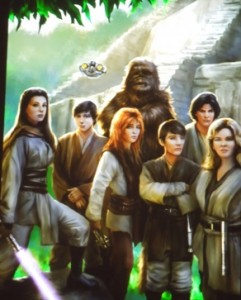 In addition to Star Wars Reads Day on Saturday, October 6th, Joe Scalora announced that Del Rey will be partnering with Fancorps to help spread word of mouth about the EU. Details will come in October, but the key premise is that fans can earn points for helping promote the EU and redeem them for various rewards. Both programs are designed to spread the word about the EU and build on the passion of existing fans to recruit new ones. Be sure to check the map to see if your local bookstore or library will be hosting a Star Wars Reads Day; there will be several in my community.
With the novels backlist released in ebook editions last summer, the nonfiction guidebooks are next up for electronic conversion. I had a chance to preview the ebook edition of The Essential Guide to Warfare at Celebration, and it has some very cool features that the print edition can't offer, including the ability to zoom in on the art and the maps, to rotate some of the starship images, and view multiple versions of the art. No doubt these features will be put to great use in future ebooks, particularly The Essential Atlas.
Speaking of ebooks, the fiction line will be making increasing use of the format, as well. Starting with "Winner Lose All," a December short story by Timothy Zahn to accompany the release of Scoundrels, Del Rey will be releasing ebook-exclusive novellas and short stories. These ebooks will allow fans to experience stories, characters, and authors who might not otherwise fit into the limited slots in the print publishing line. (Everyone cross your fingers for long-languishing novella version of The Reenlistment of Baron Fel to finally see the light of day!)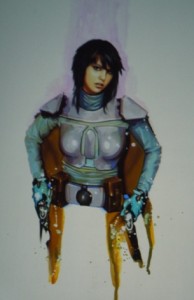 The new products announcements were mostly sparse on detail, but did give fans a taste of what's to come. Erich Schoeneweiss confirmed the previously teased third edition of the Essential Guide to Characters for 2013, with text by Dan Wallace and art by Doug Wheatley. The panel also shared some of the character portraits and artwork from both upcoming Essentials books, and they were fantastic. I had the privilege over the past couple of months to do a fan read of the Essential Readers Companion. Author Pablo Hidalgo and the team of artists assembled by Del Rey have created an EU fans' must-have book.
On the fiction side, a series of three books tentatively titled "Rebels" will feature the Big Three in stories set during the Original Trilogy movies era. Martha Wells will write a novel showcasing Leia, while Kevin Hearne's book will focus on Luke. With Wells only signed up to write the novel less than a month before Celebration, naturally there wasn't much beyond the basic concept to reveal. The same goes for the "Sword of the Jedi" trilogy by Christie Golden, which is also still in the outlining stage, as is the untitled duology by Paul Kemp.
LucasBooks Senior Editor Jen Heddle posted a recap of the Friday panel at the Star Wars Blog that offers some more insight:
We are mindful of diversity of characters and will be doing our best to keep expanding the variety of characters, without shoehorning anything in just to make a point. Aaron Allston mentioned that sometimes a character's sexuality, for example, is something an author doesn't even consider until the subject comes up. Having it be organic is important.

A new Republic Commando novel? We can't say anything for certain, but you should definitely stay tuned.
---
Tricia Barr took her understanding of brand management and marketing, mixed it with a love of genre storytelling, and added a dash of social media flare to create FANgirl Blog, where she discusses Star Wars, fandom, and strong female characters. She also writes about Star Wars for Random House's science fiction and fantasy blog Suvudu.com. Her interview with X-Wing: Mercy Kill author Aaron Allston can be found in this month's Star Wars Insider Issue 135.
In her spare time, Tricia puts the finishing touches on her first novel, Wynde. For excerpts and tales of her adventures in creating a fictional universe, hop over to TriciaBarr.com.
For updates on all things FANgirl follow @FANgirlcantina on Twitter or like FANgirl Zone on Facebook.