NEWS: Del Rey SDCC Announcements
Today at San Diego Comic-Con, Del Rey revealed the following upcoming Star Wars novels:
by Michael Reaves and Maya Kaathryn Bohnhoff
Paperback original title / Spring 2013
Another fast-paced, action-packed Star Wars stand-alone mass market original by New York Times bestselling authors Michael Reaves and Maya Kaathryn Bohnhoff!
Ever since Emperor Palpatine's Order 66 – which called for the execution of all Jedi – Jax Pavan is the last Knight around to fight the dark side of the Force. Together with his droid I-5, Jax has eluded Vader time and again, all the while wreaking havoc against the Empire through the underground resistance on Coruscant. But now the Rebel's leader on the city-planet has been captured, and it's up to the Last Jedi to ride again… possibly for one final adventure.
Cover illustration by Gene Moloica and cover design by Scott Biel.
.
Star Wars: Dawn of the Jedi: Into the Void
by Tim Lebbon
Paperback original title / Spring 2013
A stand-alone mass market tie-in to the successful comic book series, Star Wars: Dawn of the Jedi, written by fantasy novelist Tim Lebbon.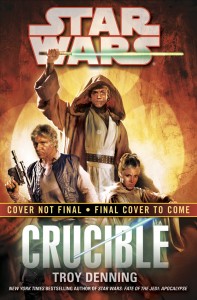 .
Star Wars: Crucible
by Troy Denning
Hardcover original / Spring 2013
Han, Luke, and Leia are back in action–older and wiser, but as ready as ever to leap headlong into adventure!
Han Solo, Luke Skywalker, and Princess Leia have spent a lifetime fighting wars, bringing the Jedi back from extinction, raising families, and saving the galaxy more times than they can count. They've earned the right to rest on their laurels and let the younger generation shoulder the burden–but fate has another adventure in store for our heroes, a quest only they can tackle and hope to survive…
Cover illustration by Cliff Nielsen and cover design by Scott Biel.
.
---
Here's a quick look at new Star Wars author Tim Lebbon.
When you put in your preorder, be sure you're buying Star Wars: Crucible by Troy Denning and not Crucible: Trial of Cyric the Mad (Forgotten Realms: Avatar) by Troy Denning.
---
Tricia Barr took her understanding of brand management and marketing, mixed it with a love of genre storytelling, and added a dash of social media flare to create FANgirl Blog, where she discusses Star Wars, fandom, and strong female characters. She also writes about Star Wars for Random House's science fiction and fantasy blog Suvudu.com. Her interview with X-Wing: Mercy Kill author Aaron Allston can be found in this month's Star Wars Insider Issue 135.
In her spare time, Tricia puts the finishing touches on her first novel, Wynde. For excerpts and tales of her adventures in creating a fictional universe, hop over to TriciaBarr.com.
For updates on all things fangirl follow @fangirlcantina on Twitter or like FANgirl Zone on Facebook.