Follow-up to Pink Lightsabers

With pink everywhere this month, it's always interesting to see how people react to the color.  Although for many women pink symbolizes the fight against breast cancer, others see pink as a color that has blocked them into a gender box. Either way, it always seems to evoke passionate emotions.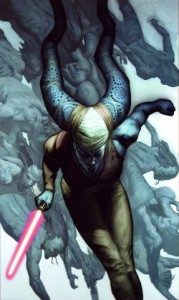 Obviously I like the color, and I'm not offended if you don't. It's important to remember that preferences – such as a favorite/unfavorite color, or love/hate for a series of books, or Prequel Trilogy versus Original Trilogy – are what makes us each unique.  A lot of people, though, especially women, have trouble separating that out.  The best example I can give is my opinion of Twilight.  I don't like it; I tell my friends who love it that I don't like it.  Yet they know I'm not making a statement about who they are, which is ultimately my friend.
One reader at the Fangirl Zone Facebook page took the time to share a picture with me – Aayla Secura with a pink lightsaber.  The Twi'lek Jedi Knight was introduced and made famous in the comics by the team of John Ostrander and Jan Duursema.  Interestingly enough, they have written some of the best and most diverse stories in Star Wars, and did it with a carefully crafted mix of Original Trilogy and Prequel Trilogy themes.
Twi'leks were traditionally thought of as just the dancing girls, the objects of mens' desires, within Star Wars.  That makes it quite remarkable that a comic book character – a Jedi female Twi'lek, no less – actually caught the eye of George Lucas when the prequels came around, and she was included in the movies. The lightsaber color was changed to the regular Jedi blue, understandably to avoid confusing the movie-goers.
Personally, I'm still hoping one day Aayla will get her pink lightsaber back.

Remember to encourage your fellow fangirls to fight breast cancer any way they can – with regular screenings, self-exams, and joining the local fundraiser events if you can.