Mara Jade Skywalker Wins 2011 Fans' Choice Figure Poll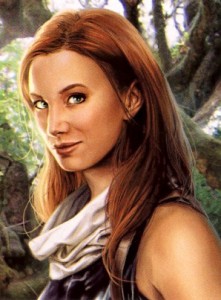 Cross-posted at Suvudu:
Last October, Hasbro and Star Wars Insider teamed up for the 2011 Fans' Choice Figure poll, with the winning character to be honored with an action figure in the 2013 line. At the New York Toy Fair this weekend, Mara Jade Skywalker was announced as the winner.  First introduced to the Star Wars Expanded Universe in the novel Heir to the Empire by Timothy Zahn, Mara appeared in over forty Star Wars books and short stories, most recently headlining Zahn's Choices of One. In winning the poll, she beat out, among others, movie characters such as Emperor Palpatine, Nute Gunray, and Jocasta Nu (who finished second) and fellow EU characters Gilad Pelleaon, Joruus C'baoth, and Darth Plagueis.
I spotted this exciting update at fansite Club Jade – named in honor of Mara Jade – which is a great source of breaking Star Wars news. Congratulations to Mara, the authors who made her a fan favorite, and the fans who voted for her.
---
And it seems not only Mara Jade got some love at the 2012 Toy Fair – but her former Jedi apprentice, Jaina Solo, also made an appearance in the Kotobukiya catalog to preview the Bishoujo statue. Bravo for the leading ladies of the EU!

Tricia Barr took her understanding of brand management and marketing, mixed it with a love of genre storytelling, and added a dash of social media flare to create FANgirl Blog, where she discusses Star Wars, fandom, and the intersection of women within Star Wars fandom. She is co-author of Ultimate Star Wars and Star Wars Visual Encyclopedia from DK Publishing, a featured writer for Star Wars Insider magazine with numerous articles on the Hero's Journey. Her FANgirl opinions can be heard on the podcasts Hyperspace Theories and Fangirls Going Rogue.

Tricia Barr's novel, Wynde, won the 2014 Independent Publisher Book Award Gold Medal for Best Science Fiction/Fantasy/Horror Ebook. She was also part of Silence in the Library's successful all-female creator science fiction and fantasy anthology Athena's Daughters, which is available now. For excerpts and tales of her adventures in creating a fictional universe, hop over to TriciaBarr.com.