The Secrets of the Jedi Review
When I was a kid I wanted to be a Jedi. Then I grew up and found out there was a lot more to it than carrying a lightsaber and waving around your hand to use the Force. Star Wars: The Secrets of the Jedi is an in-universe look at the Jedi Order as told by Luke Skywalker. It's also a beautiful 10″ x 12″ hardcover that I would have excitedly poured over as a kid and have a definite appreciation for as an adult.
Sergio Gómez Silvan's illustrations are very much a visual treat. As much as I like reading about the Force, I also like checking out neat Star Wars art. And these were painted especially for this book so it's all new. The artist gives a dreamy cast to the portraits, collages, and scenes depicted with washes of red and blue seeming to stand in for the dark side and the light. The pages themselves are printed to give the impression of a weathered tome while keeping a typical glossy paper weight for a book of this sort. The good news about that is the pages aren't as delicate as they might have been with a full commitment to the handmade book look. It probably kept the price down too. I'd still like to imagine the Caretakers typeset it for Luke though.
After introducing himself and his place in all this, Luke takes the reader through an introduction to the Force – light side, dark side, midi-chlorians, and the balance in between. Next is a multi-spread chronological look at the Jedi from the times of the Old Republic through his own story in the original trilogy era to his initial hopes for the next generation and the rise of The First Order. From there Luke shares his knowledge of what was the Jedi Path, a look at lightsabers, and various Force abilities.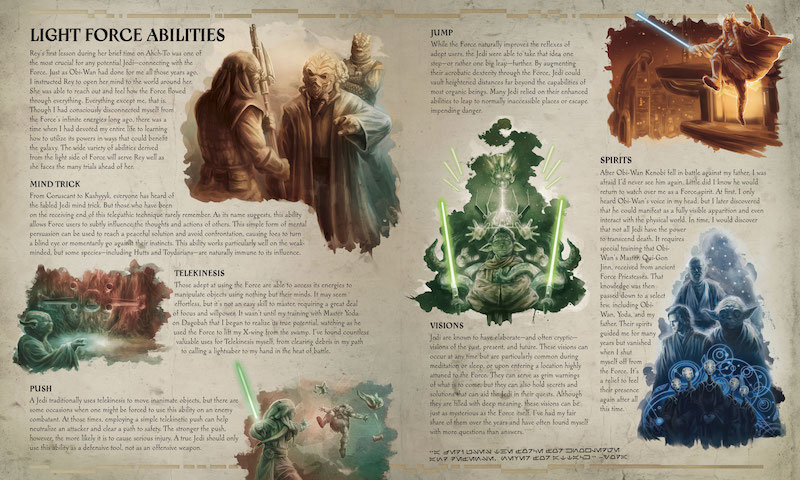 He also take a brief look at different ways of worshiping the Force before closing with a letter that actually made me teary-eyed. It should be stressed that none of this content is a deep-dive into the topics, but author Marc Sumerak (who I think we can say helped Luke with writing this for our galaxy) still keeps it interesting. By using Luke's perspective it's not the be-all and end-all of info on the topic; more so it can be seen as a collective of information Luke wanted to make sure wasn't lost. I'm still thinking about what Luke may be saying about intent.
Secrets of the Jedi comes from Insight Editions' Insight Kids division. So to keep it extra interesting, interactive elements are built in. These include notes tucked into pockets and expanding mini books. There's also plenty of Aurabesh to translate as well as a handy Aurabesh to Basic translation card that I may have also used as a bookmark. Overall Secrets of the Jedi could easily be enjoyed by a young fan on their own (perhaps in the 8 & up range), read together with an adult, or enjoyed by adult fan interested in the Jedi.
Star Wars: The Secrets of the Jedi by Marc Sumerak is out now from Insight Editions in hardcover format.
The publisher provided FANgirl with a copy of the book for review. As usual opinions are my own.
Find this review helpful? Say thanks and encourage more books reviews by leaving a tip of a coffee on Ko-Fi.