SDCC 2019: Previewing "Evil" on CBS
The writing and producing team of Robert and Michelle King created and led the entire series run of The Good Wife on CBS, a show we've praised previously at FANgirl for its portrayal of female characters. In addition to showrunning the spinoff The Good Fight for CBS All-Access, they've developed a new show, Evil, which premieres on CBS this fall. Although scheduling conflicts meant I missed the screening of the pilot at San Diego Comic-Con, I was pleased to be able to catch most of the subsequent panel discussion about the show.
As expected, the Kings have created a show that avoids simplicity and superficial explanations, instead confronting directly the complex questions about what evil is and how we should think about – and oppose – it. Rather than take the perspective that one particular view of the problem of evil is correct, the Kings use the interactions among the three lead characters as a way to hone in on the various approaches. Mike Colter, the star of Luke Cage, plays a priest trainee who naturally views evil from the religious and spiritual angle. Aasif Mandvi, perhaps best known for his segments on The Daily Show, plays a nonbeliever from a Muslim family who looks for the scientific or rational explanations. Katja Herbers, recently seen on Westworld, is a psychologist who is skeptical of the supernatural but recognizes that some things defy her medical expertise. The three of them will work together to investigate cases of evil in each episode and over the course of the season. Although the first episode considers a situation of a possible demonic possession of a serial killer, the Kings emphasized that Evil as a series is not about exorcisms, but instead will address a wide variety of evil in the world.
The fourth cast member on the panel was Michael Emerson, still very much playing true to his notoriously inscrutable roles on Lost and Person of Interest. The Kings were not coy about his character on Evil, though, candidly describing him as a recurring bad guy through the first season. Interestingly, his character exploits the reach of the internet and social media to carry out his form of evil machinations.
Although the similarity is presumably unintentional, I noted with amusement that Evil's principal cast aligns with the Star Wars Sequel Trilogy: a young white woman and two men of color in the hero trio, and a white man as their lead adversary. With the Kings track record in The Good Wife and The Good Fight, hopefully more female characters will be introduced as the first season of Evil progresses. Given the high quality of their presentation of the law and legal issues in their other series, I expect an equally sophisticated and compelling take on evil on Evil this fall.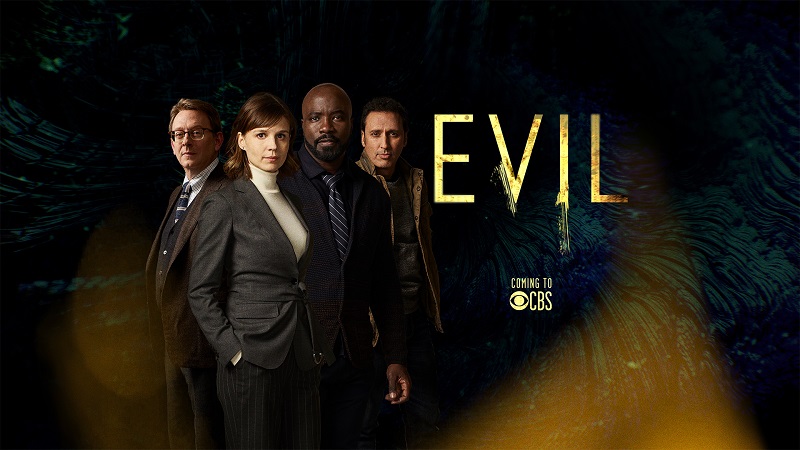 Evil Exclusive Screening and Panel
Evil is a psychological mystery that examines the origins of evil along the dividing line between science and religion. The series focuses on a skeptical female psychologist who joins a priest-in-training and a carpenter as they investigate the Church's backlog of unexplained mysteries, including supposed miracles, demonic possessions, and hauntings. Their job is to assess if there's a logical explanation or if something truly supernatural is at work. Please join series stars Katja Herbers, Mike Colter, Aasif Mandvi, and Michael Emerson, along with co-creators and executive producers Robert King and Michelle King for an exclusive sneak peek of the first episode followed by a panel discussion. Moderated by Lynette Rice from Entertainment Weekly. Evil will air Thursdays this fall on CBS.

B.J. Priester has been a Star Wars fan since he played with the original Kenner action figures as a young boy. His fandom passion returned after watching Attack of the Clones in 2002 and reading the entire New Jedi Order series in 2003. He voraciously caught up on the novels and comics in the Expanded Universe in addition to writing fanfiction, frequently co-authoring with Tricia.

B.J. has served as editor of FANgirl Blog from its inception, as well as contributing reviews and posts on a range of topics. He edited Tricia's novel Wynde, and is collaborating with her on several future projects set in that original universe.

Currently a tenured law professor in Florida, B.J. has been a practicing lawyer in Washington, D.C., a law clerk to a federal appeals court judge, and a law journal editor-in-chief. He is also a proud geek dad whose son who is a big fan of Star Wars and The Clone Wars.