Seeking SFH: The Women of The Good Wife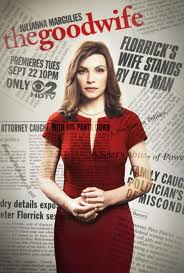 Based on the initial premise set out in its earliest episodes, The Good Wife might not have seemed a likely source for multiple strong female heroines. Alicia Florrick, who had put aside her own career to raise their children, stands at her husband Peter's side as the disgraced state's attorney fights for his political life after serving prison time in a corruption and prostitution scandal. Even the show's title carries something of a derogatory connotation. Yet the casting of Julianna Margulies, best known for her role as fierce and dedicated emergency-room nurse Carol Hathaway in the first seven seasons of E.R. opposite George Clooney and Anthony Edwards, signaled that the show would be taking her character in a different direction.
Sure enough, the series quickly showed that Alicia is no trusting dupe or misguided idealist. Like Hillary Clinton, who took office as Secretary of State the same year The Good Wife premiered, Alicia's concern for her children and openness to the possibility of forgiveness play a substantial part in leading her to reject the option of immediate divorce in response to her husband's lies and betrayals – although she doesn't take it off the table, either. At the same time, Alicia returns to work as an associate at the law firm that had employed her years earlier, and she finds herself still very junior in rank and experience although the partners are her peers in age. Over the course of three seasons, Alicia has confronted challenges to her marriage, her friendships and her love life, her parenting, and her legal career.
Admittedly, a lawyer may not seem a likely prospect for a contemporary heroic character, either. Few professions are held in lower esteem by the American public than lawyers, and Hollywood is often happy to indulge – sadly a far cry from classics like To Kill a Mockingbird and Inherit the Wind, featuring noble lawyers in the pursuit of social justice. Rather than play lawyers for laughs like Ally McBeal or Boston Legal, or for interpersonal drama like L.A. Law or The Practice, the episodes of The Good Wife typically focus on lawyers as problem-solvers, minding the moral and ethical lines as they find a way to do their very best for their clients. Unlike most lawyers on television, though, Lockhart Gardner runs both offense and defense, sometimes suing as civil plaintiffs, other times opposing lawsuits or representing criminal defendants. While their challenges and victories may not have the epic scope of Jedi Knights, homicide detectives, or defiant rebels against tyranny, their commitment to justice is heroic in its own right.
Alicia Florrick, the titular character, certainly fits the qualities of a strong female heroine. Her strength is showcased in numerous ways: the balance of power in her relationship with her estranged husband, her ability to make tough decisions and bear their consequences, and in smaller moments like holding firm against manipulations by her mother-in-law. Most of all, though, we see Alicia's strength in her willingness to fight hard for what she believes is right, whether in a courtroom, a law firm conference room, a tough conversation across a desk, or dealing with her children's school.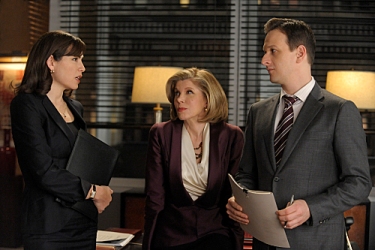 But in portraying her strength, the writers never lose sight of her feminine side. In every episode we see how much her protectiveness for her children, her need to love and be loved, and all manner of personal and professional relationships shape so many of her motivations. Alicia is a great heroic lawyer, and she also definitely a strong woman.
Diane Lockhart, one of the firm's name partners, makes a nice contrast to Alicia in some ways while creating her own role as a strong female heroine. A bit older than Alicia, Diane exemplifies the path chosen by many career-driven women when glass ceilings in the legal profession first began to break – she is unmarried, has no children, and seems to do very little in life that doesn't relate to managing clients, running the firm, and building and maintaining the professional connections that will raise the firm's profile and bring in new business. Her strength shines in her hard-edge negotiating tactics and her iron-fisted management of the firm. Yet Diane also inevitably brings a female touch to how she practices law and runs the firm. For all her willingness to be ruthless, she has deep reservoirs of compassion and empathy for her clients and her colleagues; it is hard to imagine an equally ruthless male lawyer, like the other name partner Will Gardner, offering as many opportunities for forgiveness or second chances as Diane does. And although Diane shows romantic interest in several men over the course of three seasons, at times even a bit of loneliness, the writers have steered clear of suggesting that Diane regrets her personal-life choices or her career-focused path in life – and that makes Diane another great role model, too.
One of The Good Wife's scene-stealers is Kalinda Sharma, the firm's investigator. Her biggest strength is her creativity and relentless determination to get the information her team needs to win. Her tactics range from clever and devious to the downright underhanded, but they work. More than once we've seen her get information out of someone who seemed unbreakable, and often it is her help that turns an imminent defeat into a victory. But Kalinda is not afraid of physical confrontation, either, including one particularly memorable sequence involving a rival investigator and a baseball bat.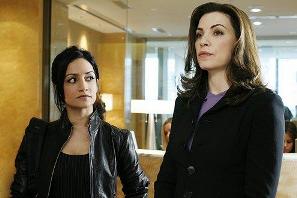 Nor does she hesitate to exploit her "feminine wiles" when that is the most effective tool to accomplishing her objective. Kalinda has varied from flirtatious banter to husky seductiveness to break willpower, create a false sense of security, or knock someone completely off balance emotionally. The key, though, is that Kalinda is always in control, playing brutal or coy, vicious or friendly, as the moment requires – and that insightful reading of others, and ability to manipulate them, is a strength of its own. And while Kalinda has been presented as the tough-as-nails character, the writers and the actress also have effectively hinted at brief moments of doubt and insecurity that give the character depth.
This season, The Good Wife introduced Caitlin, a freshly minted law school graduate hired by the firm. Over the course of her subplot, both Alicia and the audience were left wondering about Caitlin's motivations. Is she an eager new associate trying to learn the ropes? Or is she already playing the office politics game, posturing for recognition and influence? Is she invariably a rival to Alicia, or a potential ally? Caitlin's story arc ended in an unexpected way, with the revelation that, despite her proven success and accolades from her peers, she was quitting the firm because she was pregnant, getting married, and becoming a stay-at-home mom. Her decision in turn became a lens on both Alicia and Diane. For Alicia, who knows so clearly the professional price of stepping away for a decade or more, the concern was that Caitlin had not fully considered the option of maintaining her legal career while raising her child. Once she knew Caitlin had made an informed decision, though, Alicia found recognition of a kindred spirit. For Diane, by contrast, Caitlin's choice was disappointing. Even as recently as when Alicia had borne her children, staying on as an associate at a big firm and also raising children simply was not seen as an option – Alicia's choices were quitting and raising her children, or keeping her job and hiring a nanny. Now that those stark choices have been broken, Diane cannot understand why a young woman would choose to walk away from her career when she doesn't have to. Alicia, though, is the one to remind her that the fight for women's workplace equality wasn't just about opening doors, but also about giving each woman the chance to choose her own future for herself.
Few shows on television have as many strong female characters as The Good Wife, especially not characters who serve others like the women of Lockhart Gardner. None of them is perfect; each of them has made mistakes in their professional and personal lives, and sometimes paid a heavy price for it. But ultimately they are compelling, relatable, and well-written characters who drive much of the story in the series and make many of its most important decisions. For an ensemble cast with multiple great women characters – and actresses – there is no better place to look than The Good Wife.
---
Tonight, April 29, is the third season finale of The Good Wife at 9:00 p.m. Eastern on CBS. Already renewed for a fourth season, The Good Wife will return in the fall; the first two seasons are available on DVD, with the third season set expected over the summer.
---
B.J. Priester is editor of FANgirl Blog and contributes reviews and posts on a range of topics. A longtime Star Wars fandom collaborator with Tricia, he is also editing her upcoming novel Wynde. He is a law professor in Florida and a proud geek dad.