Fangirls Around the Web: June 19, 2013
A lot of Star Wars to share in this week's edition of Fangirls Around the Web, where we feature fangirls and their heroines spotted around the internet.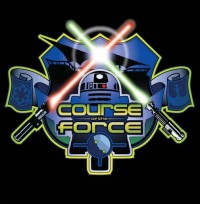 Ashley Eckstein will again co-host the second annual Course for the Force charity fundraiser relay race – passing a lightsaber instead of a baton, naturally – leading up to San Diego Comic-Con in July. More new Her Universe products will go on sale shortly. And the Year of the Fangirl continues with daily features on Bayley, Cassandra, Jacqueline, Louise, Angela, Ashley,Lilly, Emma, and Katie.
At the Star Wars Blog, Mary Franklin writes about the special Celebration Europe screening of the Star Warriors documentary, which tells the stories of the cosplayers from the 501st and Rebel Legions who gathered together to march in 2007's Tournament of Roses Parade. Amy Ratcliffe continues her Fully Operational Fandom series with Scissors Are the Lightsabers of Crafting. And LucasBooks senior editor Jen Heddle shares the positive emotions that emerged from her recent trips down to southern California to experience the synergy of Lucasfilm and Disney.
Speaking of that synergy, at the end of last week, mother Sharon Edwards shared a heartfelt and heartwarming story on her blog about how one of the Jedi Masters at Disney World had taken the time to ensure a special moment for her autistic son when his session of the Jedi Training Academy was rained out. (As a heads up: The blog post requires a genuine tissue warning.) The post quickly went viral, within hours reaching the Disney cast member himself as well as thousands in the Star Wars and Disney fandoms. Sometimes our shared love for our favorite characters and stories really can bring out the best in people.
We saw a similar rallying in the fandom several years ago when Katie the Star Wars Girl was bullied. After a successful panel at Celebration VI, Katie's mother, Carrie Goldman, will be moderating an anti-bullying panel at San Diego Comic-Con with panelists including Ashley Eckstein, Bonnie Burton, Chase Masterson, and Jane Espenson.
When Microsoft's Xbox One press conference at the recent E3 convention revealed that none of the next-generation console games featured a female protagonist, Anita Sarkeesian naturally tweeted a disappointed reaction. The appalling responses she received on Twitter speak for themselves about the deeply embedded sexism within the gaming community. Novelist Chuck Wendig wrote a great blog post on 25 Things to Know About Sexism & Misogyny in Writing & Publishing, and then a follow-up post refuting some of the unfortunately predictable responses he received. (Note: All three links include foul language, likely NSFW. While Mr. Wendig isn't a fangirl, he is one of this FANgirl's heroes, thus earning a spot in today's post.)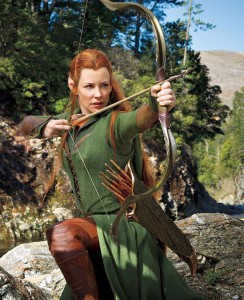 The first official teaser trailer for The Hobbit: The Desolation of Smaug includes notable appearances from Orlando Bloom's Legolas and Evangeline Lilly's elven warrior Tauriel. I'm officially excited for a Hobbit movie again. Just for giggles, check out the video of Bloom, Lily, and Lee Pace watching some Hobbit fangirls viewing the trailer.
At Ms. Magazine Blog, Holly Derr asks Where Have You Gone, Sarah Connor?, noting the dearth of female leads and even important female supporting characters in this summer's blockbuster action movies. Comics professional Mairghread Scott wrote a powerful blog post titled Moving Beyond Outrage: The Real Solution to Women In Comics. She emphasizes that media coverage of women in comics is often slanted to only certain kinds of storytelling, making it crucial for fans who want to see more women in comics to actively support them.
---
Tricia Barr took her understanding of brand management and marketing, mixed it with a love of genre storytelling, and added a dash of social media flare to create FANgirl Blog, where she discusses Star Wars, fandom, and strong female characters. She also writes about Star Wars for Random House's science fiction and fantasy blog Suvudu.com and Star Wars Insider magazine and is a contributor for Her Universe's Year of the Fangirl.
In her spare time, Tricia puts the finishing touches on her first novel, Wynde. For excerpts and tales of her adventures in creating a fictional universe, hop over to TriciaBarr.com.
For updates on all things FANgirl follow @FANgirlcantina on Twitter or like FANgirl Zone on Facebook.