Review: TIE Fighter Owners' Workshop Manual
Next in the series that takes a Haynes Manual-esque approach to a class of Star Wars ships is the TIE Fighter Owners' Workshop Manual. This edition covers both Imperial and First Order TIE models in over 100 pages written by Ryder Windham with illustrations by Chris Trevas and Chris Reiff.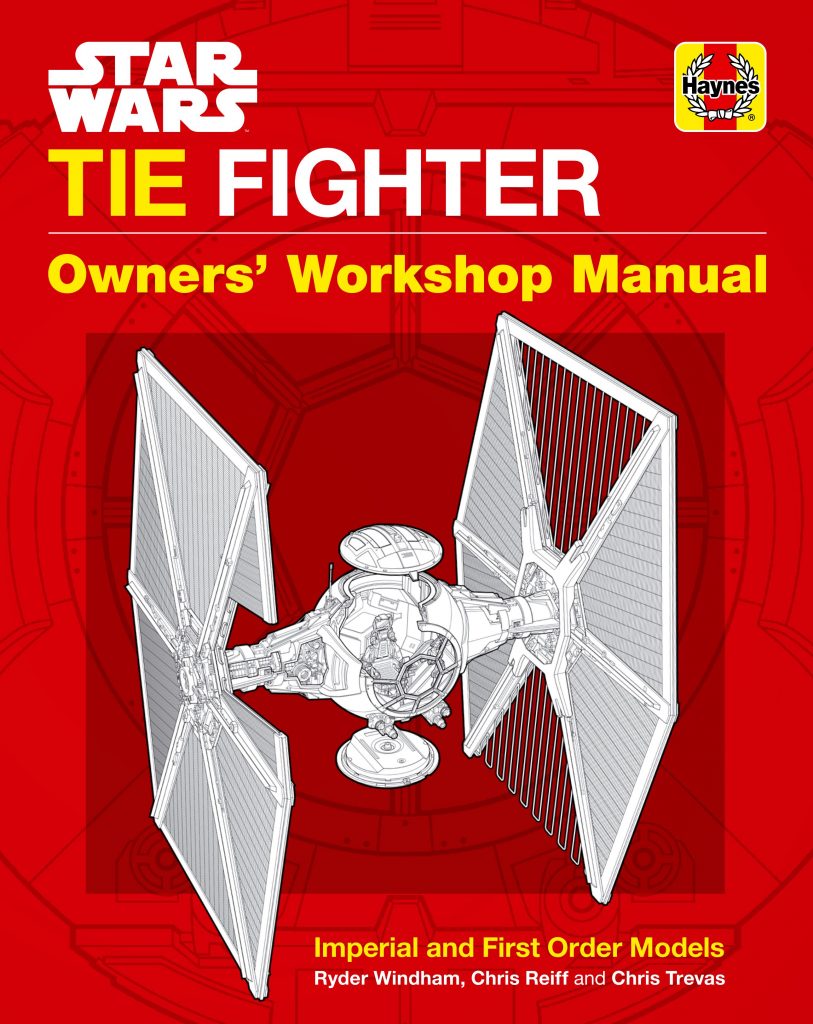 For those that read last year's Star Wars: YT-1300 Millennium Falcon Owner's Workshop Manual, this TIE Fighter one has similarities in its format and approach but it's not exactly the same. Since this TIE Fighter book has so many models to cover and not one of them is singularly quite as infamous as the Millennium Falcon you don't get as much on the history of any particular model or any of its pilots.
The Falcon was a YT-1300 that happened to be used in some battles, but the TIE is a ship system almost exclusively designed for them. There is still some history in the book though with its focus on the company that designed and manufactured these twin ion engine starships. And while most of the piloting info is kept general, you'll find at least one photo of a young Han Solo when you learn about the TIE model he flew. His son is in the book too of course.
I really appreciate all the work the TIE Fighter Owners' Workshop Manual does to present in-universe justification for all the types of changes in the TIEs we see both in the movies and from other Star Wars media. Not only is there an easy-to-follow narrative about the needs of the military groups using them but it reveals deeper insight into the way the Empire was run and what the First Order is willing to take from it as well as what they left behind.
If specs and tech is your thing, this book will be definitely be right up your alley too. Measurements, acceleration, speed capability, engine types, nav systems and so on appear alongside head-on and side-facing diagrams of the variety of TIE fighter models. From the Imperial line you'll find info on the standard TIE/in along with heavy, boarding craft, command shuttles, interceptors, and seven others in that starfighter series. Meanwhile on the First Order end there's the TIE/fo, TIE/sf (the model Finn and Poe escaped in), and the TIE Silencer Kylo Ren tested. You'll be able to compare the cockpit setup and the pilot uniform from each group although there seems to be no explanation for why First Order TIE pilots need shoulder armor.
The info does get a little repetitive at times. More than once I was disappointed to find captions that said the exact same info as a paragraph I'd recently read. For the most part though Windham makes the most out of the info he's able to give and the Trevas and Reiff illustrations are cool as always. We don't get a lot of non-fiction in-universe books from Star Wars so it's nice to read something a little different.
Star Wars: TIE Fighter Owners' Workshop Manual is out now in hardcover from Insight Editions.
Check out the book's video trailer below for a peek at some of the pages.
The publisher sent a copy of this book for review, but as always these opinions are my own.
Find this review helpful? Say thanks and help power more books reviews by leaving a tip of a coffee on Ko-Fi.