Star Wars Celebration Chicago 2019: The Lucasfilm Publishing Panel
One of the most powerful pillars of the Star Wars expanded universe is the books. Many credit Timothy Zahn's Thrawn Trilogy for helping to jump start the Legends universe that began in the 1990s; ever since then, the publishing platform has served as an important player in imagining and expanding the Galaxy Far, Far Away. After the acquisition by Disney, Lucasfilm Publishing has continued this tradition in multiple ways, including new worlds and new inclusive characters establishing a more diverse population of heroes and villains. On Saturday, April 12, the Lucasfilm Publishing Panel assembled its own team of mighty heroes on the Twin Suns stage of the McCormick Place convention center for a fascinating, if piecemeal, conversation from nearly a dozen or so of its authors: among them the highly popular Claudia Gray and Timothy Zahn; the quickly up-and-coming favorites of E.K. Johnston, Delilah Dawson, and Alexander M. Freed; and children-oriented authors like Jeffrey Brown.
The standing room only crowd of fans cheered each author's name as the moderator, Lucasfilm Publishing's creative director Michael Siglain, introduced the panel. The assembled authors represented perhaps the best example of how Lucasfilm should build its stable of creatives: diverse and inclusive. Women just out numbered men, and persons of color, such as Zoraida Córdova and Justina Ireland, helped to bring a much needed perspective to the Star Wars universe that has long been dominated by white men.
The format of the panel consisted of each author being given the chance to discuss their latest projects. The books include Alexander M. Freed's upcoming Alphabet Squadron Trilogy (this June!), Claudia Gray's Master and Apprentice (now available), and Queen's Shadow by E.K. Johnston (also now available). Other upcoming titles included Timothy Zahn's continuing saga of Grand Admiral Thrawn with Thrawn: Treason (which takes place just before the final season of Star Wars Rebels), an untitled story by Justina Ireland (subsequently revealed to be Spark of the Resistance in the Journey to The Rise of Skywalker publishing event), the Skywalker Saga by Delilah Dawson (she also has a Galaxy's Edge novel, Black Spire, coming out), and Crash of Fate, a Galaxy's Edge tie-in novel by Zoraida Córdava set on Batuu. For the younger fans, multiple projects promise more fun page-turning with Jeffrey Brown producing Rey and Pals, a Sequel Trilogy based update to his previous works, while C-3PO Hates Sand by Caitlin Kennedy and Brian Kesinger and Creatures Big and Small by Calliope Glass and Katie Cook bring Star Wars content for fans who might favor imagery more than writing.
After each author was given the chance to talk about their new creative endeavors, the panel shifted to a question-and-answer format with each author taking time to answer the same question asked by Siglain. One of the most insightful questions asked about the books that turned the authors into fans of the franchise. For the older writers, the answers went back to the original trilogy, such as Delilah Dawson having a Return of the Jedi tape cassette read-along book and Freed a Jedi picture book. For the younger writers, the prequel trilogy was revealed to be their introduction to Star Wars fandom, such as E.K. Johnston, who admitted that The Phantom Menace came out on her 15th birthday and she was amazed by Padmé Amidala. Two different authors noted owning beloved and well worn copies of the The Empire Strikes Back novelization.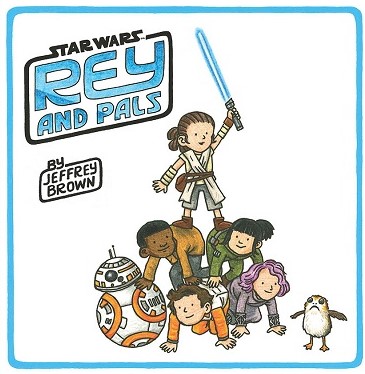 The question about each author's writing process also revealed interesting insights, such as Dawson's admission that she builds playlists while she works on her novels, which she shares with her fans. Córdova shared that she wrote her book while in Amsterdam, Holland, and gazed out at the canals as she outlined the path of her characters and how she evaluated whether the characters got to where they were supposed to be properly or not. What was very clear – as it seems with virtually every creator, regardless of the medium – is that having the opportunity to contribute and play within the Star Wars universe is something truly special. Star Wars is not just a project picked up by those wanting a paycheck, but fans who genuinely love the source material, and this passion was present throughout the panel.
The Lucasfilm Publishing panel fulfilled the singular duty of a convention panel: feed the fans. In this case, authors provided fascinating tidbits about their upcoming projects, such as Freed talking about his Alphabet Squadron or Dawson disclosing the return of her protagonist Vi Moradi and antagonist Cardinal, a former elite stormtrooper trainer of the First Order (both characters from her Phasma novel). Even visual nuggets were provided in the form of book covers and the interior of pages of the illustrated books, such as Brown's Rey and Pals and Christian Blauvelt's How Not to Get Eaten by Ewoks and Other Galactic Survival Skills. It was a panel unbound by a desire for secrecy or production demands. At the same time, because simple but revealing questions were offered to the panel, fans left with a better familiarity with the fans who sat upon the stage, building that reassuring connection that those entrusted with the future of the franchise were just passionate and excited as themselves.
Related Links:

Ross Brown spent much of his childhood in the "Dark Times," before new Star Wars films existed beyond myth and rumor, subsiding on way too many hours of Star Wars novels, games, and repeated viewings of the original trilogy on VHS. In the enlightened era of The Force Awakens, little has changed, but to avoid frightening friends, family, and random strangers with his passion for Star Wars, Ross writes about the franchise at Brown's Review at BrownsReview.com. You can also follow him on Twitter: @Wolfesghost.

Latest posts by Ross Brown (see all)