Kate Hamill: Vanity Fair and Adapting the Classics from the Female Gaze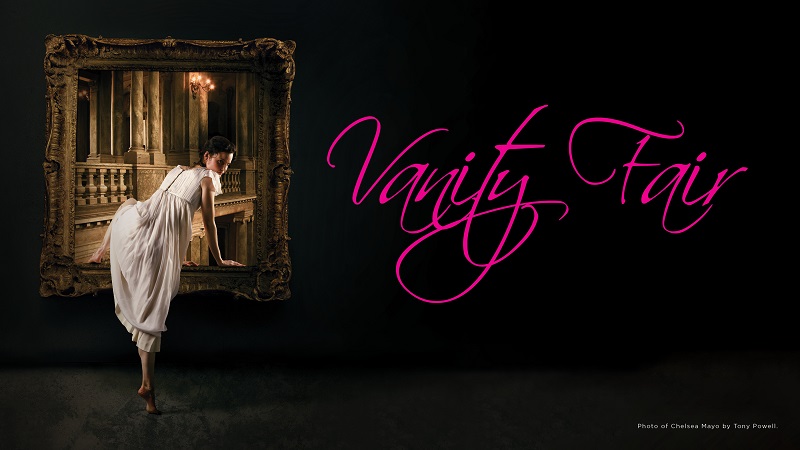 by Priya Chhaya
Published in 1848, Vanity Fair falls within a broad category of novels often referred to as "classic." Some may have read the novel as students, while others stumbled upon William Makepeace Thackeray's serialized story through the Mira Nair film (starring Reese Witherspoon) or the recent mini-series on Amazon. Whatever the medium, the story of Vanity Fair details the life of Rebecca (Becky) Sharp and her friend Amelia Sedley, two women who come from vastly different circumstances and are thrust into — or take on, depending on your interpretation — a society that isn't very kind to either of them.
Thackeray's intent was to be satirical and to be a mirror on society. However, like many classic novels it is often dismissed as lacking relevance in the here and now.
That expectation is what led to a challenge: How do you take a book like Vanity Fair and translate it to the stage, creating a more realistic and identifiable Becky and Amelia that serve, also, as a reflection of our times?
Over a year ago I had the opportunity to see a reading of Kate Hamill's adaptation of Vanity Fair at the Shakespeare Theatre Company (STC) in Washington, DC. In this stripped-down version, in which Hamill played Becky, I saw story that brought into full light the strengths and weaknesses of these two women. Furthermore, in the Q&A that followed I was fascinated by Hamill's intentionality, which focused on pulling plays forward in time so that they focused on the humanity and complexity of women today. The result of that night was for Vanity Fair to be put into full production for STC's 2018-2019 season.
In anticipation of this production, which opens this week, I spoke with Hamill about her work. And while our conversation primarily centered around the building of these complex women for theatre, we did talk about our mutual love for Leia Organa and Beatrice from Much Ado About Nothing.
Right from the beginning it was clear how much of Hamill's inspiration comes out of what she calls the "classic canon." Hamill said, "I loved the classics. I love Shakespeare, [Eugene] O'Neill… but I was hitting the same problem that is true in modern plays, just because for so long men were the only ones that were allowed to tell stories. Everything was through the male gaze."
Combating this, however, was her belief that the import of these stories was paramount. "These stories shape our culture, whether or not we like it. We are taught them in school, [as they are] cultural touchstones."
With this in mind, Hamill began adapting some of the most familiar female centered novels. To date she has written versions of Sense and Sensibility, Pride and Prejudice, Little Women and more. Her second adaptation, Vanity Fair, successfully propels the audience into a clearer understanding of the odds stacked against women. Hamill chose Thackeray's novel because she was "struck by this very raw, dynamic exploration of these female characters, and one can argue that Thackeray does a more surface job, and their female friendship and how they surprise each other in a few years. It had a sort of cynicism that I was really into, [and] I thought I could use it to examine hypocrisy."
Hamill does this on two very distinct levels. The first has to do with what we all know as the "default narrative" where a female character is often written to serve a singular purpose in a play, and that even when she is the central character, she has to be a "paragon of femininity." For her, Becky and Amelia needed to be less like the archetypes that myths, legends, and stories have expected women to be and bring them closer to women in the real world. As Hamill states, "The women I know are strong and funny and vulgar, but also sometimes we are all human. Sometimes we are selfish or uncaring or unfeeling." In short, she wanted to combat the very default tendency of sorting women into the unnatural buckets of "good women" and "bad women" where likeability was paramount. Instead she wanted to reveal the character's humanity.
Hamill also wanted to take this very classic novel and use it, as all good theatre should do, as a reflection of society today. In building the structure of the story where Thackeray's Manager serves as sort of the moral conscience for the audience, Hamill said her intention was to "say – hey — you think the classics aren't about you — audience — but they are about you. So, I created this structure for the play which is two women who are exactly parallel in as many events in their life (that I could possibly create) and you see them make the opposite choices. Amelia's comes from a place of privilege, and Becky's comes from almost nothing. [And then] you see how this system punishes them, ultimately no matter what they do. And the only way they get out of that system eventually is through the power of female friendship."
I should note that I love that Hamill looks at adaptation as "a collaboration between myself and an author who is currently dead." In short, she acknowledges the source material, and then uses that framework to bring the novel closer to reality. All to make a broader point about relevance and modern society.
It comes back to perspective, prejudice, and how we as the audience, much like in the real world, are driven to make assumptions based on very little information. For Hamill, "one thing that is really, really interesting to me is how we tend to judge characters in plays, [which] parallels how we judge women in society. We can say oh she didn't make the right decision, oh she's so terrible, and all the time people watch plays and say oh she's such a jerk." It is a gut reaction often based on a lack of knowledge of a character's motivations and actions.
More often than not, storytellers struggle to build that context as a clear part of their narrative journey. Sometimes motivations are self-evident based on a variety of different conditions, other times authors leave out essential information to build tension. The challenge is not using these mechanisms as a crutch instead of fleshing out a particular character. Hamill's approach, which is a product of the shifting language of inclusion and diversity in what we consume, reminds us that life and the world we live is not straightforward or clear. You can spend your life doing the right thing, and come out no better for it in the end.
In reclaiming these stage adaptations to be, a truly female-centered narrative Hamill was "interested in breaking away the filters between ourselves and these archetypal stories. I think why these are classics is because they still have something to say. And when people create obstacles between themselves and the classics its because they don't want to face some truths about themselves."
From an interview between Priya Chhaya and Kate Hamill on Tuesday, January 15, 2019. In addition to Vanity Fair at the Shakespeare Theatre Company, you can see Hamill's original play Prostitute Play at Primary Stages this summer. Learn more at www.kate-hamill.com and follow her on twitter @katerone.
Vanity Fair is now playing at Shakespeare Theatre Company through March 31. Tickets start at $44. More information at shakespearetheatre.org.
Latest posts by Priya Chhaya
(see all)