Dragon Con Costume & Cosplay Portraits: Part 2
As someone who makes costumes from time to time, I know how big of a deal putting together a costume can be. The hours, the research, the sourcing, the sewing, the how-did-it-get-so-close-to-con-time crunch – it's a ride. In the convention circuit sometimes it comes out of a love for a particular costume design and wanting to bring part of one of your favorite stories into tangible form. Often cosplay and costume-making comes out of love of a character, resonation in seeing some part of you in them or wanting to embody one of their qualities for a day.
As a photographer I know the value of a photo to preserve and share with a wider audience – to pause, to connect, to tell a story all on its own. In that way photography and cosplay have some similarities.
If you missed Part 1 of these Dragon Con costume and cosplay portraits, be sure to check it out. Below we continue the series – celebrating and giving insight on some of the costumers & cosplayers found there.
All photos in this article by Kay. Subjects of the photos are welcome to repost the photos of themselves with credit.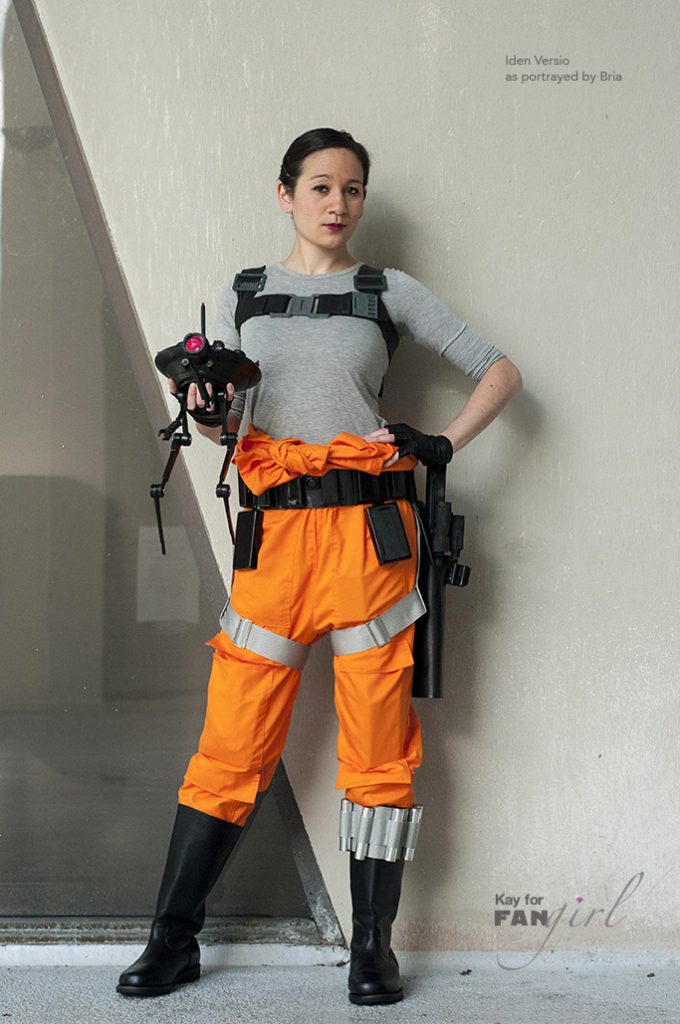 To say Iden Versio has been a big deal to Bria is an understatement. In addition to the representation the character provides, Bria found power in Iden's Star Wars story – in the way she keeps going, in what she's willing to do to do the right thing, and in how she deals with expectations put on her.
This is Bria's second Iden costume after being first to the gate to make Iden's Inferno Squadron uniform. She says this Rebel costume is much more comfortable than the Imperial one. The 3D-printed droid Dio is a newer addition to her Battlefront II costumes and clearly a beloved one at that. We had to remember to take a few photos without it.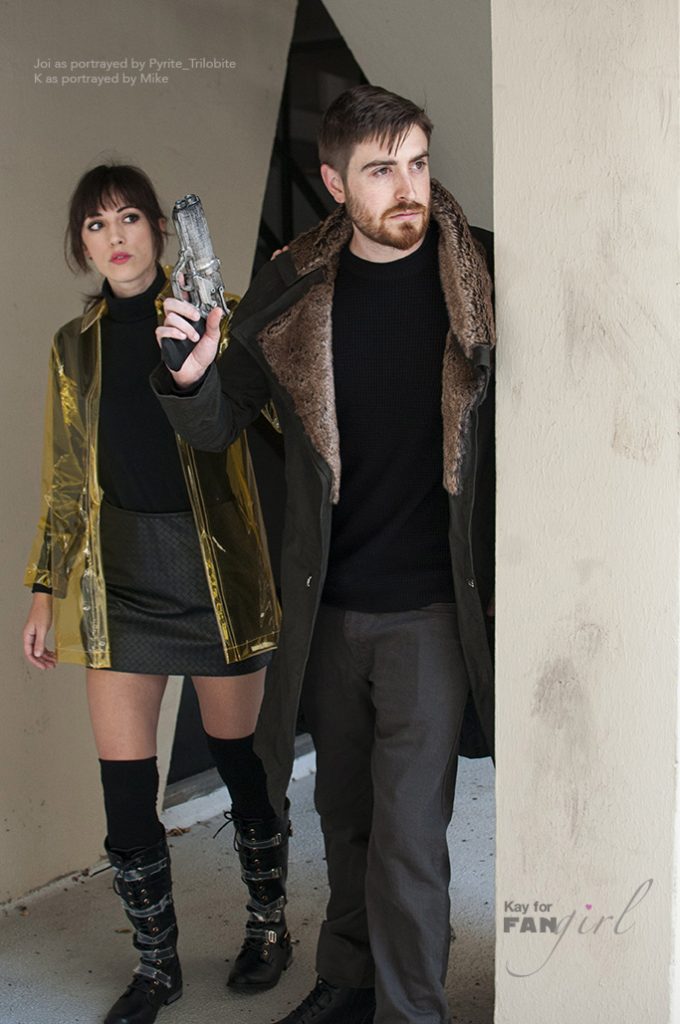 Say what you will about Blade Runner 2049 story-wise but without a doubt the movie had really really great coats. And one of the cool things about making and wearing costumes at conventions is that you're pretty much wearing a sign that says "Hey, I like this thing!" It's a beacon – a great way of starting conversations and finding fellow fans.
Husband and wife team of Mike and Pyrite_Trilobite were hoping to find a photographer who appreciated the visual style of the movie. We were introduced through a mutual friend, which lead to this opportunity to do a mini-tribute to the cinematography of Roger Deakins.
Pyrite_Trilobite had originally intended to make both Joi's and K's coats. Frustrations with K's lead to them commissioning one they are very happy with. She still made Joi's for herself though. The vinyl seemed like it'd be tricky to work with – especially when you can see through all the seams. She assured me it was a challenge and that the vinyl stuck to everything throughout the process. In the end though they were excited to wear these costumes.
Michelle and I bonded over our individual experiences making Rey costumes including how scary it is to cut into screen-accurate fabric when you don't have the funds to buy more or the place that sold it is all out of inventory. Even after making an item like the Jedi tunic out of muslin (a more affordable and accessible fabric option often using in mock-ups and pattern testing) a few times, cutting in that situation is still a step that requires a deep breath and triple-checking before proceeding.
The first time I met her she only had a couple minutes in between meetups, but we were able to spend more time together on another day so I was able to capture both of her The Last Jedi-featured Rey costumes. Michelle has put a lot of care into getting the details right including all the hand-stitching that finishes off the gray vest. We talked about the practicality of getting to carry around an accessory like Rey's lightsaber-toting bag while in costume and the way that Rey's costumes have lead us to connecting with fellow Star Wars fans of all ages.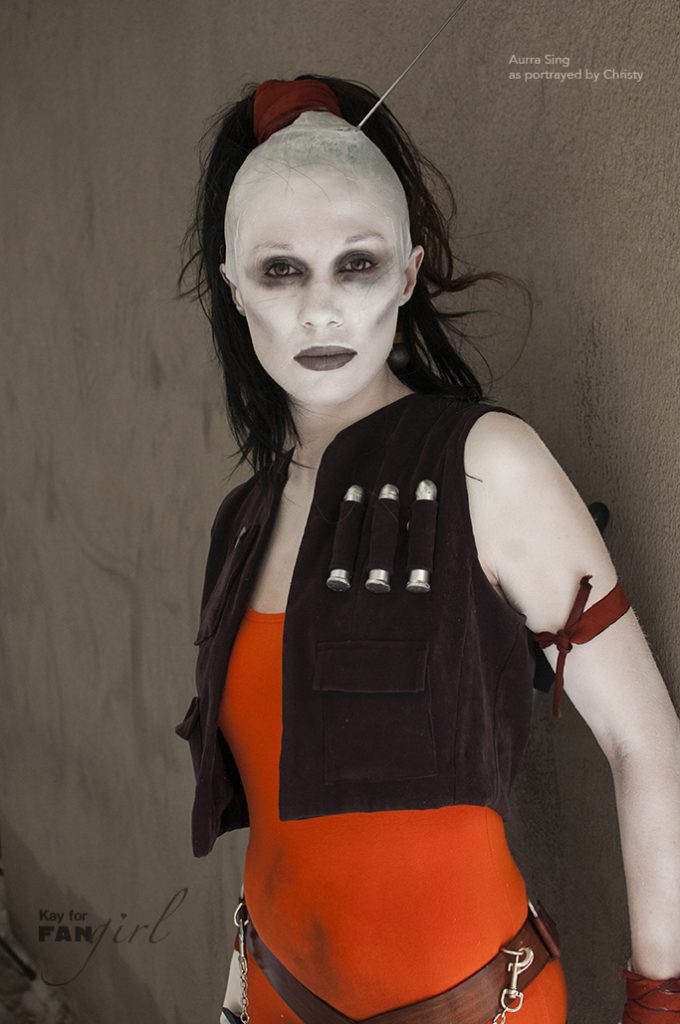 Christy has one of those costumes that you'd think would be relatively easy to get into, but then maybe you've never put on a bald cap or extra long fingers. I helped her get her hands on (a phrase you find not that uncommon if you're friends with anyone who has costumed as an alien) and was struck by the ingenuity of the gloves and ties that make them up.
Christy and her husband Michael are big fans of the Clone Wars tv series and wore their Aurra Sing and Hondo Ohnaka costumes to celebrate the show's 10th anniversary as well as its return. After wearing the costumes last year at Star Wars Celebration they've made several updates. For example, Michael built his Hondo helmet on top of a toy soldier helmet while Christy spent hours cutting, sewing, staining, waxing, and gluing her belt and its accessories.
Thank you to everyone above and in Part 1 for letting me photograph you and your fabulous work. It was an honor.
Enjoy this post? Show your support with a coffee on Ko-Fi.