The Clone Wars on Adult Swim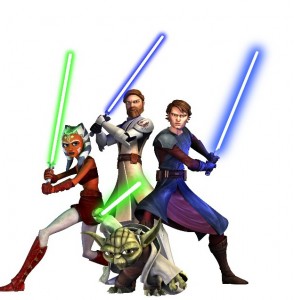 After the series ended earlier this year, The Clone Wars fans were left without much. Rumors of bonus content continue to make fans antsy. There still isn't any news of new material, but The Clone Wars is returning to Cartoon Network, this time in Toonami's early morning block.
Intended for an older audience than the rest of the channel, Toonami runs primarily anime, as well as American action cartoons. It was a staple of my teens in the early 2000s when it came on in the afternoon. The revamped Toonami, which returned after a hiatus, airs at night, in the hours also used for the Adult Swim programming featuring shows like Robot Chicken.
The Clone Wars re-runs will be airing on the Adult Swim/new Toonami block on Cartoon Network starting at 3:oo a.m. on Saturday, August 17.
According to Toonami's official Tumblr, they will be "skipping some of the non-continuity (read: Jar Jar) eps," but the show will "generally run in order."
From the teaser videos, it looks like they're using the darker episodes to market the show, but won't skip out on lighter, but still action-oriented episodes like "Jedi Crash."
Toonami's earlier iteration aired the 2003 Clone Wars microseries.
I'm not sure how many fans will be staying up into the 3:00 a.m. block to watch The Clone Wars, but I do think Star Wars fits nicely into Toonami's programming. Even their mascot is a space marine. It's nice to know that The Clone Wars is still airing, even if it is in the small hours.