Star Wars Rebels Season Three: Blu-Ray Bonus Features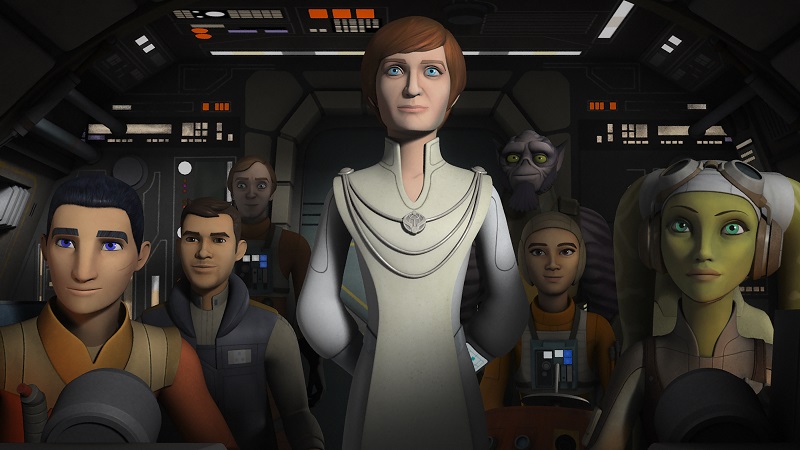 Three weeks until the premiere of Season Four of Star Wars Rebels on DisneyXD, now is the perfect time to revisit Season Three. The complete season was released on home video on August 29, and the Blu-ray edition included a number of bonus features that are definitely worth watching not only for fans of the animated series, but also for any Star Wars fan interested in behind-the-scenes insights into the creative process at Lucasfilm.
The heart of the bonus content is a series of five featurettes highlighting the key storytelling moments in Season Three. With Lucasfilm yet to hire a woman to direct a Star Wars film, or even a single episode to date of Star Wars Rebels, the high visibility of women in the featurettes is a welcome reminder of the importance of their contributions to the series and its success.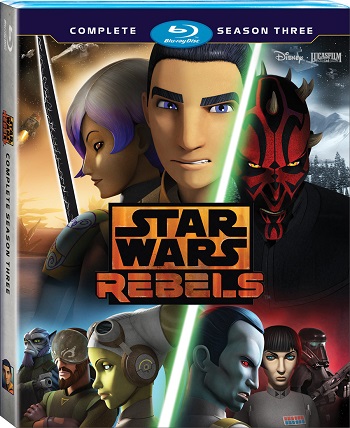 "A Rebel Alliance" focuses on Mon Mothma and her daunting task of uniting the disparate insurgent forces in the galaxy, and the comments from Carrie Beck, Kiri Hart, and Genevieve O'Reilly reinforce the strength and resilience of her character. "Return to Mandalore" centers on the story arc for Sabine Wren, emphasizing her growth into a series co-lead with Ezra. Though "Thrawn: A Legend Reborn" rightly notes the significance of Timothy Zahn's contribution in creating the iconic villain and blessing his crossover from the Legends novels into Star Wars Rebels, the featurette does not hesitate to let Hart and artist Amy Beth Christensen show their fangirl enthusiasm for Thrawn, too.
The remaining two featurettes showcase the prominence of Star Wars Rebels to Lucasfilm's overall storytelling program. "The Original Rebel: Saw Gerrera Returns" explores the connections between Rebels and Rogue One, with hints at more to come in Season Four. One of those is the return of Forest Whitaker to voice Saw Gerrera in Rebels for additional episodes – and he appears in the featurette, as well. Similarly, "Apprentices to Outcasts: Kenobi and Maul" draws together story threads from The Phantom Menace, The Clone Wars, and Rebels to help explain how and why the fateful final showdown between the two lightsaber-wielding adversaries took place the way it did.
In addition to these featurettes, the Blu-ray bonus features include the full collection of "Rebels Recon" videos to accompany each episode and five episodes with audio commentaries from Dave Filoni along with Joel Aron, Keith Kellogg, Killian Plunkett, and Justin Ridge.
Last week, Lucasfilm revealed more details about the schedule of new episodes. Season Four of Star Wars Rebels premieres on Monday, October 16, with subsequent episodes also airing on Mondays. Episodes are scheduled to air on DisneyXD at 12:30 a.m., 3:00 a.m, 7:30 a.m., 5:30 p.m. and 9:00 p.m. ET/PT, as well as same-day on the DisneyXD app. Accompanying "Rebels Recon" videos will be available after the last airing of the day, while episode guides on StarWars.com will post the following morning.
From Lucasfilm:
Before its highly anticipated finale, many new Rebels episodes will be broadcast back-to-back, giving fans a full hour of the Ghost crew's thrilling adventures each week though November 13th :

Monday, 10/16 – "Heroes of Mandalore" Parts 1 & 2
Monday, 10/23 – "In the Name of the Rebellion" Parts 1 & 2
Monday, 10/30 – "The Occupation" and "Flight of the Defender"
Monday, 11/6 – "Kindred" and "Crawler Commandeers"
Monday, 11/13 – "Rebel Assault"

After the holiday break, Star Wars Rebels will return in early 2018 with its final episodes leading up to its epic finale — a story so secret that only a few people on the production team know how it will end!

Tricia Barr took her understanding of brand management and marketing, mixed it with a love of genre storytelling, and added a dash of social media flare to create FANgirl Blog, where she discusses Star Wars, fandom, and the intersection of women within Star Wars fandom. She is co-author of Ultimate Star Wars and Star Wars Visual Encyclopedia from DK Publishing, a featured writer for Star Wars Insider magazine with numerous articles on the Hero's Journey. Her FANgirl opinions can be heard on the podcasts Hyperspace Theories and Fangirls Going Rogue.

Tricia Barr's novel, Wynde, won the 2014 Independent Publisher Book Award Gold Medal for Best Science Fiction/Fantasy/Horror Ebook. She was also part of Silence in the Library's successful all-female creator science fiction and fantasy anthology Athena's Daughters, which is available now. For excerpts and tales of her adventures in creating a fictional universe, hop over to TriciaBarr.com.