Cargo Cosmetics Teases Star Wars: The Last Jedi Make-Up Collection
Cargo Cosmetics, a staple of TV and Film sets, has announced that their Fall/Holiday 2017 collection will be tied to Star Wars: The Last Jedi.
From Cargo:
"This collaboration with Disney has given our team an opportunity to really showcase our creativity," says Brian Robinson, President of Cargo Cosmetics. "Cargo is regularly used on the sets of hit Hollywood films so developing a line for Star Wars: The Last Jedi just further reinforces our brand's identity. We are truly excited to be able to offer the Cargo customer this exclusive capsule collection in addition to the regularly planned Fall/Holiday launches."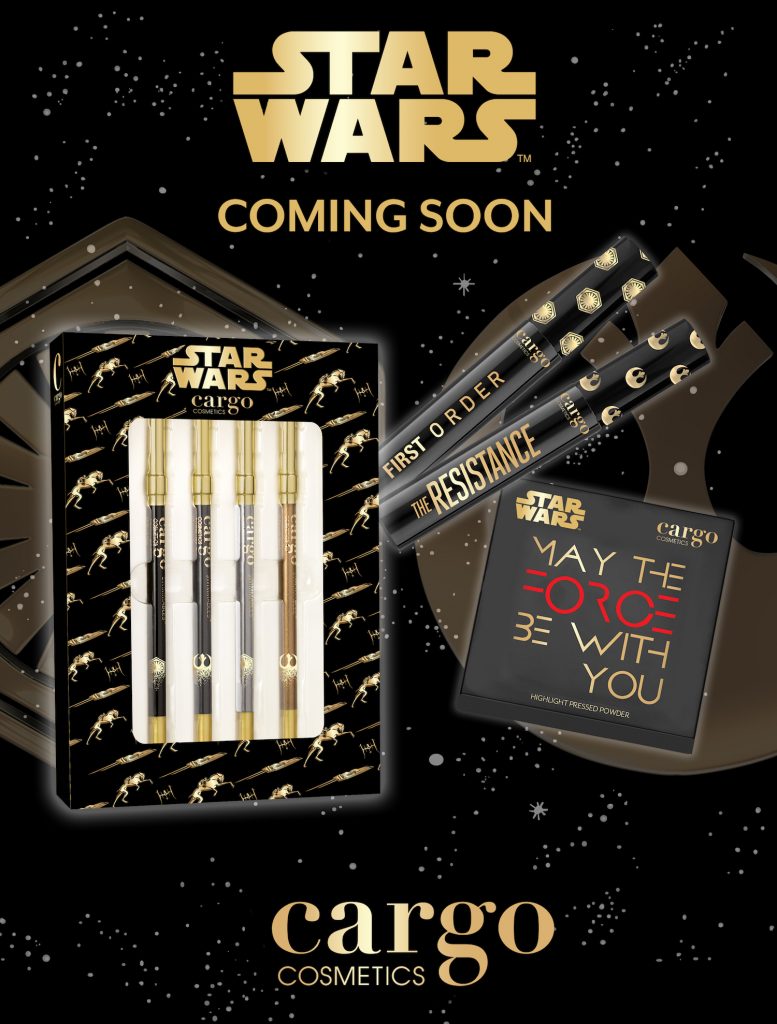 The collection is set to debut in October at Kohl's stores. A look at Kohl's current non-Star Wars Cargo offerings shows prices for the make-up in the $15 – $36 range.
Cargo has yet to reveal specifically which products will be a part of the Star Wars line.
But a look at their teaser image (left) suggests there will at least be eye liners, mascara, and a pressed powder highlighter.
This collection is definitely intriguing. The packaging alone seems to indicate a higher attention to detail than what was released by a different company for The Force Awakens in 2015. Hopefully the inventory levels will make it more accessible too.
Check back in October when we'll have more info and then a chance to check these out.

She grew up wanting to be an astronaut. After seeing Star Wars, she wanted to be Princess Leia, Han Solo, and an astronaut. Life's taken her on a bit of a different path, but she's okay with that.

Kay is FANgirl's resident geek fashion expert and co-host of the Hyperspace Theories podcast. She reviews books and movies for the site with a heart for storytelling and a mind that likes to analyze. Kay's been a guest on various podcasts sharing her love and knowledge of storytelling, film-making, fashion, and of course, Star Wars.

Most days are filled with her work as a creative services professional - designing websites & branding, photographing, voice acting, editing, and more. Kay spends the little bit of free time she has reading, costuming, and, of course, making pew pew noises. She would pick up more jobs and hobbies if she was a Time Lord.