Rey's The Last Jedi-Style Boot Revealed by Po-Zu
You may have noticed in the D23 Behind-the-Scenes reel or in the promo art for The Last Jedi that Rey is about to get some new boots. Some dedicated Rey costumers like myself noticed that the soles looked very much like the soles of the Po-Zu boots worn by Daisy Ridley as Rey in The Force Awakens. And on Force Friday hopes were fulfilled as Po-Zu announced the launch for the REY Hi Boot.
From Po-Zu Founder Sven Segal:
"With our design aesthetics these boots can be worn for everyday street and fashion-wear and they are possibly the best match out there for character cosplayers. I also love the association with the heroic Star Wars Resistance, as there are parallels with Po-Zu's mission to resist wasteful and polluting manufacturing methods by using low-impact materials and incorporating sustainable production techniques."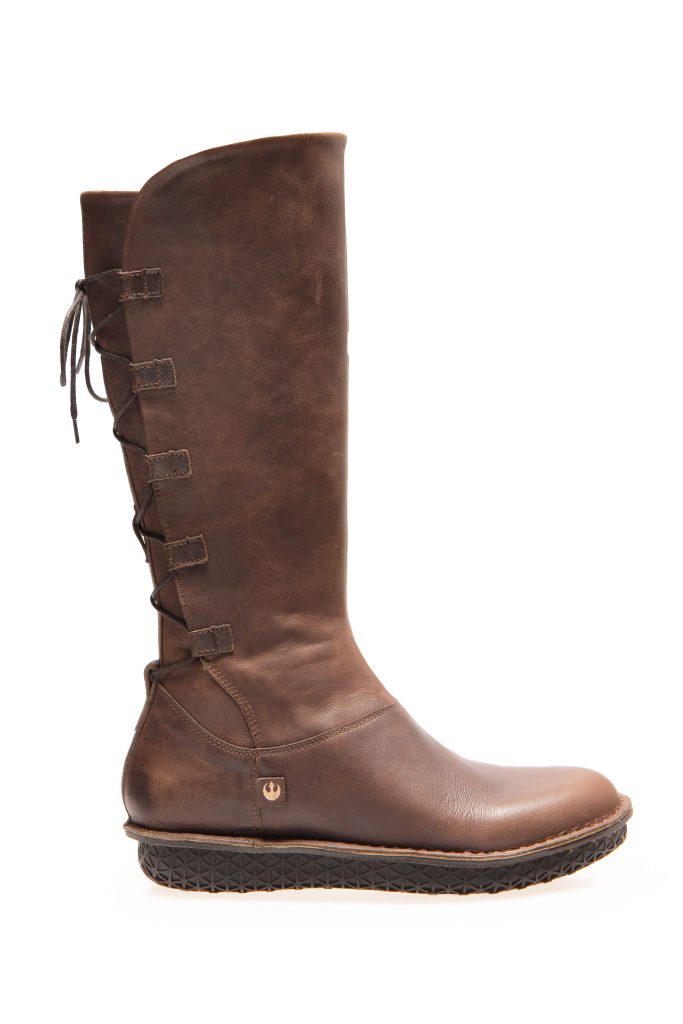 The boot itself is meant to be knee-high with adjustable calf/rear laces and a zipper up the inner sides. Po-Zu's oh-so-comfy shock absorbing coconut fibre Foot-Mattress™ will be combined with a flexible natural rubber sole. They'll retail for £225.00 (approx. $290). Delivery is slated for early November of this year so you'll have them in time to wear to the release of The Last Jedi if you'd like. The pre-order is now open on Po-Zu's website (affiliate link).
The REY Hi Boot is the 11th women's shoe design in Po-Zu's collaboration with Star Wars. Last month saw the announcement of the limited edition silver Star Wars Resistance sneakers. The rest of the collection includes designs for men and children too.
If you find yourself in England, you'll be able to check out the REY Hi Boot and other styles in person at the exhibition of the collection at the Museum of Brands in Ladbroke Grove, London.

She grew up wanting to be an astronaut. After seeing Star Wars, she wanted to be Princess Leia, Han Solo, and an astronaut. Life's taken her on a bit of a different path, but she's okay with that.

Kay is FANgirl's resident geek fashion expert and co-host of the Hyperspace Theories podcast. She reviews books and movies for the site with a heart for storytelling and a mind that likes to analyze. Kay's been a guest on various podcasts sharing her love and knowledge of storytelling, film-making, fashion, and of course, Star Wars.

Most days are filled with her work as a creative services professional - designing websites & branding, photographing, voice acting, editing, and more. Kay spends the little bit of free time she has reading, costuming, and, of course, making pew pew noises. She would pick up more jobs and hobbies if she was a Time Lord.