San Diego Comic-Con 2012 Roundup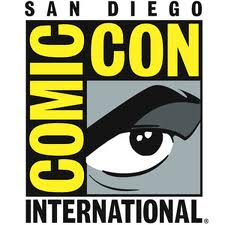 On Friday, the best up-to-the-minute Star Wars news on San Diego Comic-Con came from Bryan Young at @swankmotron and the Star Wars collecting podcast @SWActionNews on Twitter. Bryan also posted a nice prose summary of the SWEU panel at Big Shiny Robot after he live tweeted it.
James from Club Jade is also at SDCC, and posted his videos of the SWEU panel. He provided some great interviews from Course of the Force and from the convention floor. James confirmed with Katie Fleming of Random House Audio that they will be doing fanfic recordings at Celebration VI, so start brushing up on those stories! You can also get an idea of what the booth looks like in his video interview.
Pablo Hidalgo, author of the upcoming Essential Reader's Companion, moderated the two Star Wars panels discussing books and comics. Then he went back to his room and wrote a lengthy summary for the Star Wars Blog of everything presented, including quotes from various panelists. Talk about dedication!
Vader's Little Princess. … This past May saw a smash hit in Jeffrey Brown's Darth Vader and Son from Chronicle Books, which asked the question "What if Darth Vader was a good dad to his four-year-old son, Luke?" In today's panel, Jeffrey revealed there is a follow up in the works that looks at Vader raising a teenage Leia in Vader's Little Princess.

…

X-Wing: Mercy Kill. Aaron Allston returns to Wraith Squadron adventures in a story set after the Fate of the Jedi series. "A new generation of Wraiths and some old favorites rally together for one big final mission," said Del Rey editor Frank Parisi. "Or maybe not final, if a lot of you guys buy it." It will be out August 7.

The Essential Reader's Companion. "The intent of this book is to summarize every prose Star Wars story that's been published," said author Pablo Hidalgo, who would later that night write a blog post about the panel and weirdly refer to himself in the third person. Editor Erich Schoeneweiss revealed the book boasts over 100 new illustrations depicting scenes from the novels, as well as about 50 character portraits. It's due out on October 2.

Crucible. … Jennifer Heddle described the book as a landmark event for the trio that would forever change them.
Another landmark event that will forever change the Big Three? Haven't we been down that road with Star by Star, Dark Nest, Legacy of the Force, and Fate of the Jedi? Well, if you'd like to forget about some of that, Star Wars Action News tweeted that Mara will be the next EU character, after Jaina, to be featured in Kotobukiya's Bishoujo line. Rebelscum has a picture of the panel slide introducing Mara figure and some great images of the Jaina statue.
Max Nicholson from IGN summarized the Legend of Korra panel. This is my favorite part:
As predicted, Korra will now be exploring her newfound abilities as a fully realized Avatar. In her character animatic, we got to see Korra racing Tenzin's kids on air scooters around Air Temple Island, switching into the Avatar State for an extra boost to beat them;  this implies that Korra can, in fact, enter the Avatar State at will by the start of Season 2.

Finally, we got to see an animatic in which Korra confronts her first spiritual enemy, a black, almost reptilian ghost of a creature. As the season's title suggests, there will be plenty of time spent in the Spirit World. Said DiMartino, "There will be no shortage of spirits in Book Two."
Update to Korra news: io9 captured the beautiful concept art for Season 2 from the panel. Be sure to check it out!
Saturday brought some great coverage of The Clone Wars panel. Newsrama ran a liveblog, and Amy Ratcliffe live-tweeted. Afterward, EW.com posted one exclusive teaser clip from the panel, and IGN posted the other one. Spoilers in both, so you've been warned! (I predict Star Wars fanfic is re-energized after what we saw today.) Late last night, Pablo Hidalgo posted his recap on the Star Wars Blog, including lengthy quotes from Dave Filoni and Matt Michnovetz.
A few other things that piqued my interest:
---
Tricia Barr took her understanding of brand management and marketing, mixed it with a love of genre storytelling, and added a dash of social media flare to create FANgirl Blog, where she discusses Star Wars, fandom, and strong female characters. She also writes about Star Wars for Random House's science fiction and fantasy blog Suvudu.com. Her interview with X-Wing: Mercy Kill author Aaron Allston can be found in this month's Star Wars Insider Issue 135.
In her spare time, Tricia puts the finishing touches on her first novel, Wynde. For excerpts and tales of her adventures in creating a fictional universe, hop over to TriciaBarr.com.
For updates on all things FANgirl follow @FANgirlcantina on Twitter or like FANgirl Zone on Facebook.