Five Reasons to Own the Star Wars Rebels Compete Season 2 Blu-ray/DVD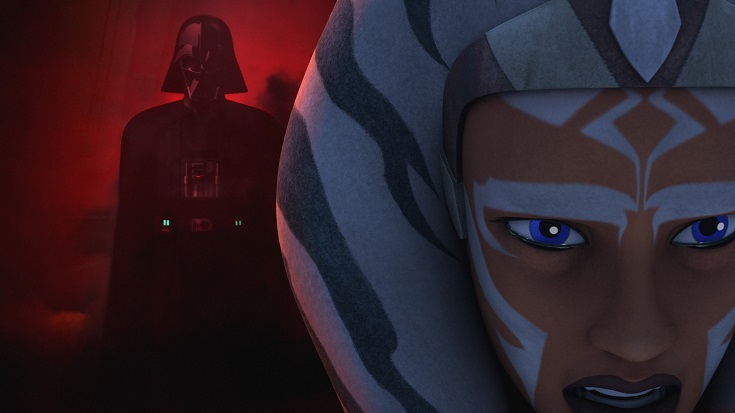 Here are five reasons you should own the Star Wars Rebels Complete Season Two Blu-ray or DVD available now:
#1 The Visuals
This format is beautiful to behold. Although the show looks great on DisneyXD, everything becomes crisper and cleaner on the Blu-ray. This pays off particularly in the season-opening battle between Darth Vader and the Ghost crew, then again when Ahsoka and Maul join the epic showdown with Vader, Kanan Jarrus, and Ezra Bridger at the Sith Temple.
#2 The Story
One of two featurettes is a Disney-style "did you notice this?" piece. It doesn't reveal any great surprises, but it serves as a reminder of the inter-connectivity this story has with the rest of Star Wars. Star Wars Rebels was being developed in conjunction with The Force Awakens, Episode VIII, and most importantly Rogue One, which is closest to it on the timeline. Now, before Rogue One hits theaters, is the best time to reconnect with the themes and events important to Star Wars.
#3 Darth Vader versus Ahsoka
Ahsoka Tano uncovers the truth about her former master Anakin Skywalker over the course of the season. In the featurette, Dave Filoni talks about the thought and effort he put into their season-ending confrontation. Filoni's promise at the end about Ahsoka will bring a tear to fans' eyes. Let's hope we don't have to be patient too long…
#4 Rebels Recon
If you're approaching Star Wars Rebels as a regular watcher, the inclusion of the Rebels Recon that aired on YouTube immediately following each episode might seem like a waste. But many are still coming into the franchise and I love this resource being there for new fans.
#5 It's Fun
No matter how intense Star Wars Rebels got this year, the storytellers kept the humor ramped up.  In true Star Wars fashion "we're all about to die" moments were chock full of zingers reminiscent of Han, Luke, and Leia in A New Hope. Pop in any of the three discs and have a good laugh. Here's a reminder:
FANgirl Blog was provided a sample copy in exchange for a fair review.
---
The Epic Battle to Defeat the Evil Empire Continues in Star Wars Rebels: Complete Season Two!
Available in Your Galaxy on Blu-ray™ and DVD August 30, 2016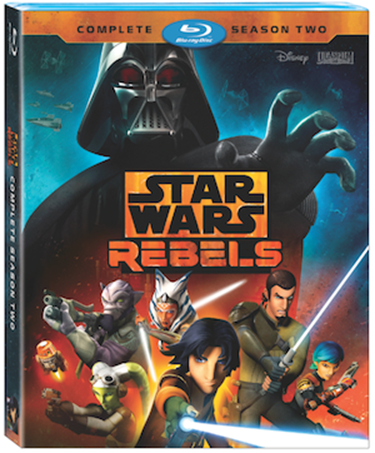 BURBANK, California, June 17, 2016 –– Star Wars Rebels: Complete Season Two delivers all 22 action-packed episodes of the hit CG animated series' second season, plus exclusive, never-before-seen bonus material on DVD and even more exclusive footage on Blu-ray! Available August 30, this thrilling continuation of the Star Wars Rebels saga depicts the continued efforts of the crew of the starship Ghost to defeat the evil Empire.
Amid growing Imperial oppression on Lothal, the rebels are forced to seek out new allies throughout the galaxy and additional resources to sustain their fight against the Empire. With the help of Ahsoka Tano, the crew of the Ghost bands together with a secret rebel cell and ex-soldiers from the Clone Wars to join a fledgling alliance determined to restore peace and freedom to the galaxy.
As Ezra continues his journey to become a Jedi under Kanan's guidance, the threat of the dark side looms large over the fate of the growing rebellion. Darth Vader himself will dispatch new Inquisitors to snuff any spark of resistance, setting the stage for a climactic showdown in which past lives will be revealed, terrible truths will be discovered, and the lives of our heroes will be changed forever.
Star Wars Rebels was created by Dave Filoni ("Star Wars: The Clone Wars"), Simon Kinberg ("X-Men: Days of Future Past," "Sherlock Holmes"), and Carrie Beck. The Lucasfilm Animation production is also executive-produced by Filoni and Kinberg.
Featuring the voices of Freddie Prinze Jr. ("I Know What You Did Last Summer") as Kanan, Vanessa Marshall (TV's "Young Justice") as Hera, Steve Blum ("The Boxtrolls") as Zeb, Tiya Sircar ("The Internship") as Sabine, Taylor Gray (TV's "Bucket and Skinner's Epic Adventures") as Ezra, Ashley Eckstein (Her Universe apparel) as Ahsoka Tano, Dee Bradley Baker ("American Dad," "Phineas and Ferb") as Captain Rex and all the clones, David Oyelowo ("Selma" and "The Butler") as Agent Kallus and Sarah Michelle Gellar ("The Crazy Ones," "Buffy The Vampire Slayer") as the Seventh Sister Inquisitor.

Tricia Barr took her understanding of brand management and marketing, mixed it with a love of genre storytelling, and added a dash of social media flare to create FANgirl Blog, where she discusses Star Wars, fandom, and the intersection of women within Star Wars fandom. She is co-author of Ultimate Star Wars and Star Wars Visual Encyclopedia from DK Publishing, a featured writer for Star Wars Insider magazine with numerous articles on the Hero's Journey. Her FANgirl opinions can be heard on the podcasts Hyperspace Theories and Fangirls Going Rogue.

Tricia Barr's novel, Wynde, won the 2014 Independent Publisher Book Award Gold Medal for Best Science Fiction/Fantasy/Horror Ebook. She was also part of Silence in the Library's successful all-female creator science fiction and fantasy anthology Athena's Daughters, which is available now. For excerpts and tales of her adventures in creating a fictional universe, hop over to TriciaBarr.com.