Hyperspace Theories Episode 46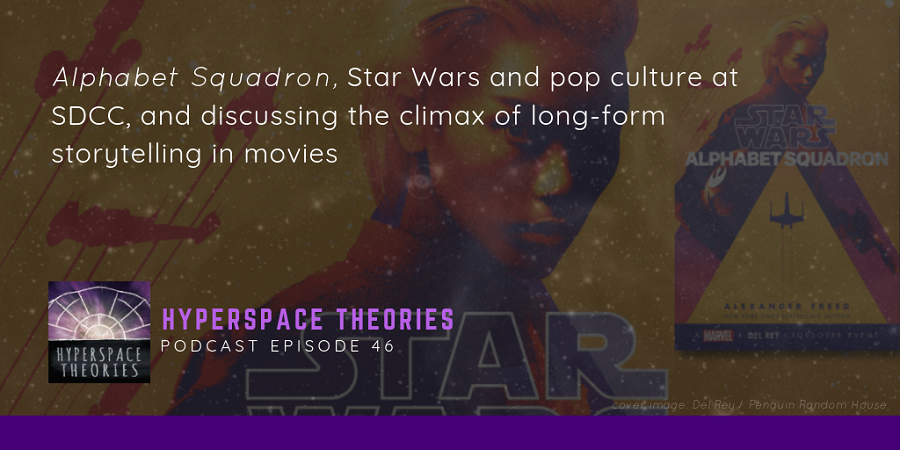 This month's episode of Hyperspace Theories takes us from books to fashion to movies, with plenty in between. Six months out from the release of The Rise of Skywalker, Tricia, B.J., and Kay look ahead to what might come next for Star Wars and its fans.
We begin, though, in the present: discussing the recently released novel Alphabet Squadron by Alexander Freed. Taking place shortly after the defeat of the Empire, the book is the first in a trilogy telling the story of a group of pilots, each flying a different type of starfighter, who are tasked with tracking down an elite Imperial starfighter wing. We evaluate the book on its own terms, how it works to kick off a trilogy, and its relationship to Freed's other work. As big fans of the X-Wing novel series in the Expanded Universe (Legends) era – featuring the tales of Rogue Squadron by Mike Stackpole and Wraith Squadron by Aaron Allston – we also consider how Alphabet Squadron compares and contrasts with those beloved stories. (For more, you can check out Kay's review of the novel, too.)
Earlier this month, Tricia and B.J. had the opportunity to attend San Diego Comic-Con as credentialed media for Fangirls Going Rogue, and they share some of their insights and reactions from the convention here on Hyperspace Theories, too. We start with the Her Universe Fashion Show, which Kay was able to follow along thanks to livestreams and social media. The work of the designers was impressive as always! Tricia talks about some of the other geek fashion she covered at the convention, as well. We also talk about the Star Wars panels at SDCC, including the Lucasfilm Publishing panel and a bit of Star Wars comics news, along with several other panels examining the role of women in pop culture and the entertainment industry.
One of the SDCC panels Tricia attended gathered a group of experts to discuss how fans and fandoms display their reactions and emotions when long-running stories end. We take this idea as a starting point to look at the Marvel Cinematic Universe and Star Wars, both of which reach highly anticipated endpoints this year. With Avengers: Endgame and Spider-Man: Far From Home, the MCU drew to close a ten-year, 22-movie epic storyline and resolved the fates of a number of prominent characters from the series. In December, The Rise of Skywalker will conclude a nine-movie, four-decade Skywalker Saga story told in the Star Wars films. We note the similarities and differences in the two franchises, and consider how the reactions to the end of the MCU's Phase Three may or may not necessarily transpose to the aftermath of Episode IX. In particular, the Phase 4 slate of new films and Disney+ series announced at SDCC keeps the MCU moving forward at a fast pace, and with great strides in improving the diversity of the talent on screen and behind the scenes at Marvel Studios. By contrast, Lucasfilm currently is scheduled to have a three-year break before the next film and has only two Disney+ series announced for that time period; on the other hand, Star Wars tells stories in animation, books, and comics that continue to advance the same singular storyline in a way that Marvel does not. Although both the MCU and Star Wars will pivot in new directions, we expect to see some significant differences in how the franchises and their fandoms react and adapt going forward.
Contact Information:

Tricia Barr took her understanding of brand management and marketing, mixed it with a love of genre storytelling, and added a dash of social media flare to create FANgirl Blog, where she discusses Star Wars, fandom, and the intersection of women within Star Wars fandom. She is co-author of Ultimate Star Wars and Star Wars Visual Encyclopedia from DK Publishing, a featured writer for Star Wars Insider magazine with numerous articles on the Hero's Journey. Her FANgirl opinions can be heard on the podcasts Hyperspace Theories and Fangirls Going Rogue.

Tricia Barr's novel, Wynde, won the 2014 Independent Publisher Book Award Gold Medal for Best Science Fiction/Fantasy/Horror Ebook. She was also part of Silence in the Library's successful all-female creator science fiction and fantasy anthology Athena's Daughters, which is available now. For excerpts and tales of her adventures in creating a fictional universe, hop over to TriciaBarr.com.