Review: Star Wars: Bloodline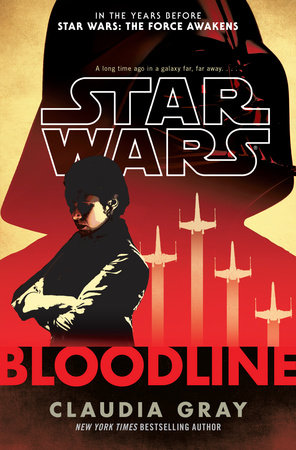 [The following is a spoiler free review.]
.
As much as I was excited to get a Leia-centric novel and for a story set in the years before The Force Awakens, I was probably more excited that the novel Star Wars: Bloodline was being written by Claudia Gray. Her first Star Wars book, Lost Stars, was an epic YA novel that surprised many fans (myself included) with how enjoyable it was for all genders and ages to read.
Since then I've had the opportunity to read Tricia's Star Wars Insider interview with Ms. Gray, as well as hear the author speak on a panel about Star Wars books and even interview her myself. So it felt like it wasn't risky to get my hopes up for Bloodline.
Hope: rewarded.
Bloodline is a smart and satisfying story worthy of Princess Leia.
It is now also my favorite Del Rey book of the new canon.
Before you read it, three things are good to keep in mind:
Bloodline

is not a direct sequel to

Lost Stars

.

(Although Ms. Gray has said she would love to revisit those characters, she's also said it's ultimately not up to her if a sequel comes out.

Lost Stars

was published by Disney Lucasfilm Press, so let them know if you'd like more of that.)

Bloodline is set twenty-some years after the Battle of Endor and a few years before

The Force Awakens

.

Bloodline

is not going to give you the answers to every question you had after watching

The Force Awakens

. This segment of the saga is still in process. Answers will come from a variety of places. A few might ultimately be left up to you to decide for yourself. Now that's not to say nothing will be answered in this book… or that you won't have new questions when it's over.
Above all this is Leia's book. And luckily for us, Gray's characterization of Leia is the Leia we know and love. She's determined, believes in hope and good, but remains practical at heart with a biting wit. Leia works now as a Senator as the galactic government is mired in arguments. She's been fighting for what she believes is right for a long time, though, and weariness has set in. Not only do we get to see Leia operate outside of "the Big Three," but we see what it's like for her to experience a sense of isolation from those around her who didn't experience the Galactic Civil War as personally as she did. There are connections and discoveries centered around Leia, too, that I think would be best for you to stumble upon yourself.  
Leia is not alone in this book, though. Han Solo makes a few appearances, and while we don't see anything from their perspective, Ben Solo and Luke Skywalker come up. You'll be able to spot a few more characters who also appear in The Force Awakens. A secondary character from Lost Stars is even an impetus to the plot. On top of all that, there's a slew of brand new characters who are wonderful additions to the galaxy far, far away. These characters rise above the plot function role that secondary characters sometimes fall prey to; instead they are complex, interesting, whole beings.
Two such characters are Greer, Leia's personal assistant, and Joph, an X-wing pilot assigned to Leia. The connection between the two is beautifully realized even while their personal struggles remain distinct. I'd be remiss not to mention Ransolm Casterfo, a junior Senator from the party that opposes Leia's. That man is an onion, and as the layers are revealed he becomes someone very intriguing while working along an arc all his own and keeping a very believable relationship with Leia. If you're wondering how to pronounce his name, the author answers it in this tweet. Gray has also said that she mentally cast Tom Hiddleston as Casterfo and the writing makes it very easy to picture that. It'd be easy to go on about some of the other Senators and antagonists too, but suffice to say there's a nice gender balance, it's not all humans, and each colors the world of this story a bit more.
In addition to balancing and weaving these characters together, Claudia Gray gives us a puzzle. It's fun to watch the pieces of this one fall into place. We get to see some new places, fancy piloting, and daring rescues. There's a look at politics and bureaucracy, but it never gets too stuffy or technical. The pacing trots along and the dialogue flows. Several moments will yank at your heart strings, just enough for "feels" and usually unforced.
Whether it was Leia's political dealings, the tendency for a hero to get caught up in a vivid plot, or a certain element that reminded me of the Noghri, there were many times this story felt like the good, comfortable parts of the old Star Wars Expanded Universe. As I read Bloodline, I kept finding myself smiling back at the pages. The word that kept popping into my head was thoughtful. Claudia Gray is clearly a fan of Star Wars as well as a writer who knows her stuff. How much she cares is evident throughout the book and I'm happy to recommend it.
.
The publisher provided FANgirl Blog a copy of this book.