Hyperspace Theories Episode 18: It's All About Leia in Star Wars: Bloodline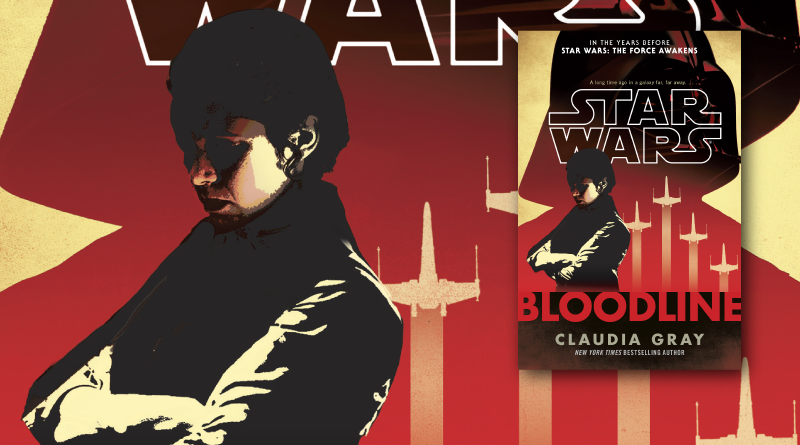 This month's episode of Hyperspace Theories centers around recent novel Star Wars: Bloodline by Claudia Gray. The book debuted at #5 on the New York Times hardcover bestseller list, building on the prior successes of The Force Awakens novelization (#1) and Star Wars: Aftermath (#4). If you haven't already, check out Kay's review.
Before discussing Bloodline, we kick off the show with a brief Spoilers Beware segment to share our reactions to the first teaser trailer for Star Wars: Rogue One, which released after our previous show. Although very little rumors for Episode VIII have appeared so far, director Rian Johnson used social media to announce that filming on the movie is now halfway done. It's an exciting time to be a Star Wars fan.
May is the anniversary of the release of the first six Star Wars films, including A New Hope 39 years ago. Our meta segment on how to speculate wisely celebrates another milestone in Star Wars storytelling: the recent 25th anniversary of the publication of Timothy Zahn's acclaimed Heir to the Empire. Although a small number of earlier books, comics, and other materials existed prior to that novel, Heir to the Empire marked the beginning of the enormous storytelling landscape that came to be called the Expanded Universe. While those stories were reclassified as Star Wars Legends in 2014 ahead of the production of a new generation of Star Wars films, television, books, comics, and more, that does not mean the Legends era of tales has no role in the future of Star Wars. Lessons have been and are being drawn about what worked in the Legends stories and what did not, and what kinds of story developments succeeded with the fans and customers and which developments alienated them. While the fan community has been vocal about these issues, influential individuals within Lucasfilm, such as the Story Group's Pablo Hidalgo and Star Wars Rebels showrunner Dave Filoni, also have discussed the importance of Legends tales to the franchise as they look ahead in planning new stories. In addition, the overlap between those two groups is continuing to shrink: many of the new creators brought onboard to work on the new canon tales, in both books and comics, are longtime Legends fans. Even if they do not directly use Legends characters or adapt Legends plots in their new stories, they inevitably will bring their own lesson and perspectives from their experience with Legends as they create their new characters, themes, and adventures.
One of those longtime fans turned Star Wars creators is Bloodline author Claudia Gray. It comes as no surprise, then, that she delivered another masterpiece of Star Wars storytelling. Unlike her wonderful original-character tale Lost Stars, which we discussed on a previous show, Bloodline is told primarily through the point-of-view of Leia Organa. While several new characters shine in the novel, this is definitely Leia's book from start to finish.
In the world-building segment, we consider Bloodline's contributions to our understanding of the political situation in the galaxy in the years leading up to The Force Awakens. The movie has received criticism for leaving the politics too opaque, not only in the First Order's relationship to the fallen Empire but also the connections between the New Republic and Leia's Resistance. Fortunately, Bloodline provides plenty of insight into the struggles within the New Republic's government between the Populist and Centrist factions, and some of the reasons behind why Leia believes it is necessary to create the Resistance.
We also discuss some information about Bloodlines and its world-building revealed on Twitter by Pablo Hidalgo, including that the ideas for the Napkin Bombing and Populists and Centrists came from Rian Johnson, and that the Story Group originally had conceived the presentation of the scandalous revelation that Vader was Leia's father as a pre-The Force Awakens animated short. Similarly, the Casterfo character had originated in story-breaking for The Force Awakens, although Gray evolved him in the process of writing the novel.
The storytelling segment continues our discussion of Bloodline, focusing on the characters. Casterfo is antagonist who turns tropes on their head. Original characters like Greer, Joph, and Lady Carise make noteworthy contributions to the story, and Gray should be commended for the diversity she includes among the characters in the book, as well. But Gray also does a brilliant job writing the iconic characters. Her portrayal of the relationship between Han and Leia can't help but bring a smile, while Threepio is perhaps as hysterical as he has ever been.
We conclude the show with a plot bunny giveaway inspired by Bloodline.
You can also listen to Hyperspace Theories at Libsyn or download the show there. Or subscribe on iTunes. If you listen, please rate us and write a review as a simple offer of gratitude. Hyperspace Theories is now available on Stitcher, as well.
Contact Information:

Tricia Barr took her understanding of brand management and marketing, mixed it with a love of genre storytelling, and added a dash of social media flare to create FANgirl Blog, where she discusses Star Wars, fandom, and the intersection of women within Star Wars fandom. She is co-author of Ultimate Star Wars and Star Wars Visual Encyclopedia from DK Publishing, a featured writer for Star Wars Insider magazine with numerous articles on the Hero's Journey. Her FANgirl opinions can be heard on the podcasts Hyperspace Theories and Fangirls Going Rogue.

Tricia Barr's novel, Wynde, won the 2014 Independent Publisher Book Award Gold Medal for Best Science Fiction/Fantasy/Horror Ebook. She was also part of Silence in the Library's successful all-female creator science fiction and fantasy anthology Athena's Daughters, which is available now. For excerpts and tales of her adventures in creating a fictional universe, hop over to TriciaBarr.com.