Kessel Run Challenge – Star Wars From Coast to Coast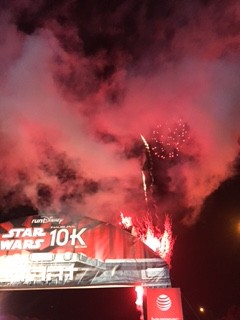 Last year when I was training for the Inaugural Rebel Challenge run at Disneyland, I had a catchy idea: train like a Sith Lord, party like a Wookiee. I discovered that training like a Sith Lord is a pretty miserable experience, but completing the very first Star Wars Half Marathon at Disneyland – not to mention the very cool Rebel Challenge (10K and Half) medals – was inspiring to my friends and family. So when the next registration rolled around for the January 2016 Rebel Challenge, we were on board.
Training for my second Rebel Challenge was a little less awful. I ran more consistently. I ran on the beach. As my gym is near EA, I continued runs by the Malgus statue in the EA office. I still wasn't a great runner, but I was better with my plan.
Then Disney announced the Dark Side Challenge in Florida. "What crazy person would run in Florida in April," I remember saying. I didn't register.
Over the summer, I broke my toe in karate and took a break. I rehabbed my ankle.
I kept running.
Until about a month before the Rebel Challenge, when I reinjured my back. My trainer thought it was because my gait was off from my toe and ankle. I rested and crossed my fingers.
I lucked out. On a whim, because Hubs was getting his ankle taped for the 10K, I had my back taped at the Expo. It worked! I was close to pain free.
I ran the 10K with Hubs and Padawan. I took it easy, but the course was so much easier knowing what to expect and where I was in general. I was even able to enjoy the park afterward, which wasn't the case the year before. It was fun to run with my family, wear the medals together, and hang out with friends.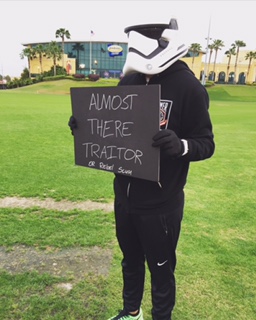 I wore my lucky Rebel Challenge shirt from the year before. By now I felt comfortable with the corrals, and started well. The taping on my back held up. Knowing the course, knowing when I was going to be cheered by my family and by the high school bands, knowing that Mile 7, 8, and 9 would be hard, made it much easier mentally. It stayed overcast this year, which helped. I kept a decent, if not fast pace, but finished much sooner than the previous year. No balloon ladies, my nightmare nemesis from last year, were ever in my sight.
Getting the Rebel Challenge medal, again, was sweet.
At the Expo, I saw the Kessel Run medal, a huge Millennium Falcon. I love the Millennium Falcon. My car is named after the Millennium Falcon. The medal was new this year. It could be mine if I did the Rebel Challenge and the Dark Side Challenge in the same calendar year. I'd just done the Rebel Challenge, I wasn't feeling too horribly sore… Why not do the Dark Side Challenge? On the drive home, the idea kept brewing, so as soon as I was able to get to my computer, I joined Team ASPCA and registered. After all, I'd just done two Halfs now, surely I could do another?
Pride goeth before a fall. El Nino arrived this winter. It rained and rained. No outdoor runs. No beach runs. I travelled a lot. I got a terrible sinus infection. Team ASPCA kept sending me my training schedule. I got in many short runs, but never seemed to have the time for long runs. Tricia and BJ were running their first 5K and every time Tricia ran, I felt a little pang of guilt. My train like a Sith Lord, party like a Wookiee motto became whine like Luke, run like Yoda.
I know. I've never seen Yoda run, either.
The time for the Dark Side challenge came.
I had to wake up early to make it to my Thursday morning flight to Orlando. I hate waking up early. I made it to the gate five minutes before boarding only because I have Clear and got TSA PreCheck. I had skipped my coffee and felt grumpy. As I rolled my bag into the plane, I decided that the only explanation for my behavior was that I am completely crazy. Why else would I be flying to Orlando when I could be at home in bed?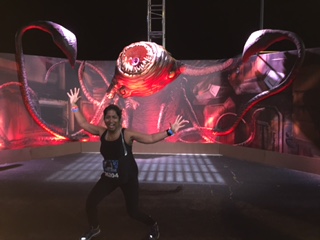 But then the people ahead of me started talking Star Wars – a lot of of people on this flight were going to Disney World for the Dark Side Challenge and immediately my mood shifted. The woman behind me invited me to look for her at the race as we're in the same corral. It's a double whammy; runners and Star Wars fans are nice people.
After my flight got in, I met BJ and Tricia at Hollywood Studios for Star Wars desserts and cocktails before the Star Wars fireworks. It had been raining but the night was cool and pleasant. BJ and Tricia were running on Friday and we planned to meet for breakfast in the morning. I couldn't help but feel that they had trained way better than me.
The next morning, Tricia and BJ both ran so fast that they are already at the finish line when I'm on the bus to meet them there! We had a hearty breakfast, and then I napped because the time change from California to Florida was getting to me. In the afternoon, we met with FANgirl and Skywalking Through Neverland friends at Epcot. I left early to meet up with the ASPCA, which was really fun. But it rained, with the forecast for rain in the morning.
I got to bed because I needed to take a bus to the corrals at 3:00 AM for a 5:30 AM start. At Disneyland a lot of people ran the 10K but not the Half; here in Disney World, a lot of people were running the Half, not the 10K.
Still, I felt confident. I can run a 10K distance. I'd just take it slow. It went okay, until it started to get hotter. At Mile 3, I took a GU energy gel. I wore my lucky Yoda shirt, but even though it's technical fabric, it's long sleeves.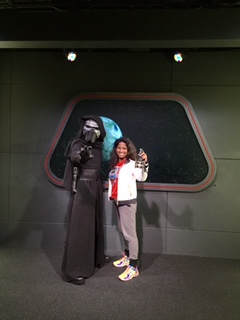 Unlike Disneyland, this course had hills in the form of overpasses. Steep overpasses. By Mile 4, the humidity had crept up to 85% and I felt like I couldn't breathe. I was exhausted, and getting anxious about running the Half. I made myself do some yoga breathing to remind myself to stay in the present. I promised myself that if I could get the Kessel Run medal, I never had to do a race again – and I would never race in Florida again. I made it to the finish line, wearily made it to the bus back to my hotel, and in my room tumbled back into bed for a long dreamless sleep.
I woke feeling much better. I headed to Hollywood Studios. I took a picture with Kylo Ren at Star Wars Launch Bay. Kylo was amazing. He stalked around, punching the walls before my photo. "Stop sulking," I told him. He didn't have to get up at 2:00 AM to run the Half Marathon the next day.
Tricia, dressed as Joy from Inside Out, confounded him. It was hilarious.
I tried to sleep but only dozed off to wake up every hour. Unsurprisingly, I woke up grumpy. I was afraid to have any caffeine after yesterday's heat. This time I put extra GU and sunscreen into my pockets.
I took the bus at 2:30 to the corrals. They weren't open yet, so I posed for a picture with the Rathar. Finally the corrals opened and I got into mine. To get the medals for the Dark Side Challenge and the Kessel Run, we had to wear two wristbands. I met some other women who had the wristbands as well. They told me on this course, I'll enjoy Miles 7, 8, and 9 as they pass through Animal Kingdom. I don't believe them.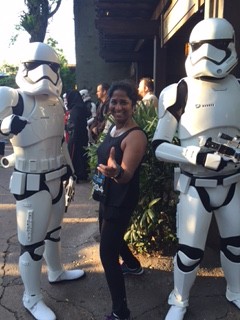 Finally our corral started. The course took us through Epcot. BJ and Tricia met me at Mile 2 to cheer me on. "I'm tired," I told BJ. I skipped all the photo ops, telling myself it was that many more people between me and the balloon ladies. I turned on my soundtrack and paced myself to "Empire of the Sun" and "Bag Raiders." At the first overpass I remembered from the 10K, I walked up and ran the downhill part. Then it was a lot of road to Animal Kingdom. To my dismay, most of it was on a grade. Finally, the course turned to Animal Kingdom… But it's miles of parking lot! And the buses that pick up the stragglers. It was starting to get hot and I refreshed the sunscreen, hoping that I got some coverage despite my sweatiness. You don't have to be fast, I told myself, just finish.
"Finish, not fast," became my mantra.
Animal Kingdom turned out to be a boost. Finally something kicked in and I was able to run again. After Animal Kingdom, everyone else looked tired and as I glanced backwards, I saw tons of people behind me, no balloons in sight. I found another runner doing the Kessel Run and we told each other how much easier Disneyland was – flatter, cooler, less waiting.
How annoyed we felt that all the Kessel Run items got swept up by the Ebayers and there was nothing for us to buy at the Expo. Mile 11 passed this way. Mile 12 was nearing the Wide World of Sports complex, where the crowds awaited to cheer us. I powerwalked until Mile 13, where I finally ran it in.
I wrapped myself in ice, at least my back, and got my medals.
I felt an overwhelming sense of relief. Even more so, I felt an overwhelming sense of gratitude. First to my body, and my ability to actually finish; to Hubs who woke up in California to text me at every mile; to my friends, especially my FANgirl friends who were unwavering in their support ;and to Star Wars, because without it, I'd never have crazy dreams. The set of medals is going for $1,100 on Ebay. If I want a Kessel run medal ever again… You'll just have to outbid me next year!