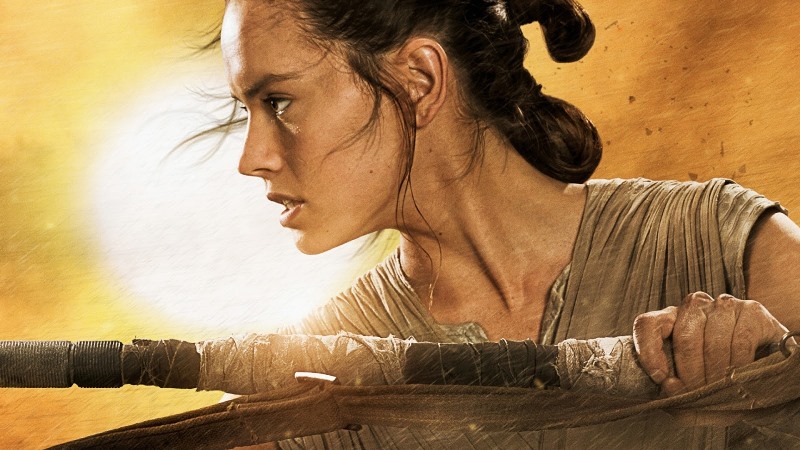 February is the month of love, and this year FANgirl will be sharing our love of the breakout star of The Force Awakens – Rey.
---
The Hero's Journey in The Force Awakens – Like A New Hope and The Phantom Menace before it, The Force Awakens begins the origin story of a Jedi Knight. Rey's path, too, follows the iconic stages of the Hero's Journey monomyth. We'll discuss the mythic structure of The Force Awakens at FANgirl and in a special episode of Hyperspace Theories.
---
And More Rey – Rey is the first central female protagonist in a Star Wars movie, and her importance cannot be underestimated. Kay will have a review of Rey's Story, a young-reader adaptation of the movie told from Rey's point of view. While there's much to praise about Rey and her role in the film, we'll also evaluate the risks that remain about her future, particularly in light of Lucasfilm's poor track record in delivering on the potential of female characters in Star Wars over the long term.
---
Fangirls Going Rogue – In case you missed the big news in December, the Fangirls Going Rogue podcast is now an independent show. Visit the website at FangirlsGoingRogue.com and be sure to rate and review the podcast on iTunes. This month's episode will feature an interview with Star Wars author Jason Fry, whose recent credits include Rey's Survival Guide.
---
Here are a few of the other things we're looking forward to in February:
New Star Wars Books
Rey's Story by Elizabeth Schaeffer – February 16th
The Force Awakens (junior novelization) by Michael Kogge – February 16th
New Star Wars Comics
Obi-Wan & Anakin #2 – February 3rd
Darth Vader #16 – February 10th
Star Wars #16 – February 17th
Kanan #11 – February 24th
New Movies
Television Returning Shows
The Muppets – February 2d (ABC)
Castle – February 8th (ABC)
Blindspot – February 29th (NBC)
Latest posts by Administrator
(see all)