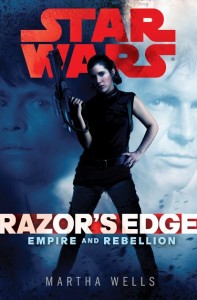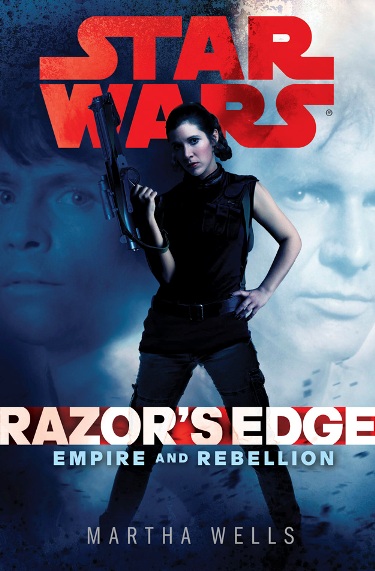 September brings the return of the fall television season. This year that means several exciting new shows, including Marvel's Agents of S.H.I.E.L.D. and The Legend of Korra: Book Two: Spirits. Much more is on tap for the month, too.
---
Star Wars: Empire & Rebellion: Razor's Edge – The new Empire & Rebellion novels will feature each of the Big Three from the Original Trilogy in a starring turn. The line starts off with Leia's book, Razor's Edge by Martha Wells. Kay will have our review for FANgirl, and look for more discussion on the book, as well.
---
More Star Wars – We'll also catch up on some of the other recent Star Wars releases, including William Shakespeare's Star Wars by Ian Doescher and Star Wars: Jedi Academy by Jeffrey Brown, the third book in his adorable children's series. The Let the Speculation Begin! series will continue – and with Episode VII scheduled to begin shooting at the start of next year, we might start to have confirmed movie-related news to discuss this month, as well.
---
Other Fangirl Features – Other topics this month include Wonder Woman, Her Universe's Year of the Fangirl, and updates on my novel Wynde.
---
Here are a few of the other things we're looking forward to in September:
New Star Wars Books
Star Wars: Legacy: Volume II – September 11th
Empire & Rebellion: Razor's Edge – September 24th
New Star Wars Comics
The Star Wars #1 – September 4th
Star Wars #9 – September 11th
Legacy #7 – September 25th
New Movies
Riddick – September 6th
Rush – September 27th
Television Returning Shows & Premieres
LEGO Star Wars: The Yoda Chronicles: Menace of the Sith – Wednesday, September 4th, at 8:00 p.m. on Cartoon Network
The Legend of Korra: Book Two: Spirits – Friday, September 13th at 7:00 p.m. on Nickelodeon
Dancing With the Stars – Monday, September 16th at 8:00 p.m. on ABC
Sleepy Hollow – Monday, September 16th at 9:00 p.m. on Fox
The Voice – Monday, September 23rd at 8:00 p.m. on NBC
Castle – Monday, September 23rd at 10:00 p.m. on ABC
Marvel's Agents of S.H.I.E.L.D. – Tuesday, September 24th at 8:00 p.m. on ABC
Person of Interest – Tuesday, September 24th at 10:00 p.m. on CBS
Fangasm – Tuesday, September 24th at 10:00 p.m. on Syfy
Revolution – Wednesday, September 25th at 8:00 p.m. on NBC
Nashville – Wednesday, September 25th at 10:00 p.m. on ABC
The Big Bang Theory – Thursday, September 26th at 8:00 p.m. on CBS
Elementary – Thursday, September 26th at 10:00 p.m. on CBS
Once Upon a Time – Sunday, September 29th at 8:00 p.m. on ABC
The Good Wife – Sunday, September 29th at 9:00 p.m. on CBS
Revenge – Sunday, September 29th at 9:00 p.m. on ABC
New Releases on DVD
The Vampire Diaries: The Complete Fourth Season – September 3rd
Person of Interest: Season Two – September 3rd
Star Trek Into Darkness – September 10th
Castle: The Complete Fifth Season – September 10th
Supernatural: The Complete Eighth Season – September 10th
World War Z – September 17th
Arrow: The Complete First Season – September 17th
Iron Man 3 – September 24th
Latest posts by Administrator
(see all)