The Force Awakens with Nerd Lunch
It's finally here – the inspiration for the Nerd Lunch podcast convening a panel to re-watch six Star Wars movies and discuss them and pretty much all the Star Wars books. CT, Pax, Jeeg, Michael May and I sit down to process our feelings after watching The Force Awakens.
Did Jeeg actually watch the same movie as the rest of us? What questions did it leave us with? With our varied entrances and investments into the Star Wars franchise can we all like it?
You'll have to listen to the episode to find out. Pros, cons, and stumbling upon the next generation of The Yoda Tapes – there's a lot of space to cover and we have a hyperdrive that always works when we need it to. There may even be a smidgen of speculation in the episode too.
After you check it out, you can read more of my thoughts on the new chapter of a beloved saga in my review: Passing the Torch: The Force Awakens Reviewed as well as hear even more on Hyperspace Theories Episode 15.

Still have more to say, do you? Yes, yes I do. Watch this site for future episodes of Hyperspace Theories where we'll break down many storytelling elements of Episode VII in the weeks and months ahead. Articles on concepts from the movie and real-world effects will be coming this way too.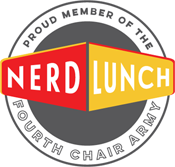 Be sure to also check out the previous Nerd Lunch Star Wars drilldowns with:
 A New Hope, The Empire Strikes Back, Return of the Jedi, The Phantom Menace, Attack of the Clones, Revenge of the Sith, Recalling Star Wars Books.
and the podcast episode that started my journey as Nerd Lunch Leia:
 Setting the Table on Star Wars.

Kay grew up wanting to be an astronaut. After seeing Star Wars, she wanted to be Princess Leia, Han Solo, and an astronaut. Life's taken her on a bit of a different path, but she's still a Star Wars fangirl at heart who enjoys surprising people with how geeky she really is.

Kay reviews Star Wars books for FANgirl in addition to movies of several genres with a heart for storytelling and a mind that likes to analyze. She also writes about fandom reflections and fashion as well as co-hosts the Hyperspace Theories podcast. She has been known to make appearances on other podcasts including Fangirl Chat, Nerd Lunch, Disney Vault Talk's Rebel Yell, and Assembly of Geeks.

Currently a voice actor, photographer, and artist who also consults in communications and marketing, Kay spends the little bit of free time she has reading, writing, learning and, of course, making pew pew noises. She would pick up more jobs and hobbies if she was a Time Lord.