Sarah Michelle Gellar Debuts On Star Wars Rebels Tonight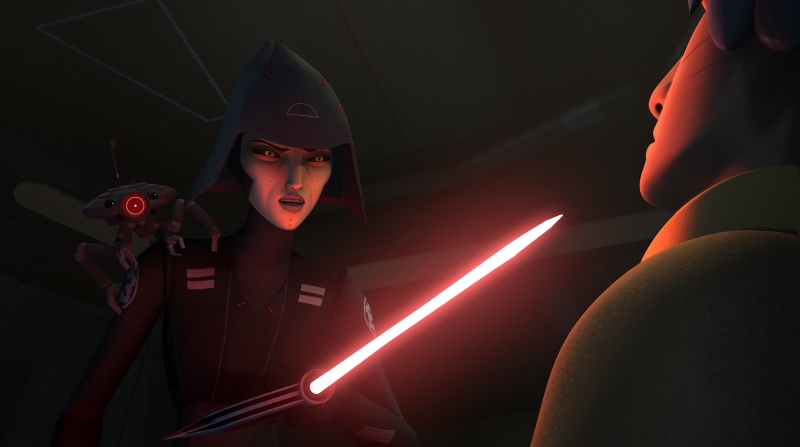 When I mentioned Sarah Michelle Gellar had joined the cast of Star Wars Rebels during the Star Wars panel at GeekGirlCon, there was a rumble of excitement. Gellar portrayed the titular character Buffy The Vampire Slayer, a show that served as a fulcrum in the way women were portrayed in storytelling. She is no stranger to walking on the dark side with her villainous role in Cruel Intentions.  While doing press for her kid-centric business Foodstirs, the actress revealed the depth of her desire to work in Star Wars. From Buzzfeed:
"I kept teasing Freddie when he got the job, like, 'Who do I have to sleep with to get on this show?!?'" she said with a laugh. "Who doesn't want to be a part of freakin'Star Wars!? Find me someone on the street who doesn't want to be part of Star Wars lore forever. I think sometimes people think you're joking when you say that kind of thing, so I had to tell [the producers] I wasn't joking. When they finally realized I was serious, it was like, 'Oh, OK, sure.'"
With the ominous Fifth Brother introduced at the end of last week's episode, Gellar makes her debut in tonight's "Always Two There Are." The stakes are definitely ramping up for the crew of the Ghost. Here is the episode synopsis:
Ezra, Sabine, Zeb and Chopper venture on a mission to an abandoned medical station in search of supplies for the fleet. When the arrival of two Inquisitors sent by Darth Vader puts Sabine and Ezra in peril, Zeb and Chopper devise a plan to save their friends.
The nostalgia elements aside, last week's "The Lost Commanders" was a standout visually and from a Star Wars storytelling perspective. If you haven't watched the latest Rebels Recon, where Dave Filoni explains his excitement about and the challenges presented by the AT-AT/AT-ET showdown, I highly recommend it.

Star Wars Rebels airs Wednesdays at 930 pm on Disney XD.

Tricia Barr took her understanding of brand management and marketing, mixed it with a love of genre storytelling, and added a dash of social media flare to create FANgirl Blog, where she discusses Star Wars, fandom, and the intersection of women within Star Wars fandom. She is co-author of Ultimate Star Wars and Star Wars Visual Encyclopedia from DK Publishing, a featured writer for Star Wars Insider magazine with numerous articles on the Hero's Journey. Her FANgirl opinions can be heard on the podcasts Hyperspace Theories and Fangirls Going Rogue.

Tricia Barr's novel, Wynde, won the 2014 Independent Publisher Book Award Gold Medal for Best Science Fiction/Fantasy/Horror Ebook. She was also part of Silence in the Library's successful all-female creator science fiction and fantasy anthology Athena's Daughters, which is available now. For excerpts and tales of her adventures in creating a fictional universe, hop over to TriciaBarr.com.