A Review of William Shakespeare's Tragedy of The Sith's Revenge
Review by Kay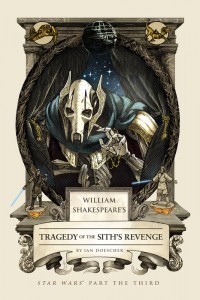 William Shakespeare's The Tragedy of the Sith's Revenge by Ian Doescher is the 6th and final (for now) Shakespearean adaptation of the Star Wars movies from Quirk Books. Doescher's skill of adapting the saga in the language of, as well as in reference to, Shakespeare's plays continues to be strong. Unfortunately the magic of the experience seems to have worn off.
Part of that is due to the story itself. Previous entries, especially the Original Trilogy reconstructions, have moments that were fun as well as funny. I did laugh twice during my read-through – once upon recognizing the incorporation of lyrics from Huey Lewis & the News'  "The Power of Love" and again when R2-D2 makes a reference to "Let It Go." But as the name plainly says, the story of this book is a tragedy. Anyone who has seen the movie would know that regardless of the word's inclusion. The villain is the only character with an arguably happy ending and not even a trademark scene between two nameless characters could bring back the joy.
I'd also enjoyed the previous books because they felt like bonus content. In The Phantom of Menace Doescher made some Bard-appropriate changes to the character of Jar Jar for the better, so I hoped that we might see some dimensionality augmentation for Padmé in The Sith's Revenge too. Instead Padmé has her own visions of bad things to come and spends nearly the entirety of the play obsessing over them. And despite all her ruminations, the reader never gets much more insight into the character.
The book is not without any character elevation, though. Stepping up Palpatine's opera house machinations with an application of Hamlet's calculated play-within-a-play technique was a thoughtful move. In fact, it's a good reinforcement of the fact that Palpatine/Sidious was playing everyone against each other all along.
If you're looking to complete the series, The Tragedy of the Sith's Revenge has some merits, but if you're new to these parody books, I'd recommend picking up The Empire Striketh Back or The Jedi Doth Return.
The publisher provided FANgirl Blog a review copy of this book.
---
Kay grew up wanting to be an astronaut. After seeing Star Wars, she wanted to be Princess Leia, Han Solo, and an astronaut. A voice actor, photographer, and artist who also consults in communications and marketing, Kay spends the little bit of free time she has reading, reviewing, and, of course, making pew pew noises. She would pick up more jobs, hobbies, and fitness routines if she was a Time Lord. You can follow her on Twitter.