William Shakespeare's Star Wars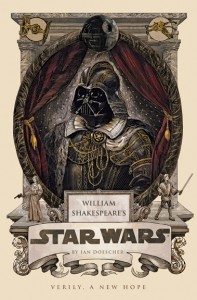 The 1991 movie Star Trek VI: The Undiscovered Country famously referred to Hamlet with Chancellor Gorkon's line "You have not experienced Shakespeare until you have read him in the original Klingon." Now author Ian Doescher has reinvented Star Wars: Episode IV: A New Hope in the style of The Bard. Today Quirk Book releases William Shakespeare's Star Wars, presenting the entire film, scene for scene, in iambic pentameter and complete with five acts, soliloquies, asides, and inside jokes for knowledgeable readers.
The early buzz on the book has been excellent. Last month Emily Asher-Perrin raved about the book in her review at Tor.com. Lucasfilm's Jen Heddle tweeted that School Library Journal wrote a very positive review, as well. EW's Shelf Life also featured the book, including a lengthy excerpt from Act One, and yesterday posted the book's outstanding trailer.
The 501st Legion has teamed with Quirk Books to give away 20 copies with a bonus poster included. You can enter here.
This book puts a fun spin on A New Hope. Here's a quick example of what you can expect. From the book:
---
Enter REBELS. Many die. Enter STORMTROOPERS and DARTH VADER. Exeunt. Enter R2-D2 with PRINCESS LEIA. C-3PO is across the stage.
C-3PO   Pray, R2-D2, where are thou?
[Exit Princess Leia
R2-D2                    – Beep, meep.
---

B.J. Priester has been a Star Wars fan since he played with the original Kenner action figures as a young boy. His fandom passion returned after watching Attack of the Clones in 2002 and reading the entire New Jedi Order series in 2003. He voraciously caught up on the novels and comics in the Expanded Universe in addition to writing fanfiction, frequently co-authoring with Tricia.

B.J. has served as editor of FANgirl Blog from its inception, as well as contributing reviews and posts on a range of topics. He edited Tricia's novel Wynde, and is collaborating with her on several future projects set in that original universe.

Currently a tenured law professor in Florida, B.J. has been a practicing lawyer in Washington, D.C., a law clerk to a federal appeals court judge, and a law journal editor-in-chief. He is also a proud geek dad whose son who is a big fan of Star Wars and The Clone Wars.