Sandra Choute Reports on Barnes & Noble Fangirl Friday
Tricia Barr note: Do you know Sandra Choute yet? Well, you should because she likes to celebrate fangirls and fandom. We both attended Fangirl Friday at Barnes & Noble in different parts of the country. I spoke at mine; it was a packed house. I asked Sandra about her experience. Here is her recap.
---
Post by Sandra Choute
Last month, Barnes & Noble continued their "Get Pop Cultured" series with Fangirl Friday. It was a day designated for Fangirls to get together, have fun, play games, and share their passion with one another. Fanboys were welcomed to attend.
Many of you reading this may be wondering what exactly is a Fangirl. To fully understand what it means to be a Fangirl, I asked a good friend of mine to define and describe the term.
She said:
A fangirl is passionate about what she loves, whether it's a television show, a sport, or a line of collectible toys. A fangirl fully embraces the things that makes her happy, even if others may think it weird or immature. Being a fangirl involves a lot of hyperventilating, flailing, and screaming, while also being considerate of other fans' beliefs and points of view. What's most important of all, a fangirl is someone who supports other fangirls. The fangirl community is one founded on solidarity and inclusivity. A fangirl does not exclude others or make them feel inferior for her own enjoyment or benefit. A fangirl celebrates other fangirls because it's already in the name–we are FANs of other GIRLS. That's what being a fangirl means to me.

~Johnamarie Macias, Fangirl, blogger, co-host of Rebels Chat
Johnamarie's description is what I encountered during Fangirl Friday. When I first entered the store, I was immediately greeted by a staff member wearing a vintage Wonder Woman t-shirt and a cape. She was very eager to share her love for her favorite super hero. She didn't forget to mention the vinyl, vixen,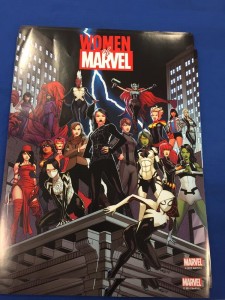 metallic Wonder Woman that were only available at Barnes & Noble during Fangirl Friday.
Fangirls of all ages and cultures began arriving on time, many of them wearing their favorite superhero costumes. We were lead to tables that were full of goodies which included posters of Marvel A-Force, Women of Marvel, buttons, free comic books, and a raffle to win prizes. There were also books available for purchase, such as Ms. Marvel, Wonder Woman, Thor: The Goddess of Thunder, Gotham Academy, and Black Widow.
The highlight of evening was the "Fangirl Speak Activity." Each player had to match a Fangirl term with its definition. I was amazed that girls as young as 10 years old knew the terms and got them right on the sheet. Three winners were selected. I was one of them. I won a Star Wars: Dark Disciple poster.
It was an incredible evening to see so many girls and women who came to celebrate our favorite things, support one another, and make new friends. I am already looking forward to next year!
---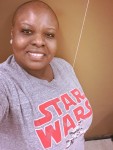 Sandra Choute is a school teacher and a member of Star Wars In The Classroom's Rogues. She helps keep the Fangirls Going Rogue Facebook and Instagrams hopping. Hear her talk about Star Wars music with Fangirls Going Rogue and teaching with geekdom on Fangirl Chat. Contact Sandra on Twitter @geekchic9.