Steampunk and the Heroine's Journey: Part Four Appendix
The surprising impact of Steampunk novels on The Heroine's Journey
A series by Mary Sheridan
APPENDIX to PART 4 – STEAMPUNK FEMINISM
FEMALE AUTHORS: FULL STEAM AHEAD
Women have plenty to say not only in their books but also about writing them. Selected thoughts from some best-selling authors, as well as lesser-known writers, scholars, and bloggers suggest a few reasons that women to gravitate toward Steampunk. These include the fact that it is a challenging genre to write; it can highlight women's history; there is freedom to write anything, and anything is possible. At its core, Steampunk is hopeful, and there are unlimited opportunities for women to be scientists – or take up any profession that they wish.
Given the large number of established, up-and-coming, mainstream, independent, and self-published novels on the market, this a relatively small sampling, and still these writers' comments form an eloquent, multi-layered answer to the question, "Why write Steampunk?"
CHERIE PRIEST is the author of more than a dozen novels, including the gothic horror story "Maplecroft", the award-winning Clockwork Century series from Tor, and the Cheshire Red books from Bantam Spectra.
In a "Five-Question Interview" for Torbooks UK, Priest speaks to her reputation for writing strong female protagonists, saying in part:
"It's always a tight-rope to walk, when writing historical women, because I can't have them proceed through the narrative with too much modern-style autonomy, but there were plenty of tough women in the past who wielded quite a lot of power despite their gender (or even because of it)."
In a 2013 article, Chuck Sambuchino quotes more of Priest's analysis of the challenges of genre writing:
Author Cherie Priest, whose Steampunk novel "Boneshaker" [was] on Publishers Weekly's best of 2009 list, suggests that one of the tough parts about writing steampunk is keeping that world straight for both yourself and the reader. "Steampunk is almost by necessity (but not exclusively so) an exercise in alternate history, so the question becomes one of which events to tweak, how to present them, and how to extrapolate their consequences," she says. "It's a fine line to walk—you want to change history in a credible way that makes sense; but you can't be afraid to break the timeline and really make a mess of things."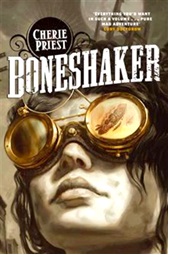 REVIEW EXCERPT: Cherie Priest's HUGO-nominated "Boneshaker"
…Briar Wilkes, follows [her son] in an airship, determined to rescue [him] from the toxic gas that turns people into zombies (called rotters and described in gut-churning detail)…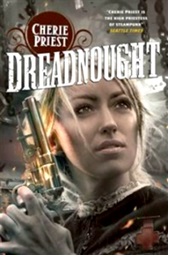 Intelligent, exceptionally well written and showcasing a phenomenal strong female protagonist who embodies the complexities inherent in motherhood, this yarn is a must-read for the discerning steampunk fan. – Publishers Weekly
REVIEW EXCERPT: Cherie Priest's "Dreadnought"
An intimate, well-crafted portrait of a nurse on a mission adds depth to this exceptional Civil War steampunk thriller, the self-contained sequel to 2009's Locus Award-winning "Boneshaker"…The battles and intrigue are entertaining, but the real draw is Priest's latest no-nonsense heroine, who comes equipped with a full measure of sharp judgment and brutal competence as well as a nurse's kind (but not saintly) heart. – Publishers Weekly
New York Times Bestselling author GAIL CARRIGER writes comedic steampunk mixed with urbane fantasy. Her debut novel, "Soulless", won the ALA's Alex Award and each Parasol Protectorate series novel that followed was a bestseller. She was once an archaeologist and is currently writing her YA Finishing School Series. She is overly fond of tea.
In her website's "Neverending Interview", Carriger reveals a few secrets about her writing and quirky comedic style. Among them:
What inspires this kind of writing?

"Oh my goodness, is that an electrosplit goopslimer port? I do believe it is. And is that a Thurshbotham pip-monger swizzle sprocket? Oh, two swizzle sprockets!' Vieve was practically squeaking in excitement.

~ from CURTSIES & CONSPIRACIES

Ah, you picked up on an inner SF fan moment of mine. I love Star Trek: The Next Generation and I remember seeing an interview where the actors complained about having to memorize and spout technobabble. This kind of writing is my ode to technobabble, only I intend mine to sound quintessentially Victorian.

…and your technological devices are so imaginative, why are you drawn to these mechanics?

I enjoy the whimsy of technology that wasn't. I've always been interested in technological transition and innovation in the past. My previous career was as an archaeologist and this was my (unfinished) PhD focus.
REVIEW EXCERPT: Gail Carriger's "Soulless" (Book 1, The Parasol Protectorate series)
Carriger debuts brilliantly with a blend of Victorian romance, screwball comedy of manners and alternate history. Prickly, stubborn 25-year-old bluestocking Alexia Tarabotti is patently unmarriageable, and not just because she's large-nosed and swarthy. She's also soulless, an oddity and a secret even in a 19th-century London that mostly accepts and integrates werewolf packs,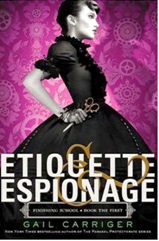 vampire hives and ghosts… This intoxicatingly witty parody will appeal to a wide cross-section of romance, fantasy and steampunk fans. – Publishers Weekly
REVIEW: Gail Carriger's "Etiquette & Espionage" (Book 1, The Finishing School series)
…at Mademoiselle Geraldine's, "Finishing [School]" means learning the finer points of deceit, espionage, and assassination…Effortlessly blending Victorian, paranormal, and steampunk elements, Carriger offers a feast of words (flywayman, mechanimals) and names (Dimity Ann Plumleigh-Teignmott, Phineas B. Crow) to lunch on in her YA debut…Amid all the fun, the author works in commentary on race and class in a sparkling start to the Finishing School series. Ages 12–up. Agent: Kristin Nelson, Nelson Literary Agency. – Publishers Weekly
RACHAEL ACKS, author of "The Curious Case Of Miss Clementine Nimowitz And Her Exceedingly Tiny Dog", has said that there are a number of reasons she was attracted to writing Steampunk: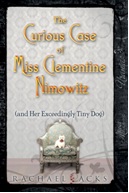 it is "hopeful storytelling; it does not deny that women can be persons of science; plus it is complex and challenging to write." These issues echo with the differences in gendered paths that authors and their characters take, and as well, speak to some of the obstacles that prevent the successful application of Joseph Campbell's Hero's Journey to the stories of women.
Acks also speaks at length about women writing genre fiction in a 2013interview for LAUREL ZUCKERMAN's Paris Weblog. Zuckerman was intrigued to speak with her after reading Acks' controversial blog and very public disagreement* with the Science Fiction Writers of America (SWFA). Acks' voice is one of experience that resonates with conviction. (* Explicit language.)
RACHEL CORDASCO at BookRiot.com recently wrote about her interest in Steampunk and her initial search for novels written by women:
"So I started reading around about the beginnings of literary steampunk and came across a whole bunch of guys but not very many women. So of course I asked my Riot colleagues and bookish twitter people who their favorite steampunk-writin' women were, and they came back at me with a TON of names. So here are ten women whose steampunk fiction is burning up the book world. Enjoy, and prepare to see your TBR list grow by miles."
Her list of ten female authors succeeding in Steampunk is a list of bestsellers.
ANNE SEATON posts an interesting perspective on the writing of strong heroines at the "Steamed! Writing Steampunk Fiction" website:
"Make your sassy steampunk heroines human… let them make mistakes, let them show their emotions, give them a soft side. So…when you are creating your steampunk heroines, make them the heroines that we all secretly envy!"
ABBY GAINES, writer, blogger, and self-described Steampunk newbie, offers a well-rounded list of Steampunk books aimed at new readers that wonder which books are good for the uninitiated. She also offers quotes from a number of female Steampunk writers, and wraps a lot of good information inside a very entertaining narrative.
The site,FEMINIST-FRIENDLY FICTION offers a long list of Steampunk novels written by both genders, but with analysis of the feminist roles in each.
MARCUS RAUCHFUSS, aka "Traveler" at TravelersSteampunkblog is a man who speaks out in favor of all diversity, including race and gender:
"I continually found myself wishing for more diversely native Indian characters, especially women, as the possibilities seemed endless to me."
Adding more weight to the Steampunk-gender shift is the fact that successful academic theses are now being written about women in the genre. Among them are:
JESSICA SEYMOUR's Southern Cross University academic paper, "Clockwork Corsets and Fabricated Beasties: Women and Identity in YA Steampunk."
CASSIE N. BERGMAN's Western Kentucky University's Masters thesis specifically addresses feminist roles and "female identity" in Steampunk: "Steampunk authors are able to radically redefine socio-cultural implications that affect both past and contemporary societies." [Bergman, Cassie N., "Clockwork Heroines: Female Characters in Steampunk Literature" (2013). Masters Thesis & Specialist Projects. Paper 1266.]
---
Mary Sheridan is a former ER and Trauma nurse with a life-long passion for real and imagined adventure, often on horseback. She is an original fangirl and self-described Ancient Geek with interests in a wide range of fandoms.