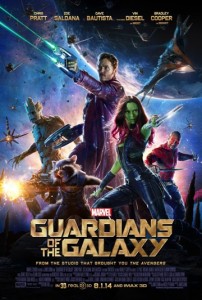 August may be sweltering in the summer in Florida, but we'll be sure to do our best to keep the blog cool.
---
Guardians of the Galaxy– A fangirl can hold more than one space opera romp near and dear to her heart. With Episode VII still nearly a year and a half away, the newest entry in the Marvel Cinematic Universe appears poised to capture imaginations. Kay will have our movie review. I am Groot.
---
Wynde and the Fireheart Series – After the thrill of my first official book signings and readings for Wynde at the ConGregate convention in North Carolina, I'll have more exciting developments to share this month.
---
Frozen Summer Fun – Disney found itself with an unexpected mega-smash with Frozen. For two months this summer, Hollywood Studios in Florida has been transformed into the Frozen Summer Fun venue, with a slate of special events and activities quite familiar to those who've experienced Star Wars Weekends. We'll have a report from the scene later in the month.
---
Here are a few of the other things we're looking forward to in August:
New Star Wars Books
Star Wars Rebels: Ezra's Gamble (by Ryder Windham) – August 5th
Star Wars in 100 Scenes (by Jason Fry) – August 18th
New Star Wars Comics
Star Wars #20 – August 13th (final issue)
Darth Maul: Son of Dathomir #4 – August 20th (final issue)
Legacy #18 – August 27th (final issue)
New Movies
Guardians of the Galaxy – August 1st
Teenage Mutant Ninja Turtles – August 8th
The Expendables 3 – August 15th
Television Premieres & Returning Series
Outlander – August 8th on Starz (series premiere)
Legends – August 13th on TNT (series premiere)
Dallas – August 15th on TNT
Doctor Who – August 23rd on BBC America
Latest posts by Administrator
(see all)