Star Wars Weekend 2014 Recap: Weekend Two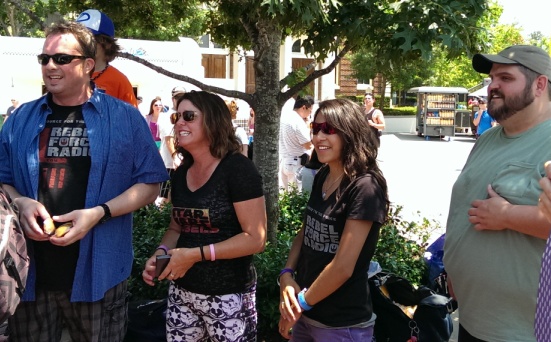 The second weekend this year almost felt like a mini-Celebration with the chance to hang out with so many old and new fandom friends. Many of my fellow Star Wars podcasters traveled to be in attendance, and for most of them it was their first experience at Star Wars Weekends. Much fun was had by all, especially when we nearly filled a Star Tours speeder to capacity for our group ride.
The centerpiece of the weekend's fan festivities was the RebelForce Radio listener meet-up on Friday afternoon on the Streets of America at Hollywood Studios. Jimmy Mac and Steve Glosson led the gathering, greeting fans individually and handing out Little Debbie snack cakes. Teresa and I jumped in to distribute the specially made RFR Disney magnets. We were genuinely moved by the large cheer when Jimmy gave a shout-out to Fangirls Going Rogue, as well as by the number of fans who took the time to approach us specifically to say how much they've been enjoying our show. To each of you – thank you. I owe a special thanks to Paul from Scotland, with whom I'd posed for a picture beside his epic Bad Robot costume back at New York Comic Con, for a great conversation that included regaling me with the tale of getting his photo taken with Kathleen Kennedy at Celebration Europe II. Teresa and I also joined a fangirl flail that was appropriately recorded for posterity, as was the cameo drop-in from fan-favorite VIP James Arnold Taylor.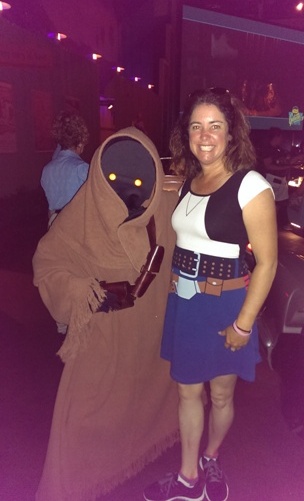 In addition to the RFR crew, the meet-up was a great chance for listeners to meet Aaron Goins of Star Wars Bookworms, Eric Geller from the ForceCast, Riley and Bethany Blanton from Star Wars Report, and Sarah and Richard Woloski from Skywalking Through Neverland. Friends of RFR Aljon Go from Sorcerer's Radio and Ryan Hurley from the Turtle Power Podcast also dropped by to mingle. Check out all the fun on this week's episode of RebelForce Radio.
When the meet-up wound to a close, we all walked over to Star Tours for a group ride. It's too bad we didn't snap a photo of the attendant's face when she learned our group had over twenty members. I think we had a little nudge from the Force to make sure Jimmy Mac was the Rebel spy – after being hunted by Darth Vader personally, no less. Although we didn't get exactly the combination from his Pop Quiz entry, we did see Kashyyyk and Yoda, with the Coruscant ending.
The rest of the weekend was filled with fandom fun, too. Star Wars author Jason Fry did a daily book signing of the new edition of DK's LEGO Star Wars visual dictionary at the Writer's Stop, and his demeanor and interactions with the young fans is infectious. Random House editor Erich Schoeneweiss also joined the weekend mayhem. I got to say hello to fellow Her Universe Year of the Fangirl contributor Lillian in line before Stars of the Saga. On Saturday we had a group dinner at the Wilderness Lodge before riding the boat over to Magic Kingdom to see the Electrical Parade and Wishes fireworks. We hit several of the big rides, which was especially fun with Riley and Bethany seeing Disney World for the first time ever. Kudos to Skipper Tom at the Jungle Cruise for noticing all of our Star Wars Weekends apparel and delivering a special late-night edition of the script full of Star Wars references. Riley turned in a memorable performance dancing for the camera at the Monsters Inc. Laugh Floor, and we all enjoyed our soft opening sneak peek ride aboard the brand new Seven Dwarfs Mine Train.
On Sunday I had the chance to try the Star Wars Galactic Breakfast character dining at the SciFi Dine-In restaurant. The Star Wars-themed food was a treat, and how can you pass up having your picture taken with Greedo? I also traded with the Jawas, and got a very cool Mickey necklace made from three nuts. (I fear somewhere there's a hapless droid with three loose bolts.) An interesting selection of Star Wars clips was running on the screen.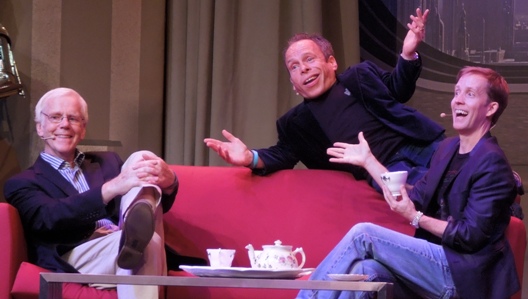 With all the talk of the new canon lately, they had the Boba Fett sequence from the Holiday Special showing…
The stage shows once again were a lot of fun, too. Weekend Two's Rebels guest was Tiya Sircar, the voice of Mandalorian demolitionist and artist Sabine Wren. She shared some fun stories about her career, including repeatedly slapping Zac Efron across the face (for work!). The teaser clip of Sabine showcased her skills at evading stormtroopers to wreak havoc on a TIE Fighter facility. After she accomplished her mission, she seemed as proud of the color array in the explosion as the damage she'd inflicted on the Empire. In the Stars of the Saga, Jeremy Bulloch and Warwick Davis joined James onstage. Hilarity ensued – including the first time I've ever heard the phrase "I whipped your ass" uttered at Star Wars Weekends.
Perhaps the biggest fangirl flail of the whole weekend, though, was released for this trio of cosplayers I found in line for funnel cake on Saturday evening. Thrawn, Fel, and Jaina Solo – the trifecta!
For more pictures from Weekend Two, check out the album at Fangirl Zone on Facebook and my Instagram feed.
---
Tricia Barr's novel, Wynde, won the 2014 Independent Publisher Book Award Gold Medal for Best Science Fiction/Fantasy/Horror Ebook. She was also part of Silence in the Library's successful all-female creator science fiction and fantasy anthology Athena's Daughters, which is available now. For excerpts and tales of her adventures in creating a fictional universe, hop over to TriciaBarr.com.
For updates on all things FANgirl follow @FANgirlcantina on Twitter or like FANgirl Zone on Facebook. At times she tries the Tumblr.