Fangirls Going Rogue May 2014: Star Wars Weekends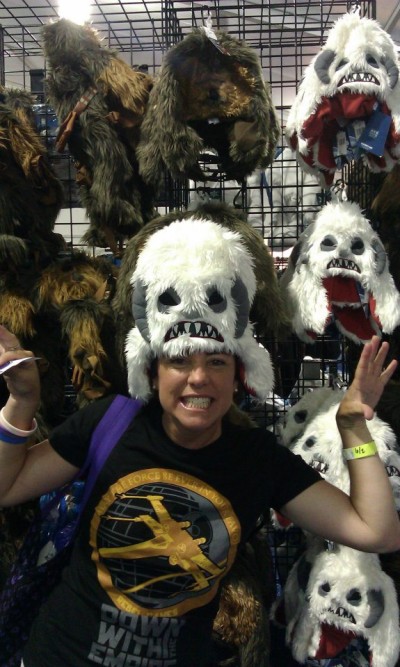 This month's episode of Fangirls Going Rogue focuses on Star Wars Weekends, which kick off on Friday, May 16th, at Disney's Hollywood Studios in Orlando, Florida. Aaron Goins of Star Wars Bookworms joins Teresa and me to discuss the numerous ways to enjoy the event, including planning tips on dining, shows, and meeting VIPs.
In addition, Teresa and I passed along more advice in our post at the Star Wars Blog: 10 Star Wars Weekends Tips (or Special Modifications). Hopefully you'll find our suggestions useful for hitting the highlights at Hollywood Studios like the celebrity motorcade and Star Tour while also staying hydrated and un-sunburned in the process.
For our character discussion this month, we dive into the dark depths of Darth Maul Here is the link to the show!
Teresa and I were both at Star Wars Weekends today. You can view pictures on my Instagram @Fangirlcantina, including our meet-up with Vanessa Marshall. Thoughts and observations from the first day:
The Behind The Force show with Ashley Eckstein and Vanessa Marshall now has its own stormtrooper intro. Ashley "Ahsoka" Eckstein comes out in Jedi robes in the opening skit. Vanessa Marshall joined her onstage and talked about voicing Mary Jane Watson on Spectacular Spider-Man and Irwin on The Grim Adventures of Bill & Mandy. The cast introduction video starts with Freddie Prinze, Jr., and includes the five members of the sentient hero cast. Dave Filoni's video gave a walking tour of the Rebels production office and introduced many of the key team members. They have a full-size Princess Leia statue in one hallway! Joel Aron was working on animating clouds, and Athena Portillo was spotted in her R2-D2 hoodie. Speaking of Artoo, he and Chopper were smack-talking each other outside Dave Filoni's office. Chopper snuck inside and stole a Darth Vader flashdrive, which he delivered in person to Ashley so we could all see a secret clip from an episode of Rebels titled "The Machine in the Ghost." The animation looks fantastic, and the colors were vibrant and beautiful. The space battle action sequence was very reminiscent of A New Hope and the banter with Hera, Kanan, and Chopper had the clip and zingers of The Empire Strikes Back. There's definitely some chemistry between Kanan and Hera, but Chopper certainly didn't seem to mind interrupting their moment. I loved the visual of Kanan leaning down from the gun turret to (try to) countermand Hera's orders to Chopper while rotating around to fire at TIEs; it's a shot that looks great in animation but wouldn't have been feasible on a practical set in 1976. The fact that Chopper has arms allows him to emote visually as well as the beeps and boops we're used to from Artoo. We have been told there will be a different clip shown each weekend.
I wouldn't get your hopes up to see Peter Mayhew as Chewbacca running around the sets like the old days. He wasn't very mobile.
Ahmed Best looked very dapper in his suit and hat ensemble, and had long lines for his autographing.
The Her Universe store was packed (I had to wait in line to use the changing room) and the merchandise looks fabulous.
I saw lots of families bringing their young girls into Star Tours. It made my fangirl heart swell.
The Symphony in the Stars fireworks rocked.
Much more about the first weekend next week. Until then, follow us on our social media.
---
Below are the many ways to provide feedback to the show:
Twitter: Fangirls Going Rogue: @FGGoingRogue Tricia: @fangirlcantina Teresa: @icecoldpenguin
Email: fangirlsgoingrogue@gmail.com
Facebook: search for Fangirls Going Rogue
Tumblr: fangirlsgoingrogue.tumblr.com
Instagram: @FGGoingRogue
Voicemail: 331-21 Ewoks or 331-213-9657
Please go like RebelForce Radio on iTunes and leave a positive review, and in your review mention how much you like Fangirls Going Rogue.
Until next month – Yub Yub!