Kay Reviews The Empire Striketh Back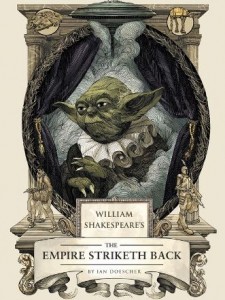 Kay returns with another review, this time the second Star Wars offering from Ian Doescher – William Shakespeare's The Empire Striketh Back. The first volume, William Shakespeare's Star Wars, was a massive hit, spending nine consecutive weeks on the New York Times bestseller list when it released last year. This book appears poised to mirror that success, both in sales and fan and reviewer acclaim. Kay writes:
Doescher has clearly paid great attention to detail to capture the spirit of both Star Wars and the language of Shakespeare while making several tributes to The Bard's works and throwing in some jokes along the way.
And can you imagine what Yoda's mangled syntax must look like in iambic pentameter? Click onward to read Kay's review or check out her reading of a scene on YouTube.
---
Kay grew up wanting to be an astronaut. After seeing Star Wars, she wanted to be Princess Leia, Han Solo, and an astronaut. Life's taken her on a bit of a different path for now, but she's still a Star Wars fangirl at heart who enjoys surprising people with how geeky she really is. Currently a photographer who also specializes in communications and marketing, Kay spends her free time reading, cooking, writing, learning and, of course, making pew pew noises. You can follow her on Twitter.