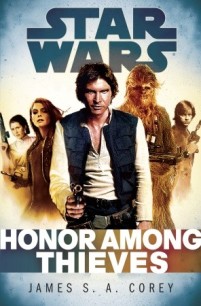 March begins on a sad note, still grieving the sudden loss of beloved Star Wars Expanded Universe author Aaron Allston. FANgirl's tribute will continue in the days ahead.
---
Star Wars – On the books front, March brings the Han Solo novel Honor Among Thieves by James S.A. Corey and the fanciful reimagining of William Shakespeare's The Empire Striketh Back by Ian Doescher. With the character reveals last month, more news about Star Wars Rebels seems likely. And by all indications, the start of filming on Episode VII is only a few months away, so it's possible we'll have exciting movie news to discuss, as well.
---
Wynde and the Fireheart Series – I have exciting news on the Fireheart series to share this month, too, including a sneak peek at the short story "Mission Accomplished" from the Athena's Daughters anthology.
---
Fandom Developments – This month's Fangirls Going Rogue podcast will continue the discussion of the rollout of the characters for Star Wars Rebels, including Toy Fair and the online videos. I'll also have analysis of several other recent developments in fandom.
---
Here are a few of the other things we're looking forward to in March:
New Star Wars Books
Star Wars: Honor Among Thieves – March 4th
William Shakespeare's The Empire Striketh Back – March 18th
New Star Wars Comics
The Star Wars #6 – March 5th
Star Wars #15 – March 12th
Dawn of the Jedi: Force War #5 – March 19th
Legacy #13 – March 26th
New Movies
Muppets Most Wanted – March 21st
Divergent – March 21st
Noah – March 28th
Television Returning Shows & Premieres
Jim Henson's Creature Shop Challenge – Tuesday, March 25th on Syfy
Latest posts by Administrator
(see all)