Fandom stepping up to support victims of bullying is back in the news again, reminding us all the positive ways we can support each other. Two years ago, Star Wars fandom rallied around a young girl named Katie after she was bullied at school for liking Star Wars, ultimately inspiring Wear Star Wars, Share Star Wars day and discussions of bullying in high-profile venues like San Diego Comic-Con.
In March, we learned about boys being bullied for liking My Little Pony. At Role/Reboot, Soraya Chemaly explains:
As we keep seeing, enforcing commonly accepted ideas about how boys and girls should behave can be deeply destructive and sometimes tragic. Last month, 11-year-old Michael Morones attempted suicide after children in his school bullied him relentlessly for loving My Little Pony—a toy made "for girls." "Michael was upset because the kids were calling him gay for liking a girls' TV show," explained his stepfather.

There was another recent case in the same state—North Carolina—in which a 9-year-old boy was similarly treated. Grayson Bruce's favorite lunch box also featured My Little Pony.
Chemaly argues that these instances of bullying, just like the supposed conventional wisdom that boys won't read books with girl protagonists, show the impact of socialization on identity and gender. The solution isn't easy, but it's important – breaking down the barriers between what's "for boys" and what's "for girls" into a society where everyone is encouraged to like whatever it is they like.
The Star Wars fans at Artoo Katee on Facebook are rallying behind Michale Morones, holding a fundraiser for his medical expenses with a special art of R2-KT and Pinkie Pie.
Ashley Eckstein and Her Universe spoke out in support of Monika Allen, a cancer survivor who was mocked by SELF magazine for running the Los Angeles marathon in a Wonder Woman outfit, complete with tutu, that she had made herself. There's nothing incompatible with being both a strong woman and liking supposedly "girlie" things like tutus – and all the support Monika has received is further evidence of just how many people understand that. It's important to note that SELF magazine sells itself on empowering women. The editor-in-chief spoke directly to Allen about the magazine's approach, issued her an apology, and gave her an opportunity to be a positive voice on their blog. I am not providing a link to the magazine's blog and hope that the magazine, which I have purchased many times, reconsiders how they portray women.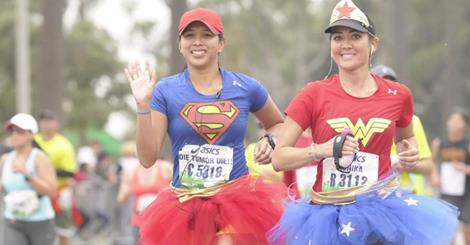 Whatever gives people courage and empowers them is a good thing.
---
For updates on all things FANgirl follow @FANgirlcantina on Twitter or like FANgirl Zone on Facebook. At times she tries the Tumblr.