Geek Girl Con Sunday Roundup
Sunday started a little rainy, but the weather wasn't going to be a damper on a fun day. (Besides, the sunshine banished the mists by late morning.) Everyone gathered at the lobby before deciding where to head for the day.  What I loved about this convention was seeing my niece and my friend's little girl strike up a friendship over the course of two days.  Sunday morning, they saw each other in the courtyard – hugs and hellos ensued.
10:00 – Today was going to be a craft day, and it started with Arts & Crafts With the GGC Design Team. Rachelle and Tammy, who led the panel, admitted they had been a little nervous about the turnout with some great panels up against this one, but the room was packed. They did a fantastic job guiding the guests through creating a sock puppet.  What a wide range of creativity from everyone in the room.  Mommies had to do double duty, though, crafting one of their own and assisting the creativity of their daughters.
11:00 – Cattiness has been a hot topic in geek girl circles recently, and the Killing Cattiness and Creating Community panel dove right into it. Just like the SDCC panel, Oh, You Sexy Geek!, this topic was addressed as part of the discussion, and two of the panelists from that discussion were on the dais again – Bonnie Burton and Jennifer Stuller.  I think it's important for geek girls to see all different types of women interacting in a positive manner, even if they don't like the same things or they hold contrasting beliefs.  I've witnessed it at two separate cons now, and it's so uplifting and empowering to watch.
There were a lot of great words of wisdom imparted, and I'll cover this panel more in depth in the coming month.  (I've got two pages of notes!)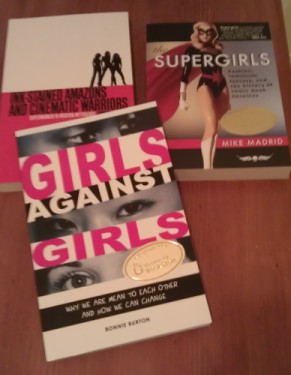 12:00 – It would have been nice to take the moms in my group to the Geeks Raising Geeks panel, but the kids were getting restless. That meant one thing – lunch!
1:00– Finally a chance to shop. From University Book Store, I picked up two books by online personalities that I really admire – Bonnie Burton's Girls Against Girls: Why We Are Mean To Each Other and How We Can Change and Jennifer K. Stuller's Ink-Stained Amazons and Cinematic Warriors: Superwomen in Modern Mythology.  I've been participating in the online fandom for a while now, and blogging for just over a year, and the topics in these books touch on some of the important issues that affect women in fandom.  Bonnie and Jennifer understand women and the fandom on an intellectual as well as an emotional level; it's critical to know who geek girls are, and where they've been, to help guide us into the future. Expect reviews in the future on the books, and maybe some more discussion.
I also picked up The Supergirls: Fashion, Feminism, Fantasy, and the History of Comic Book Heroines by Mike Madrid. He spoke at yesterday's Wonder Woman panel, and I was intrigued by his insights into my favorite superheroine, and heroines in general for that matter.
Finally, I couldn't resist some girly items: a Geek Girls Rule necklace from Surly-Ramics and an Obi-Wan necklace, Dance charm bracelet, and earrings from Optimystical Studios.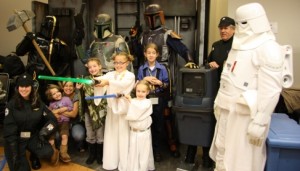 In the middle of all the shopping, Katie the Star Wars Girl paraded through with a group of other young Leia cosplayers. These young ladies took on the Imperial cosplayers, taking no prisoners.  Katie symbolizes to me what Star Wars means to young girls, and what it means to adult women like me who grew up with the Original Trilogy.  Katie was bullied and people rallied around to bolster her spirits.  What a spectacular moment to witness as a long-time Star Wars fan.
At the end of my shopping spree, I had a chance to meet Kiri Callaghan, who was in charge of press for GGC.  I had emailed with her to get my press credentials, and then watched her take over moderating the Killing Cattiness panel.  I'm so impressed by all her work on behalf of geek girls, and her great moderating on a tough subject.  Luckily, I got a chance to tell her so in person.
1:45 – Play in the fountain.  The kids just loved the musical fountain in the Seattle Center, and we played in it probably five times, so I figured I'd better mention at least one of those times. This time they took the shoes off and got wet. When we were outside we also got to pose with Clone Commander Wolffe, who was featured on this week's The Clone Wars alongside Threepio and Artoo.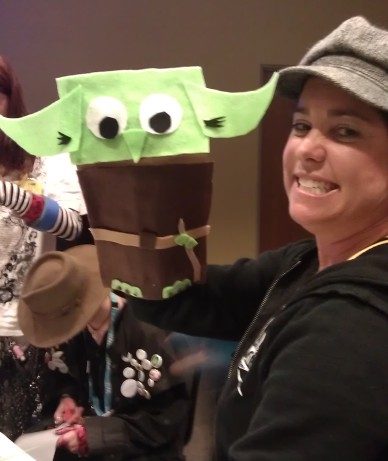 2:00 – Bonnie Burton's Making Yoda Stick-Puppets turned into Making Yoda Bag-Puppets and a whole bunch of other neat things. This was the last panel for my sister and niece before they had to catch a flight home.  It was a perfect end to a fun weekend for our group.  I'll share some of the fun shots of that panel.  Bonnie noticed that I wore the Her Universe manga hoodie she designed, which is my favorite hoodie ever.  Watching the Twitter feed I noticed Marissa from NerdsInBabeland was helping Bonnie out, so I finally had the chance to say hello to her as well.
3:00 – Say goodbye to my friend, then help my sister pack.  I hate goodbyes.
4:00 – Because I'm writing my novel while balancing the blog, competitive riding, and a full-time job, I figured Writing Through Real Life: How to Write With a Day Job or a Baby to Change would be a good way for me to wrap up the day. They had a lot of good advice, but most importantly it was helpful to sit in a room with fellow writers who hear those voices in their head that say, "Write! Write!"  More or less, it boils down to eliminating toxic timewasters (including friends or associates) and learn how to schedule your life. Write with a silly ritual if you have to; one panelists wears hats to get into the mood. If you need assistance enlist a friend who will give you some tough love, or try something like www.writeordie.com.
5:00 – Time for dinner, write the blog, and pack.
GeekGirlCon was fantastic.  Can't wait to do this again!
---
A graduate of Duke University, Tricia is a registered Professional Engineer who designs transportation systems as a consultant. In her free time, she shows horses and maintains a website for Star Wars EU fans that creates a safe place for women and men to discuss literature and all things pertaining to geek culture. She is currently writing her first full-length original novel, a space opera based around the heroic journey of a young woman who finds herself in the middle of a deadly terrorist attack by an invading alien force.  For information on the book, please check out TriciaBarr.com.
For more FANgirl featured news about the fandom and other fun stuff, check out the Fangirl Zone on Facebook, follow @fangirlcantina on Twitter, or drop by the Lomin Ale Cantina featuring the Fangirl Zone, a fangirl-friendly message boards dedicated to discussion of all things Star Wars.