Star Wars Rebels at Celebration Europe II
by Megan Crouse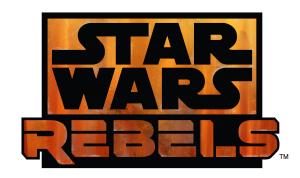 Fans got their first look at Star Wars Rebels, a new animated television show set in the Rebellion era, this morning at Celebration Europe. Dave Filoni talked about the ideas behind the show and showed art similar to what he teased on Facebook months ago: TIE Fighters flying through space and over a Tatooine-like landscape.
The two big reveals were art of a new spaceship, the Ghost, and a t-shirt featuring the Rebels logo. I like the Ghost's dusky name, which reminds me of Anakin's Twilight.
It was also confirmed that the series is set between the events of Episode III and IV. So, it's unlikely to include Luke. Instead, our hero will presumably be the pilot of the Ghost. Although the main cast has previously been described as teenagers, the pilot likely needs to be someone established as a spacer already – not a farmboy, and not someone the age Ahsoka was when she started training with Anakin. It could be an older teenager piloting that ship – think of Disney XD's Tron: Uprising and its many teenagers on motorcycles, as well as Padmé and Ahsoka herself – but to me this sign might also point to a character who is meant to appeal to an older segment of the audience. I could be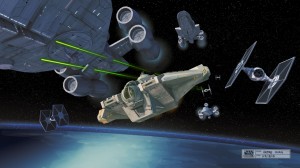 wrong, of course, but someone with a ship doesn't sound like a Luke-in-Episode IV type of character to me.
One piece of information Dave Filoni did say with any certainty about the characters was that the animators will be using a new facial rig. (via RebelRadion and Club Jade.)  The show will have a visual style different from The Clone Wars (via TFN) designed to evoke the painter's brush strokes of Ralph McQuarrie (via Star Wars Underworld). Filoni also mentioned a few other artistic inspirations, including not just McQuarrie, but also the recent Disney film Tangled.
The Rebels logo premiered on a new t-shirt, looking rusty and distressed as fits the Original Trilogy aesthetic. The official StarWars.com update also notes that the orange and black is meant to match a Rebellion pilot's flight suit. (More flight suits! Yes!)
Celebration attendees could also get a Rebels pin with additional art. The design is cryptic, looking vaguely like the Ghost but also like an alien face with big eyes.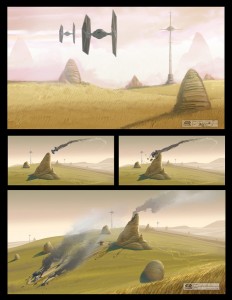 Filoni also stated that Rebels will be a serial story, not episodic like The Clone Wars, and that Filoni "will make Rebels for as long as he can." (via Star Wars Underworld and Club Jade.) According to TFN and others on-scene, Filoni hinted that The Clone Wars characters may or may not appear on Rebels.
It's probably no surprise to those who know me that I still have some reservations about keeping the show "in the family" as it were, but Filoni will have some new blood to help him – Greg Weisman and Simon Kinberg. (That's still zero women at the top, although Kathleen Kennedy is of course in charge of it all, and Filoni mentioned that the story ideas all came from the story team at Lucasfilm. (via James Floyd.) )
The panel has succeeded in getting fans excited, and while I'm less enthused about the technical aspects than I will be when they reveal plot and character details, the use of Original Trilogy visual cues like the orange and black and the distinctive shape of a TIE Fighter makes this seem like a series that will certainly bring energy – and the great classic feel that's packed with energy already – to the Original Trilogy era.
StarWars.com reports that Rebels is scheduled to premiere in fall 2014 as a one-hour special telecast on Disney Channel, and will be followed by a series on Disney XD channels around the world.
Update: Two cool posts from Lightsaber Rattling and The Wookiee Gunner break down the visuals. Apparently the Ghost was right before our eyes all along!
---
Megan Crouse, of This Blog Is Full of Words, reviews and covers Star Wars television for FANgirl. She has also published poetry and short fiction. She is currently working in journalism and paying a lot of attention to pop culture, fandom studies, and Darth Maul. You can follow her on Twitter @blogfullofwords.