Kay Reviews Star Wars: Kenobi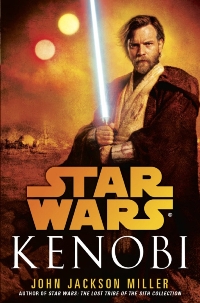 On Friday, we posted Kay's interview with author John Jackson Miller about his new novel, Star Wars: Kenobi. Today is the book's official release date, and Kay returns with her review of the novel. It begins:
For what seems like a long time, I've been on the lookout for a new Star Wars story where the fate of the entire galaxy is not the driving locus of the narrative. I've lamented over the lack of localized conflict and self-contained tales.
Star Wars: Kenobi is the Star Wars book I was looking for.
Over at the Star Wars Blog, John Jackson Miller detailed some of his  research on Tatooine from the existing Star Wars database and also the worldbuilding of Dannar's Claim. Entertainment Weekly has an audio excerpt performed by James Arnold Taylor, who played the famous Jedi Knight in The Clone Wars.
Click onward to read Kay's full review of Kenobi.
---
Kay grew up wanting to be an astronaut. After seeing Star Wars, she wanted to be Princess Leia, Han Solo, and an astronaut. Life's taken her on a bit of a different path for now, but she's still a Star Wars fangirl at heart who enjoys surprising people with how geeky she really is. Currently a photographer who also specializes in communications and marketing, Kay spends her free time reading, cooking, writing, learning and, of course, making pew pew noises. You can follow her on Twitter.