REVIEW: Star Wars: The Last Jedi by Michael Reaves and Maya Kaathryn Bohnhoff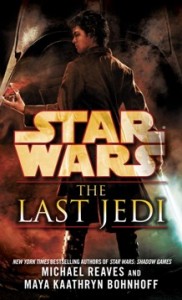 Linda Hansen-Raj reviews the latest Star Wars Expanded Universe novel, The Last Jedi. From her review:
The story starts out with a good pace and continues fairly evenly, finishing in a climactic duel with Darth Vader. In between are a host of characters including smugglers, the Whiplash team on Coruscant, Antarian Rangers, time-bending Cephalons, a Sith holocron, Dathomiri witches, Prince Xizor and Black Sun.
All of which sound interesting, but the story is plot driven and the characters suffer. There were a great many of them, and instead of a few developed in depth, there were many who were flat, shallow, and failed to engage me. The death of Jax's lover, Laranth, did nothing but send Jax into a spiral of what appears to be self-pity rather than real mourning. Meanwhile, almost every other female that Jax runs into finds herself attracted to him.
Click here for her full review.

Tricia Barr took her understanding of brand management and marketing, mixed it with a love of genre storytelling, and added a dash of social media flare to create FANgirl Blog, where she discusses Star Wars, fandom, and the intersection of women within Star Wars fandom. She is co-author of Ultimate Star Wars and Star Wars Visual Encyclopedia from DK Publishing, a featured writer for Star Wars Insider magazine with numerous articles on the Hero's Journey. Her FANgirl opinions can be heard on the podcasts Hyperspace Theories and Fangirls Going Rogue.

Tricia Barr's novel, Wynde, won the 2014 Independent Publisher Book Award Gold Medal for Best Science Fiction/Fantasy/Horror Ebook. She was also part of Silence in the Library's successful all-female creator science fiction and fantasy anthology Athena's Daughters, which is available now. For excerpts and tales of her adventures in creating a fictional universe, hop over to TriciaBarr.com.