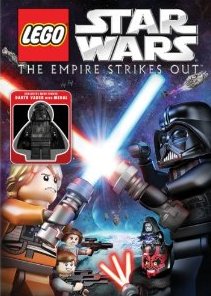 March is here. That means spring in on the way, too, along with lots of excitement in fandom and the blog.
---
The Clone Wars Season Five in Review – We had so much fun with last year's season in review discussion that Megan, Lex, and I will be back with another one for Season Five. We'll certainly have no shortage of topics to talk about.
---
Writing and Storytelling – With my novel Wynde in its final home stretch, I'm excited to get back to blogging more about writing and storytelling. While I won't get into spoilers for the novel, I definitely have ideas in mind for some upcoming posts.
---
Her Universe Year of the Fangirl – As one of the five contributors working with Ashley Eckstein on her great project showcasing female fans of all stripes, I'll definitely keep FANgirl Blog up to speed on the latest developments.
---
Here are a few of the other things we're looking forward to in March:
New Star Wars Media
LEGO Star Wars: The Empire Strikes Out – March 26th
New Star Wars Comics
Star Wars #3 – March 13th
Legacy: Prisoner of the Floating World #1 – March 20th
Dawn of the Jedi: Prisoner of Bogan #4 – March 27th
New Movies
Jack the Giant Slayer – March 1st
Oz the Great and Powerful – March 8th
The Croods – March 22nd
Olympus Has Fallen – March 22nd
G.I. Joe: Retaliation – March 29th
New and Returning Television Series
Grimm – Friday, March 8th at 9:00 p.m. on NBC
Dancing With the Stars – Monday, March 18th at 8:00 p.m. on ABC
The Voice – Monday, March 25th at 8:00 p.m. on NBC
Revolution – Monday, March 25th at 10:00 p.m. on NBC
New Releases on DVD
Wreck It Ralph – March 5th
Willow (Blu-ray) – March 12th
Zero Dark Thirty – March 19th
The Hobbit: An Unexpected Journey – March 19th
Les Misérables – March 22nd
Latest posts by Administrator
(see all)