More News on Star Wars Reads Day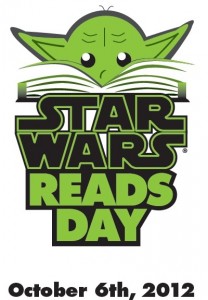 FANS AND VOLUNTEERS GEAR UP FOR STAR WARS READS DAY
Over 1200 Bookstore and Library events throughout the U.S. to be held October 6, 2012
NEW YORK, NY., September 18, 2012 – On Saturday, October 6, 2012, over 1200 bookstores and libraries across the United States will host events in celebration of a national Star Wars Reads Day. Star Wars Reads Day is an initiative of Lucasfilm and its publishing partners to celebrate reading and Star Wars. Participating publishers include Abrams, Chronicle Books, Dark Horse Comics, Del Rey, DK, Klutz, Random House Audio, Scholastic, Titan Magazines, and Workman.
At Star Wars Reads Day events, officially participating bookstores and libraries will offer a range of activities such as raffle prizes; promotional giveaways; trivia; and more. Sponsors for various raffle prizes include Thermos, Kotobukiya, Uncle Milton, Mimoco, and Comic Images. Select events will feature appearances by the more than 30 Star Wars authors and artists located throughout the United States. Participating authors include Chris Alexander, Aaron Allston, Tom Angleberger, Jeremy Barlow, Haden Blackman, Charles Boyd, Jeffrey Brown, Troy Denning, Dave Dorman, Ashley Eckstein, Alexander Freed, Jason Fry, Henry Gilroy, Christie Golden, Jeff Grubb, Paul Gulacy, Pablo Hidalgo, Hall Hood, Drew Karpyshyn, Rick Leonardi, Steven Melching, John Jackson Miller, John Ostrander, Chris Reiff, Matthew Reinhart, Mike Richardson, Ian Ryan, Chris Scalf, Lara Starr, Randy Stradley, Marc Thompson, Chris Trevas, Daniel Wallace, and Ryder Windham.
Nearly 1,000 volunteers from the international fan-based costuming organizations, the 501st Legion, the Rebel Legion, the Mandalorian Mercs, and the R2 Builders Club will also participate at select Star Wars Reads events around the country.
To help extend the celebration to readers everywhere, NBC's The Today Show Charitable Foundation has signed on as the official charitable partner for Star Wars Reads Day. Each participating publisher will donate Star Wars books from their respective libraries, and The Today Show Charitable Foundation will distribute the books to their affiliate organizations nationwide.
"Star Wars Reads Day is the perfect way to celebrate with our Star Wars fans" says Carol Roeder, Director of Publishing at Lucasfilm. "Our publishing program has always been an essential component of the Star Wars Expanded Universe, as there are so many more stories to tell than what we experience in the films, TV series, and games. We at Lucasfilm are proud to be a part of initiatives like Star Wars Reads Day and hope that it will encourage more young people to read."
There are currently over 120 million Star Wars books in print and more than 110 Star Wars titles have been New York Times bestsellers.
For a list of Star Wars Reads Day events visit the following link: http://www.starwars.com/reads/
Lucasfilm, STAR WARS™ and related properties are trademarks and/or copyrights, in the United States and other countries, of Lucasfilm Ltd. and/or its affiliates. TM & © Lucasfilm Ltd. All rights reserved. All other trademarks and trade names are properties of their respective owners.