Daisy Ridley Roundup: Telling Her Own Stories: November 15, 2016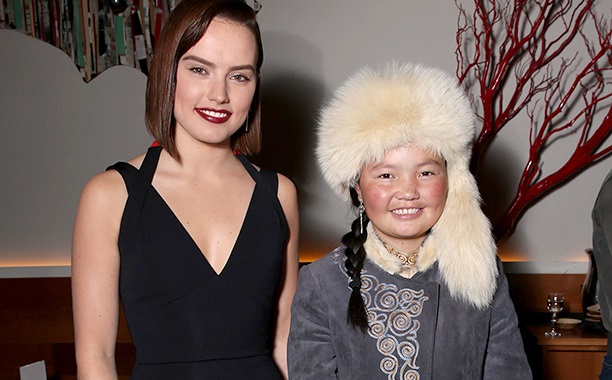 Has it really been nine months since our last Daisy Ridley Roundup?
Time flies when you're having fun, which some of this year has been, and also slows down when real life comes crashing down. The past week has reminded the team here at FANgirl of our mission: to promote inclusivity in storytelling as means to help change society for the better. Since Star Wars is the biggest storytelling franchise in the world, we're going to keep our sights set there.
One of the reasons I started the Daisy Ridley Roundup when her name was included in the Episode VII cast list was the unknown. We didn't know a lot about her. One thing J.J. Abrams is exceptional at is casting, and Ridley reaffirmed this with her performance in The Force Awakens and as a person being thrust into the global spotlight. Everyone got to know Ridley via the Star Wars marketing machine; the Roundups no longer seemed necessary in raising her fandom profile. Then the bullying during the middle of this year resulted in the actress removing her Instagram account. I felt she had earned some privacy.
This past month Ridley has been back in the spotlight, promoting The Eagle Huntress. From our last roundup:
Leveraging her star power, Ridley announced shortly before the Sundance Film Festival that she had taken an executive producer role for the movie The Eagle Huntress, the first documentary to premiere in the Sundance Kids section. According to Deadline, "Ridley signed on after seeing a cut of the film. She hopes it helps create awareness of what they describe as an epic tale of female empowerment." The L.A. Times takes a look at the adventure behind making the movie of thirteen-year-old Aisholpan, who challenged 2,000 years of tradition to become the first female to hunt with eagles.
It's important to note that their casting as leads for The Force Awakens led to significant opportunities for both Ridley and her co-star John Boyega. With The Eagle Huntress, Ridley quickly added producer to her credits. Boyega is producing and starring in Pacific Rim: Maelstrom, a sequel to Guillermo Del Toro's Kaiju versus mecha sci-fi fantasy, which Forbes noted as a rare example of a domestic flop that proved an international success, clocking in at over $400 million.
In addition to normalizing diversity with their two young leads, Star Wars presents the actors with a chance to create art that reflects their world and their passions by leveraging their star power into a network. For a documentary like The Eagle Huntress, a name like Daisy Ridley's attached gives the film a chance to market into audiences who might not otherwise heard about it. Ridley's social media silence while filming Episode VIII made entertainment outlets eager to talk to her, which she did in return for plugging the documentary. Ridley's name also gave a similar boost to Studio Ghibli's U.S. release of Only Yesterday, now available on video. Will Ridley be producing some more? When asked by EW she said, "Well, I bought the rights to something, which is currently being made."
Much of the coverage about Daisy Ridley recently has been from her podcast interview with MTV's Nick Horowitz on the Happy Sad Confused podcast. (If you want to hear it for yourself, her interview begins around the 48-minute mark.) Ridley is obviously a thoughtful and well-read person, expressing comments on various topics. Many outlets covered her thoughts on Rey being called a Mary Sue. From Vulture:
Of hearing the criticisms, she said: "I think Rey is incredibly vulnerable, and nothing she's doing is for the greater good. She's just doing what she thinks is the right thing. And she doesn't want to do some of it, but she feels compelled to do it. So for me, I was just confused." Ridley brought up how "everyone was saying that Luke had the exact same [capabilities]," and she also took issue with the entire notion of a Mary Sue, noting that it's an inherently gendered objection: "The Mary Sue thing in itself is sexist because it's the name of a woman."
Ridley is correct that the term Mary Sue is steeped in a double standard. For more on Mary Sue's check out Fanlore's primer on the term. Mary Sue litmus tests have been popular in fanfiction; the first one was associated with Gargoyle's fanfiction. For writers, they can be a good starting point for testing a character, in the same way a Bechdel Test might highlight a lack of female characters who interact with each other. These are tests, though, not rules. Unfortunately, Vulture is wrong in implying that the term Mary Sue is hurled at female characters only by fanboys. I won't dive today into the whole truth that women are harder on women than they are men, but we will get to that eventually, because the root of that fact is steeped in storytelling and how women are portrayed.
What is promising about the whole Rey is a Mary Sue kerfuffle is that a fanfic term has bled over into the film consciousness.
A character's "Mary/Gary Sue-ness" is a sliding scale that enables a tone/genre narrative choice. Not a quality impediment.

— Guillermo del Toro (@RealGDT) December 20, 2015
In speaking with Collider, the topic of Rey toys came up, or rather the lack thereof. While Ridley admitted to being caught off-guard, toys aren't her interest – but so apparently was Disney|Lucasfilm, and toys are most definitely important to them. Ridley told Collider, "My whole thing is it's not anything about the backlash, it's if a character is important in the story, then that should be dealt with in every platform whether it's merchandise, whether that's posters, anything, it needs to be dealt with in the correct way regardless of gender, regardless of color." She also mentioned that she had recently attended a merchandising meeting for next year's Episode VIII and "had a lot of questions that were answered and some, you know, issues." So she has got the matter on her radar. As far as Star Wars still lagging on equality on all levels – stories, creators, toys – at least we know someone with a vested interest in the character is asking the questions early in the game.
While Ridley's interview with the bigger outlets got a lot of play, I found her thoughts to Kidzworld on why The Eagle Huntress is a compelling story most interesting:
When we see her taking part in the (eagle hunter) competition, of course everyone wants her to win but even if she doesn't, that's not the point. The point is that she is doing this thing she wanted to do and regardless of whether she won or not, people's minds are changing. She's proving that things can change and you don't have to be this one thing (in life) that her culture tells her in order to do what you want to do.
In their review, Entertainment Weekly calls The Eagle Huntress' second half "one of the most magical stretches of nonfiction filmmaking in recent years." The movie is currently rolling out across the United States. As with many smaller films, it has a limited run on different dates so you have to look for it. For theaters and dates near you, check out The Eagle Huntress website and click on "Get Tickets." We may feel a little powerless right now, but in taking time to sharing Aisholpan's story we might get one step closer to empowering a young lady to reach for the sky.
Related: